How Shazam! Set The Stage For Black Adam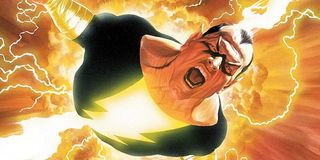 Warning: SPOILERS for Shazam! are ahead!
Shazam might not have a rogues gallery as big as Batman's, but he does had a solid collection of color villains he's repeatedly battled over the decades. The most popular of the bunch are Black Adam and Doctor Thaddeus Sivana. The former was originally supposed to face off against the hero previously known as Captain Marvel in the Shazam! movie, but plans changed and the latter was selected to take his place. However, Shazam! nonetheless alluded to Black Adam and set the stage for his eventual DC Extended Universe debut by giving audiences a snippet of his past.
Just like in the comics, Billy Batson was brought to the Rock of Eternity in Shazam! by the wizard Shazam to become his new champion. But before giving Billy his powers, the wizard tells Billy about the last champion he chose, who isn't named, but it's clearly Black Adam, originally known as Teth-Adam. Thousands of years earlier, Black Adam turned to the dark side and used his powers for evil, resulting in the Seven Deadly Sins being unleashed. Once they started running rampant, numerous civilizations fell and millions died, including Shazam's comrades on the Council of Wizards, although it was left ambiguous whether the Sins were responsible for the Council's destruction or Black Adam.
Either way, somehow the wizard Shazam managed to contain the spirits of the Seven Deadly Sins within mystical statues, and while it wasn't explained why happened to Black Adam, evidently his reign of terror also ended since he's not wreaking havoc in the present day. Because everything went so horribly with Black Adam, the wizard vowed to select only someone pure of heart to be his next champion. It took several millennia for him to finally find a worthy successor, with the adolescent Thaddeus Sivana failing to impress in 1974 and Billy Batson ultimately inheriting the mantle in 2019.
That was the extent to which Black Adam factored into Shazam!, which makes sense given that Doctor Sivana was the main threat in the movie. It was important not to overshadow Sivana's retrieval of the Seven Deadly Sins and his quest to take the wizard Shazam's power for himself. It doesn't matter, though, because that Black Adam seed has been planted nicely, and the character has a bright future ahead of him on the silver screen.
In late 2014, around the time that Warner Bros announced its initial slate of DCEU films, Dwayne "The Rock" Johnson was finally confirmed to be playing Black Adam in the franchise, having previously agreed to play the antagonist in a previous live action Shazam! movie that was scrapped in 2009. Then at the beginning of 2017, it was announced that Black Adam would get his own solo movie. While the DCEU has a lot of movies in development, not all of which will never move forward, given Shazam!'s positive critical reception and the likelihood that it will do well at the box office, it stands to reason that Black Adam stands a better chance of being made. After all, if Warner Bros is willing to move forward with a Trench spinoff following Aquaman's gargantuan success, then a Black Adam movie with Johnson, arguably the world's biggest movie star, playing the lead, is an enticing prospect.
Although he was initially depicted as a straightforward supervillain, in the modern era Black Adam has morphed into an anti-hero, with comic book readers learning about his tragic past in ancient Kahndaq and his goals switching from generic world domination to doing whatever it takes to protect his people, usually resulting in him taking the Kahndaqian throne and still getting on a lot of DC heroes' bad sides. Undateable's Adam Sztykiel is writing the Black Adam movie and Hiram Garcia is producing, but no plot details have been officially revealed yet. It would be easy enough for Black Adam to be a prequel showing how he met the wizard Shazam and his fall from grace, but a rumor from That Hashtag Show claims that Sztykiel's latest is a present day set story, with Hawkman, Stargirl and Atom Smasher appearing.
Regardless, assuming all goes according to plan, Black Adam will get the spotlight for himself, and considering how he's been developed over the years, he's definitely a compelling enough character to lead his own movie, not to mention that DC has already played around with villain/anti-hero-led movies with 2016's Suicide Squad (which is finally getting a sequel in 2021). Still, at his core, Black Adam is a Shazam adversary, and it's be foolish to think that these two won't eventually fight in the DCEU. That said, those of you looking forward to seeing Shazam and Black Adam clash on the big screen might have to wait longer for that rumble.
In the Shazam! mid-credits scene, Dr. Sivana, who is now depowered after Billy Batson seized the Eye of Envy from him and trapped the Seven Deadly Sins back within it, was shown in prison obsessively scrawling runes on the walls in a desperate attempt to get back to the Rock of Eternity. He then hears a voice telling him that there are other ways to obtain powers, and that by teaming up together, the two of them could rule the "seven realms." This voice belongs to the diminutive, yet sinister Mister Mind, the super intelligent worm who was seen in 1974 being held in a glass case at the Rock of Eternity, but had escaped his confinement by the time Billy Batson showing up there, breaking free after Sivana became possessed by the Seven Deadly Sins, which led to quite the kerfuffle in the wizard's lair.
Just like how Aquaman's mid-credits scene set up that Aquaman 2 will follow Black Manta helping Stephen Shin find Atlantis in exchange for the marine biologist assisting the mercenary in exacting revenge on Arthur Curry, Shazam! seems to be teasing that Shazam! 2 will follow Dr. Sivana and Mister Mind working together to defeat the Shazam family and conquer these mysterious seven realms. If that's the case, then there's a good chance that Black Adam won't appear in the sequel either, or if he does, it will only be for a cameo.
Although Black Adam has been part of Mister Mind's Monster Society of Evil in the comics, given how much more prominent he's become in the DC universe, as well as the already-announced plans for him on film, it's reasonable to assume he wouldn't be a side player in Shazam! 2. Given how much trouble Dr. Sivana gave Billy Batson in his origin story, him returning with Mister Mind and whatever monstrous allies they've recruited to their cause is more than enough to cause trouble Billy and the rest of the Shazam family. That said, maybe Shazam! 2 could tease Black Adam finally preparing to face off against Billy in its own mid/post-credits scene.
As things stand now, and assuming the Shazam! corner of the DCEU will go on for a long time, I predict that Black Adam will show up in Shazam! 3, which will arrive after the Black Adam movie does. Depending on how Black Adam is received, maybe there's even a chance that a sequel could come out before Shazam! 3, but I suspect that the Shazam vs. Black Adam brawl is being saved for the big 'finale,' much like how the Avengers didn't fight Thanos in his forces until Avengers: Infinity War, with the rematch occurring later this month in Avengers: Endgame. Shazam and Black Adam is an event that's definitely an event that's worth spending as much time on as necessary to ensure it looks excellent. Make no mistake, though, barring some last-minute, unforeseen, radical turn of events, Black Adam is coming to the DCEU and he'll make a lot of noise.
Be sure to read CinemaBlend's review of Shazam! and what other members of our staff thought of the movie. We'll be sure to keep you updated on all things Shazam and Black Adam-related as more details come in. For now, look through our DC movies guide to learn what else is in development for the DCEU.
Your Daily Blend of Entertainment News
Connoisseur of Marvel, DC, Star Wars, John Wick, MonsterVerse and Doctor Who lore. He's aware he looks like Harry Potter and Clark Kent.