Shazam! Box Office: DC's Latest Is Off To An Impressive Start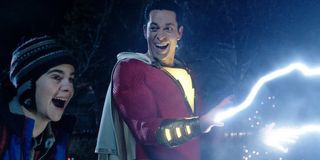 Things weren't looking so good for the DC Extended Universe after the release of Zack Snyder's Justice League. Not only did it receive a rather serious thrashing from critics, but it also failed to meet box office expectations. Fortunately, however, the franchise has been on a much better path ever since. Released last December, James Wan's Aquaman has become the most successful DC Comics adaptation ever made, and now David F. Sandberg's Shazam! is off to a fantastic start as well. Check out its numbers, as well as the rest of the Top 10, below, and join me after for analysis!
The numbers aren't exactly record-shattering, but after its third day in wide release Shazam! is definitely in a good place, and Warner Bros. must surely be happy about the performance. Early estimates suggested that the film wouldn't only make $40-$50 million during its opening weekend, and it was able to not only clear that bar, but add a few extra million on top of it. Add in the fact that it's one of the less expensive modern day superhero blockbusters - made for a reported $100 million - and you have the makings of a legitimate winner in the DC Comics realm.
What surely helped in a major way with this one is just the buzz that the film has received. The studio clearly knew they had a winner with this one, and thanks to a whole lot of early screenings Shazam! has been riding high on positive word of mouth for quite a while now. It's received the second highest Rotten Tomatoes score of any DC Extended Universe title, with its 91% only just a little below the 93% earned by Patty Jenkins' Wonder Woman back in 2017. On top of that, audiences are also showing some very real appreciation for it, as CinemaScore is reporting an "A" grade for the release - which makes a whole lot of sense when you consider what a crowd-pleaser the feature is.
Adding to the good news is that Shazam! is also off to a wonderful start in foreign territories as well. The movie is now out in most places, and ticket sales from abroad have already significantly bolstered the worldwide box office totals. To date it has made $102 million abroad, which brings its global total to $158.8 million. When you factor in publicity and advertising costs, it still probably has to make a bit more money before it gets to be called profitable, but this is a great place for the film to be after just three days. It's technically the slowest start for a DC Extended Universe title, but the previous film with that distinction was Aquaman, and we know how things turned out with that.
Perhaps part of the reason why Shazam! didn't open bigger is because it had some real competition at the box office, as Kevin Kölsch and Dennis Widmyer's Pet Sematary also put up some legitimate numbers this past weekend. Critics (61% on Rotten Tomatoes) and audiences ("C+" on CinemaScore) didn't respond to it quite as well as the big new superhero release, but the $25 million it brought it is nothing to shake a stick at. Not only did the horror film only cost $21 million to make, but it actually had the second best opening ever for a Stephen King adaptation - which is a pretty big deal when you consider how popular King is, and how many movies have been made based on his books. Obviously it came nowhere close to Andres Muschietti's IT, which pulled in a shocking $123.4 million during its first three days back in September 2017, but it made enough to take the second place spot away from Mikael Hafstrom's 1408, which made $20.6 million back in 2007. It's also doing pretty well in foreign territories, having made $17.3 million outside of North America so far.
Robin Bissell's The Best Of Enemies was the only other big title to hit theaters this weekend, though it had a relatively small wide release with only 1,705 theaters showing it. Still, with the star power of Taraji P. Henson and Sam Rockwell, and a powerful true story to tell, the movie managed to take sixth place over all, and make $4.5 million in its initial release. That's not too shabby when you consider the $10 million budget. It won't ultimately be as big as The Upside, which made $107.6 million for STX Entertainment earlier this year, but it may still wind up making some money for the studio.
Beyond the new releases, unfortunately, there wasn't a ton of good news for Hollywood this time around. After winning the box office last week with a disappointing $45 million take, Tim Burton's Dumbo fell by 60.4 percent in its second Friday-to-Saturday stretch. As of now it $213.7 million globally, which seems like a lot, but that number doesn't look so great when you consider that it was made with a $170 million budget. It's going to be seriously tough for the film to be ultimately considered profitable - but the good news for Disney is that they still have Anna Boden and Ryan Fleck's Captain Marvel performing exceptionally, having crossed the $1 billion milestone earlier this week.
Jordan Peele's Us is also starting to fade a bit, but at this point ever dollar the movie makes is pure profit. Made for just $20 million, the horror hit has already brought in $216.6 million worldwide, which is only just a big short of the $255.4 million that Get Out made when it was released in 2017. That's absolutely remarkable.
Next week we will once again be seeing a lot of variety hitting the big screen nationwide, with Neil Marshall's Hellboy, Tina Gordon Chism's Little, Laika's Missing Link, and Jenny Gage's After all arriving in wide release. Collectively they should all do a pretty nice job shaking up the Top 10, so be sure to tune in next Sunday to see how it all turns out.
Assistant Managing Editor
NJ native who calls LA home and lives in a Dreamatorium. A decade-plus CinemaBlend veteran who is endlessly enthusiastic about the career he's dreamt of since seventh grade.
Your Daily Blend of Entertainment News
Thank you for signing up to CinemaBlend. You will receive a verification email shortly.
There was a problem. Please refresh the page and try again.