X-Men: Days Of Future Past Almost Featured Cable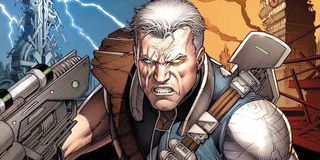 2014's X-Men: Days of Future Past was an especially interesting entry in the X-Men film series, as not only did it continue the storyline that began with X-Men: First Class by jumping to 1973, it also reunited with many of the original X-Men cast members as they struggled for survival in a dystopian 2023. This group of heroic mutants was accompanied by some new faces, and originally Nathan Summers, better known as Cable, was supposed to be one of those faces.
Given how Cable is best known for growing up in a future, apocalyptic timeline and time traveling to the present day Marvel universe, it would have been fitting to have him involved in X-Men: Days of Future Past, even if unlike his comic book counterpart, he wasn't the one traveling backwards in time. As for why he didn't appear in the fifth main X-Men installment, it turns out that Cable's co-creator, Rob Liefeld, pushed for him being taken out, providing the following explanation for why:
Considering Cable's decades of popularity, I can't say I blame Rob Liefeld for wanting the character to sit out X-Men: Days of Future Past. Sure, audiences finally would have been introduced to him on the big screen, but their time with him would have been short, as Cable would have been among the mutants killed by the Sentinels in that dystopian future, like Sunspot, Blink and Warpath. There wouldn't have been any time to properly develop the character, and someone like that needs a bigger platform to shine on.
Instead, as Rob Liefeld told ScreenRant and as audiences saw in the final version of X-Men: Days of Future Past, Cable was replaced by Bishop, another mutant with a history of time travel. On the one hand, Cable is arguably more popular than Bishop, so it makes sense that the latter would take priority over the former. On the other hand, Bishop also has his fair share of fans and his own interesting story that stretches across several time periods, and Days of Future Past did not delve into that at all since he was such a minor character.
So the tradeoff might not have appealed to all X-Men fans, but had Cable stayed in X-Men: Days of Future Past, like Bishop, he would have been killed off, with no time dedicated to fleshing out his backstory. Ultimately, this replacement was probably the right call, but hopefully if/when the X-Men are incorporated into the Marvel Cinematic Universe, there will be an opportunity to spotlight Bishop in a fitting way.
Fortunately for Cable fans, they only had to wait four more years after X-Men: Days of Future Past to see him finally make his live action debut. After being teased at the end of Deadpool, Cable, played by Josh Brolin, finally joined the fray in Deadpool 2. Like his comic book counterpart, he hailed from an apocalyptic future, but his reason for going back in time in this movie was to kill Russell Collins, a.k.a. Firefist, the mutant who murdered his wife and daughter, as a child.
Cable didn't succeed in carrying out his assassination, but the adolescent Russell decided to step off the villainous path he's heading down, thus saving Cable's wife and daughter in the future. Sadly, the cybernetic mutant was unable to return to his family, but he's now working to improve the present so they have a better future awaiting them.
Although Disney, which recently finalized the Fox merger, plans on keeping the Deadpool franchise going, it remains to be seen if Cable will return in either X-Force or Deadpool 3, let alone if Josh Brolin will reprise him or if someone else will take over the role. Stay tuned to CinemaBlend for updates either way. In the meantime, feel free to keep up to date with what's heading to theaters later this year in our 2019 release schedule.
Your Daily Blend of Entertainment News
Connoisseur of Marvel, DC, Star Wars, John Wick, MonsterVerse and Doctor Who lore. He's aware he looks like Harry Potter and Clark Kent.