The 6 Best Brad Pitt Movies, And The 4 Worst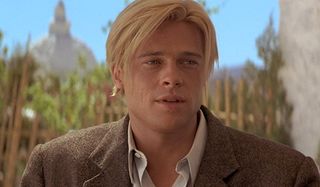 Brad Pitt is Hollywood royalty, with a career spanning 30 plus years and a remarkable number of box office smash hits. Though he's never won an Academy Award (really), he has put on some powerhouse performance in movies like Fight Club, Se7en, 12 Monkeys, and Ocean's Eleven. He's also put out a fair amount of duds, a few of which are really quite bad.
We put together a handy-dandy list of some of his best performances and movies as well as a few of his worst. As with anyone with a CV as long as Brad Pitt's, some major performances just missed the cut, like Inglourious Basterds, 12 Years A Slave, The Big Short, The Curious Case Of Benjamin Button and the movie that launched his career, Thelma & Louise. Brad Pitt's had quite an amazing career, to say the least, let's take a look.
The Best Brad Pitt Movies
Fight Club (1999)
Fight Club was not a huge hit when it was released, but it's become a classic. It's often called a cult classic, but it's far too popular for that these days. Based on the book by Chuck Palahniuk and directed by the great David Fincher, Fight Club features Brad Pitt as The Narrator's alter-ego, a man called Tyler Durden, who encourages The Narrator (Edward Norton) to start an underground fight club. Brad Pitt's performance is pitch perfect as a jumpy, angry figment of The Narrator's imagination.
12 Monkeys (1995)
12 Monkeys, directed by Terry Gilliam has everything people have come to expect from a Gilliam film. It's visually amazing and disturbing, filled with crazy characters and a twisting plot that leaves viewers questioning humanity. Brad Pitt plays an eccentric patient in a bizarre insane asylum opposite Bruce Willis. It was the first time Pitt the heartthrob was recognized for his acting chops. The first time he proved he was more than just a pretty face, really.
Se7en (1995)
Brad Pitt's first collaboration with director David Fincher (they've worked together three times now) is scary, twisted, and disturbing yet incredible, especially the first time you see it, before figuring out the twist at the end. Pitt's performance as a young detective working with his partner, played by the amazing Morgan Freeman, is fantastic as the two work to solve the case of a terrifying serial killer who recreates the seven deadly sins with his victims.
Moneyball (2011)
Unlike some of the other movies on this list, Moneyball is a more straightforward film with a more straightforward performance from Brad Pitt. Based on the book by Michael Lewis about the radical new way of doing business in baseball by Oakland A's general manager Billy Beane (Pitt), the movie is a bit of revelation. Though the book was a fascinating look into modern baseball, few thought it could translate to the big screen, but director Bennett Miller and writers Steve Zaillian and Aaron Sorkin made it work brilliantly, with huge help from an Oscar-nominated performance by Brad Pitt.
Ocean's Eleven (2001)
There are few movies that are as much fun as Ocean's Eleven. A remake of the legendary Rat Pack classic from the '60s that was famous for its cast and their shenanigans in Las Vegas while they were filming, the updated Ocean's Eleven features a similar all-star cast, including Brad Pitt, George Clooney, Matt Damon, and Julia Roberts. It also has a similar loose vibe where all the cast members look like that are genuinely having a great time making the movie. It's the kind of flick you can turn on at any time and at any moment in the movie and watch until the end. As for Brad Pitt, he sure was hungry when he made this one.
Snatch (2000)
Brad Pitt's performance as a sketchy Irish gypsy underground boxer in Guy Richie's Snatch is the highlight of a very entertaining movie. His stylized accent is almost completely unintelligible, yet absolutely charming and funny. When viewers do catch a word or a line here and there, they are hilarious. It's a completely different role than a lot of his parts and it's truly one of his best. Snatch is easy to compare to Ocean's Eleven, as it's a heist movie with a heavyweight cast, including Benicio Del Toro, Jason Statham, Dennis Farina, and Vinnie Jones, but it's also totally different as it's a movie that only Guy Richie could have made.
The Worst Brad Pitt Movies
Cool World (1992)
Cool World is a disaster of a movie from 1992, it was early in Brad Pitt's career and frankly, he may feel lucky that it didn't completely derail said career. Directed and drawn by legendary animator Ralph Bakshhi (Felix The Cat), Cool World is a mess in every way. Pitt plays a hardboiled live-action detective in an animated world in a sort of Who Framed Roger Rabbit for adults – or at least that was the goal. It's 4% rating on Rotten Tomatoes pretty much says it all. It's not even fun in a campy way.
By The Sea (2015)
By The Sea, directed by Brad Pitt's then-wife Angelia Jolie, feels more like an excuse for the couple to hang out in the Mediterranean (it was filmed during their honeymoon in Malta) than anything else. Frankly, it's a boring movie with a tired plot about love and betrayal in the South of France. It's not worth exploring the plot more than that, because it's exactly what you expect. It was a total bomb at the box office too. What else is there to say?
Johnny Suede (1991)
Johnny Suede is an impressively bad movie that star Brad Pitt and his hair. His hair, like Rami Malik's teeth in Bohemian Rhapsody, is the real star of the performance here. Everything else about the movie is completely forgettable. He was cast in this right after filming Thelma & Louise, but before it was released, so he was still an unknown actor at the time, and thankfully for his career, this movie is completely overshadowed by his breakout performance in Thelma & Louise. Again, with different timing, his career might have been quite different.
Seven Years In Tibet (1997)
Seven Years In Tibet is a movie that SHOULD be good but… just... isn't. Brad Pitt's performance is uneven, with him taking on a pretty poor Austrian accent. Let's just say it wasn't his finest performance. Pitt plays famous mountaineer Heinrich Harrer in a story based on his real life as a POW during World War Two that escaped British capture and hid out in Tibet for rest of the war. Seven Years In Tibet really should be a great movie! It's sad that it isn't. It also suspiciously leaves out a crucial aspect of Harrer's life - he reportedly was possibly a Nazi.
With more than 75 acting credits over the years, Brad Pitt has had remarkably great track record, both as an actor and the in the movies he picks. There really are quite few duds on his resume and the future also looks great with the much-anticipated Once Upon A Time In Hollywood set for release this summer.
What do you think is Pitt's best role? What about his worst? There are plenty to choose from, so we'd love to hear more.
Your Daily Blend of Entertainment News
Hugh Scott doesn't believe aliens are hidden at Area 51 or that Elvis is alive, but he does believe birds are real and Meghan Markle isn't treated fairly by the tabloids. He's been writing about music, movies, and celebrities for most of his adult life after realizing stocking shelves in a paper warehouse in college wasn't all it was cracked up to be.