Guy Ritchie Is Returning To His Crime Roots With The Gentlemen, And I Am Pumped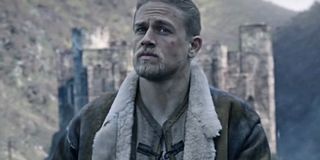 In recent years, Guy Ritchie has become a go-to director when studios are developing new brand products. It started back in 2009 when Sherlock Holmes became a surprise success, and since then all of his features have been based on pre-existing properties – including Sherlock Holmes: A Game Of Shadows, The Man From U.N.C.L.E., King Arthur: Legend of the Sword, and the upcoming Aladdin.
At the same time, though, there are still plenty out there who continue to admire him for his early work in the crime genre, as he wouldn't be where he is today without the cult popularity of titles like Lock, Stock And Two Smoking Barrels, and Snatch. And while he hasn't made a movie in that vein in more than a decade, that streak is soon coming to an end, as he's returning to his roots with his new movie for STX Films: The Gentlemen.
Obviously we're still waiting for Aladdin to be released (it's scheduled for late May this year), but earlier today at CinemaCon in Las Vegas – the annual convention for theater owners – we got our very first look at The Gentlemen, and it definitely has us keyed up. The project has had a few different names as it's moved through development, including Toff Guys and Bush, but regardless of what it's called, what makes it really stand out is it's absolutely fantastic ensemble cast playing bad people who do bad things to other bad people.
Admittedly it was a bit challenging to get a full read on the full plot of the movie, as it appears that there is a whole lot going on, but the footage did get across the basic idea. Charlie Hunnam, who played Guy Ritchie's lead for King Arthur, is our protagonist, and a criminal who is stuck in a steadily escalating conflict between an eccentric, marijuana-specializing kingpin (Matthew McConaughey) and forces that want to see him pushed out – led by a character played by Henry Golding. Those three names alone create some serious expectations, but they're joined in the insanity by Colin Farrell, Jeremy Strong, Eddie Marsan, Michele Dockery, and Hugh Grant (sporting an awesome cockney accent that is thousands of miles away from the posh inflections we typically hear from the actor).
This is the kind of filmmaking and storytelling that helped Guy Ritchie stand out when he was first making a name for himself in the late 1990s, and while one can't really fault him for his more mainstream project choices recently, it's exciting to see him pursue something like this. The fact that it's totally original is obviously its own bonus, but what particularly stood out in the Gentlemen footage was the pitch-perfect dark comedy tone. Whether it was a dude doing a full sprint past his captors after being let out of a car trunk; or kids being chased for their cell phones after filming a man tripping and falling off a balcony, the preview gave the sense that Ritchie's sharp, black-as-night sense of humor is just as strong now as it was nearly 20 years ago.
STX Entertainment acquired the film for distribution earlier this year, but sadly they have not yet announced a release date – which means that we are still in the dark as to when exactly it is coming out. That being said, production on The Gentlemen began last November and ended this past February, and it's not exactly a movie that looks like it is stuffed to the gills with visual effects. If Guy Ritchie gets to put all of his attention towards it when he finishes promoting Aladdin, is it possible that we could see it come out some time before December? Right now we don't know, but we will be keeping our fingers crossed, and we will keep you up to date with all of the latest information right here on CinemaBlend.
Assistant Managing Editor
NJ native who calls LA home and lives in a Dreamatorium. A decade-plus CinemaBlend veteran who is endlessly enthusiastic about the career he's dreamt of since seventh grade.
Your Daily Blend of Entertainment News
Thank you for signing up to CinemaBlend. You will receive a verification email shortly.
There was a problem. Please refresh the page and try again.