Why David Dastmalchian Can't Wait To Get Started Filming Dune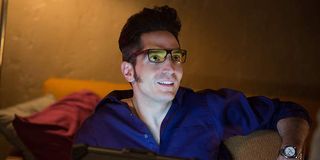 Nearly 55 years after its publication, Dune remains an acclaimed piece of sci-fi literature. David Lynch adapted Frank Herbert's novel for the big screen back in 1984, now Denis Villeneuve is putting his own stamp on the property. Among the many people attached to this Dune reboot is Ant-Man star David Dastmalchian, who is playing the dangerous Mentat known as Piter De Vries and is confident that Villeneuve has the skill to deliver a Dune movie that a lot of people will enjoy.
I recently had the opportunity to talk with David Dastmalchian about his new movie All Creatures Here Below, and when the conversation turned to Dune, he mentioned that he was leaving soon to do more prep work and then begin shooting his scenes. The actor continued:
Arrival and Blade Runner 2049 definitely established Denis Villeneuve's sci-fi cred, with both earning positive reception and numerous accolades. So even though it will be a while before we see any footage from Villeneuve's version of Dune, one can imagine it's in safe hands given his resume. Dune also marks David Dastmalchian's third time working with Villeneuve, having previously appeared in Prisoners and Blade Runner 2049.
Of course, if you're performing in an adaption, it often helps if you're already familiar with the source material, Fortunately for David Dastmalchian, he'd both read the Dune novel and watched the David Lynch movie, although he only relied on the former when preparing for his role in Denis Villeneuve's Dune. Dastmalchian recalled:
Although David Lynch's Dune was met with numerous negative reviews when it was initially released and ended up being a commercial failure, it's morphed into a cult classic over the years. Nevertheless, from what's been revealed thus far, Denis Villeneuve's Dune is going to feel incredibly different from its theatrical predecessor, not the least of which is because the plan is to adapt the original novel across two movies rather than just one.
In terms of Dune's cast, David Dastmalchian is correct that the lineup that Denis Villeneuve has assembled is impressive. He's joined by Timothée Chalamet, Rebecca Ferguson, Oscar Isaac, Josh Brolin, Dave Bautista, Stellan Skarsgard, Zendaya, Charlotte Rampling, Jason Momoa, Javier Bardem, Chang Chen and Stephen Henderson.
As for what we can expect from David Dastmalchian's version of Piter De Vries, who serves the main antagonist, Stellan Skarsgard's Baron Vladimir Harkonnen, the actor wasn't willing to delve into specifics, but he's hopeful that his interpretation and the rest of the Dune movie will strike the right chord with longtime fans of the book. As Dastmalchian put it:
David Dastmalchian is the third actor to bring Piter De Vries to life on screen; he was preceded by Brad Dourif in the 1984 Dune movie and Jan Unger in the 2000 Sci Fi channel Dune miniseries. As a Mentat, Piter has been trained to perform mental functions comparable to what a computer can accomplish, but he was also twisted into a sadist. Dastmalchian has played numerous villains over the years, so it will be interesting to see how his version of Piter looks and acts.
Just like the original story, Dune will take place in the far future, where Paul Atreides and his mother must flee for their lives after their family is betrayed by Baron Harkonnen, who seizes their the planet Arrakis from them, which is the only source of spice, the most valued substance in the universe. With the help of Arrakis' native Fremen, Paul and Jessica will fight to take back what is rightfully theirs.
Dune will be released in theaters on November 20, 2020, so keep checking back with CinemaBlend for more updates on how it's coming along. In the meantime, you can keep up to date with what's coming out later this year in our 2019 release schedule.
Connoisseur of Marvel, DC, Star Wars, John Wick, MonsterVerse and Doctor Who lore. He's aware he looks like Harry Potter and Clark Kent.
Your Daily Blend of Entertainment News
Thank you for signing up to CinemaBlend. You will receive a verification email shortly.
There was a problem. Please refresh the page and try again.