Former Flash Actor Thinks His Villain Should Return Thanks To Reverse-Flash Arc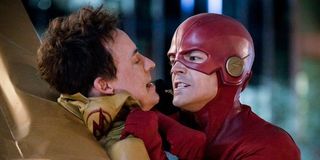 Some villains on The Flash have had numerous episodes to wreak havoc, while others have only gotten one episode to make an impact. Falling into the latter category is Abra Kadabra, who is one of the Scarlet Speedster's greatest adversaries in the comics, but has only shown up in Season 3's 18th episode, despite the fact that like Eobard Thawne, a.k.a. Reverse-Flash, the technologically-advanced villain from the 64th century is one of Barry Allen's recurring enemies in the future.
There's been no indication when or even if Abra Kadabra will return to The Flash, but David Dastmalchian, who brought the character to life, is game for an encore. I recently spoke with the actor about his new movie All Creatures Here Below (which he also wrote), and when the conversation turned to The Flash and whether anyone's contacted him about returning to the show, this is what he had to say:
Abra Kadabra has been antagonizing Flash and his allies in the comics since being introduced in 1962's The Flash #128, with the advanced technology from his time period allowing him to pull off feats that look like magic to us. Alas, this live action Abra Kadabra has been kept as a one-and-done villain thus far, and David Dastmalchian is hoping that some day he gets the call to play the colorful bad guy again.
That led me to bring up how considering that The Flash has done wonders with Eobard Thawne over the course of five seasons, the other major Flash villain from the future should have some more time to shine. David Dastmalchian responded:
In case you need a refresher on The Flash's version of Abra Kadabra, in his sole appearance, he was stealing components around Central City so he could build a time machine and return to the 64th century, but he was appended by Team Flash with the help of Gypsy, who wanted revenge on Abra from killing her partner on Earth-19. Since Abra is so familiar with Barry Allen's future, he offered to reveal the identity of Savitar, Season 3's big bad, in exchange for being let go.
Ultimately Barry Allen decided against this, and Abra Kadabra was taken by Gyspy to Earth-19 to be executed for his crime, but he took great joy in keeping Savitar's identity secret from his adversary, as he's hated Flash for years, whereas Barry only just learned of Abra's existence. Before leaving, Abra also mentioned someone named DeVoe, i.e. Clifford DeVoe, a.k.a. The Thinker, who ended up being The Flash Season 4's main antagonist.
There are two ways I can see Abra Kadabra being brought back to The Flash at some point. The first, as David Dastmalchian noted, is that he simply escaped bing executed on Earth-19 and made his way back to Earth-1 to either try and get back to the 64th century or just to give Team Flash more trouble. The second is that a younger version of Abra arrives in Central City; one who's still quite powerful, but who barely has any history with Flash and is still destined to be executed on Earth-19. Whether Abra returns in either form remains to be seen.
Of course, anyone familiar with David Dastmalchian knows that playing Abra Kadabra on The Flash was not his first foray into the comic book media realm. He made his feature film debut in The Dark Knight as Thomas Schiff, one of The Joker's henchmen, and he's since gone on to play Kurt in the Ant-Man movies and Dwight Pollard in two episodes of Gotham. His upcoming work includes the Denis Villeneuve-directed Dune reboot, Jay and Silent Bob Reboot and the Hulu series Reprisal.
At least there's still plenty of time for The Flash writers to bring back Abra Kadabra if they so choose. Season 6 is on the horizon, and while Arrow is concluding at the end of the year, with the "Crisis on Infinite Earths" crossover looking to shake up the DC CW universe in a big way, particularly in Flash's corner, one would imagine that there will be at least one more season to look forward to after that.
The Flash recently concluded its fifth season, with Barry and Iris' daughter, Nora, being erased from existence due to Cicada's dagger being destroyed and the future where the adult Nora came from being changed. As if that wasn't bad enough, Eobard Thawne, who had been depowered and held prisoner in 2049, was able to escape custody thanks to the dagger's destruction. Before racing off, he teased to Barry that they'd see each other again at their next "crisis."
Speaking of which, the final scene of The Flash Season 5's finale showed the date of the future newspaper that we've seen on the show since the beginning has switched from 2024 to 2019, hammering home that the "Crisis of Infinite Earths" will be upon us much sooner. Because the future is continuously in flux, perhaps that means if/when Abra Kadabra returns, some aspects of him will be different compared to how he was depicted in Season 3.
Stay tuned to CinemaBlend for news regarding The Flash Season 6 on The CW, and in the meantime, you can find out what shows are airing this summer in our handy premiere schedule. As for David Dastmalchian, you can now see him playing Gensan in All Creatures Here Below, which is available on VOD.
Your Daily Blend of Entertainment News
Connoisseur of Marvel, DC, Star Wars, John Wick, MonsterVerse and Doctor Who lore. He's aware he looks like Harry Potter and Clark Kent.