Godzilla: King Of The Monsters Cast Can't Stop Debating The Monster's Sex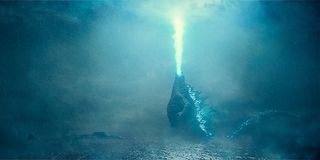 For those with less free time on their hands, it may come as a surprise to hear that Godzilla's sex is actually the source of much speculation and fierce debate. Is the monster that has been gracing cinema screens for 65 years male, female, or perhaps something else entirely? With Godzilla: King of the Monsters now in theaters, it is only natural that the cast of the latest film weighs in on this important topic and you'll see that Vera Farmiga and Kyle Chandler had differing views.
I love that these two have such strong opinions on the topic of Godzilla's sex and have actually given it some thought. Like Jason Lee's Brodie Bruce discussing superhero sex organs in Mallrats, people want to know what parts this fictional monster has and how they work. Kyle Chandler and Vera Farmiga both make valid points too.
Vera Farmiga applies Occam's Razor, opting for the simplest answer, which is that king is usually a title given to a male monarch or sovereign and because Godzilla is the King of the Monsters he is therefore male. If he was a female he would be Queen of the Monsters. But since that position is taken by Mothra, and there aren't two queens, the logical assumption is that Godzilla is a dude-monster.
Kyle Chandler, however, views this argument as dealing only in semantics. And he isn't allowing labels like 'king' and 'queen' to narrow his understanding of Godzilla's sex. Instead he thinks there's a solid chance that Godzilla is a girl, but he isn't willing to deal in absolutes and is still puzzling out the question in his head.
The ever-relatable Kyle Chandler even told Yahoo Entertainment that he had a whole conversation with his wife about the subject. Which is quite hilarious to think about Emmy award-winning actor Kyle Chandler having a conversation with his wife over breakfast about the sex of a fictional giant lizard. Celebrities folks, they're just like us.
He makes an interesting point about where baby Godzilla came from. Now if he's talking about 1967's Son of Godzilla, the creature Minilla was adopted by Godzilla and was not his actual progeny.
But the question can be viewed another way, as in where did the Godzilla in the film come from? If Godzilla had a mother it is possible that Godzilla too is female. These are titans and their evolution and biology are not fully understood, so it isn't necessarily as simple as, to paraphrase Jurassic Park's Dr. Ian Malcolm, just pulling up Godzilla's skirt to check.
There's also the possibility that Godzilla isn't strictly male or female. Maybe he's asexual like dragons in Game of Thrones are suspected to be, and he can be whatever he needs to be. Vera Farmiga raises this possibility by mentioning his amphibian traits.
So maybe Godzilla uses asexual reproduction like the parthenogenesis seen in some frogs and salamanders. Or maybe he can spontaneously change his sex like some frogs. There are also slugs with both sex organs, and some rare instances of birds and butterflies born half male and half female. Basically there are lots of possibilities if you want to apply real world biology to a fictional creature.
King of the Monsters actor Ken Watanabe refers to Godzilla as a 'he' and director Michael Dougherty also says that the monster is a boy-- so Vera Farmiga seems to be in the majority. For what it's worth, the original Japanese films referred to him as an 'it' and the original actor who played him, Haruo Nakajima, said he had no idea of the creature's sex.
Male or female, Godzilla makes the case for his kingship in Godzilla: King of the Monsters, now playing. Check out what ticket to buy and our 2019 Release Schedule for all of this year's biggest movies. For the latest movie news and further deep dives into the sexuality of fictitious creatures, stay tuned to CinemaBlend.
Your Daily Blend of Entertainment News
Nick grew up in Maryland has degrees in Film Studies and Communications. His life goal is to walk the earth, meet people and get into adventures. He's also still looking for The Adventures of Pete and Pete season 3 on DVD if anyone has a lead.