Every Jason Bourne Movie, Ranked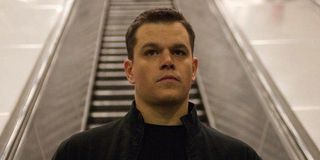 For decades, cinema's interpretation of espionage and eye-popping action stunts was defined by one name: James Bond. That was true for years, at least until Matt Damon played Jason Bourne.
Before Jason Bourne, a spy movie needed mechanical incomprehensible gadgetry, scantily clad women, unsurvivable stunts, and a hilarious quip with every kill. After The Bourne Identity, audiences begged for more action films with existing weapons, multi-dimensional characters, highly realistic action, a stoic seriousness, and a Moby song.
That tone was unparalleled, until every action movie since tried to copy it, and Jason Bourne became the action hero to beat. Still, rarely anyone could, even Jeremy Renner. From 2002's The Bourne Identity to 2016's Jason Bourne, Robert Ludlum's amnesiac assassin has seen cinematic glory and even a few missteps in his legacy.
Among the five films in this revolutionary franchise, which is the best and which is the least impressive? The following are my picks for the Jason Bourne series' greatest hits, ranked from worst to best.
5. The Bourne Legacy (2012)
If you are going to put the word "legacy" in your movie's title, you better make sure it is the kind of film you would hope to be remembered for. However, out of the entire Jason Bourne movie franchise, The Bourne Legacy is just about the most forgettable of the bunch.
A Jason Bourne movie without Matt Damon as Jason Bourne sounds unappealing enough, with no disrespect to Jeremy Renner's performance as another on-the-run assassin, Aaron Cross. Renner is fine as an otherwise bland protagonist, but what The Bourne Legacy really suffers from is slow pacing, uninspired action sequences, and a confusing plotline involving these magic green and blue pills that is meant to take place concurrently with The Bourne Ultimatum.
There is too much going against The Bourne Legacy to ignore, which is why most Jason Bourne fans have since chosen to ignore it.
4. Jason Bourne (2016)
Matt Damon said on record that the only way he would return for another Jason Bourne movie after The Bourne Ultimatum would be if director Paul Greengrass agreed to return, too. As such, fans were on cloud nine upon announcement that the duo would re-team for 2016's Jason Bourne… until they saw it.
Jason Bourne has two different plots happening simultaneously that are given no real reason to correlate with one another, yet they all too conveniently do. Jason Bourne discovers from Julia Stiles' Nicky Parsons that his father was involved in the creation of Treadstone, the program that made Bourne into an assassin, prompting him to angrily reopen his war on the CIA.
Meanwhile, CIA director Robert Dewey (Tommy Lee Jones, trying to be the new Joan Allen's Pam Landy) has a plan to enact a secret partnership with the founder of a growing technology company (Riz Ahmed) to allow the CIA backdoor access to every one of its customers' cell phones. Sounds a bit like a familiar request to Apple from the FBI in 2016, doesn't it?
Essentially, the fifth entry in the Jason Bourne franchise is an egregiously forced excuse to see Matt Damon kick butt again with cheaper imitations of the series' definitive action spliced with needless, ham-fisted political commentary. The bottom line with Jason Bourne for me, though, is that Robert Ludlum's original book series began with The Bourne Identity and ended with The Bourne Ultimatum and perhaps the films should have also kept it that way.
3. The Bourne Identity (2002)
While Paul Greengrass' direction of The Bourne Supremacy and The Bourne Ultimatum gave audiences a taste of what the action genre could be, the first chapter of Jason Bourne's onscreen adventures from Doug Liman gave audiences a taste of the action star Matt Damon could be.
Matt Damon plays a man who does not know who he is or what he was doing in the ocean when a French fishing boat pulled him out of the water. All he knows is that, somehow, he possesses unbelievable mental and physical abilities that make him a danger to others, and the CIA wants him dead.
Loosely based on Robert Ludlum's hit novel, The Bourne Identity at face value does not seem much different from other spy thrillers of the early 2000s, but Matt Damon's performance as Jason Bourne as he slowly unravels the mystery of his identity keeps the audience thoroughly invested. I would even argue that its action sequences are just as mind-blowing as its sequels.
2. The Bourne Supremacy (2004)
At the climax of The Bourne Identity, Matt Damon's Jason Bourne threatened the CIA to leave him alone and promised that "if I even feel somebody behind me, there is no measure to fast and how hard I will bring this fight to your doorstep." Well, who is going to take a threat like that seriously, anyway?
The Bourne Supremacy sees Jason Bourne's new violence-free life with lover Marie (Franke Potente) in India ininterrupted by an assassination attempt on him that claims Marie's life. Furious, he forces himself back into the life he thought he had escaped for good and comes back at the CIA with a vengeance.
Not only did director Paul Greengrass redefine the Jason Bourne franchise with this second chapter, he practically redefined the action genre. Featuring a refreshingly grounded approach to its action sequences and immersive, documentary-style cinematography that has remained a staple of inspiration to the genre since, The Bourne Supremacy is an instant classic and was the first sign that James Bond had met his match.
1. The Bourne Ultimatum (2007)
The greatest cinematic trilogies are those that end on a high note, in which the third and (supposedly) final chapter serves as a proper conclusion and a compendium of the best the franchise has to offer. The Bourne Ultimatum is that kind of third chapter.
Jason Bourne's war with the CIA is not over yet and the secrets of his violent past have not been completely uncovered. Bourne must continue his investigation of how David Webb (his real name) became the weapon he is today whilst dodging a ruthless CIA director (David Strathairn) who wants him put down once and for all.
Matt Damon is at his most electric and Paul Greengrass' direction is at its most seamless. This film alone has the most explosive, expertly constructed action and earth shattering revelations of the entire series.
The Bourne Ultimatum solidified Jason Bourne's title as America's favorite spy/assassin and, henceforth, the action genre would never be the same. If the Bourne franchise had officially concluded here, the trilogy would have been one of the few pitch-perfect achievements in completion in Hollywood's history.
While many action films since have tried to recapture the tone and complexity of the Jason Bourne series, including its own sequels, rarely has anything achieved the goal. Fortunately, while Matt Damon's Jason Bourne may have a serious memory problem, these films still remain unforgettable.
This poll is no longer available.
Jason has been writing since he was able to pick up a washable marker, with which he wrote his debut illustrated children's story, later transitioning to a short-lived comic book series and (very) amateur filmmaking before finally settling on pursuing a career in writing about movies in lieu of making them. Look for his name in just about any article related to Batman.
Your Daily Blend of Entertainment News