Chewbacca Actor Joonas Suotamo Co-Signs The Campaign For Solo 2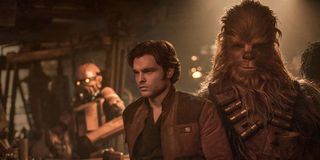 Last year, Solo: A Star Wars Story hit theaters and while the film made almost $400 million at the box office, it's largely been deemed a failure due to excessive cost overruns brought about by behind-the-scenes drama. It's essentially the first Star Wars movie to not be a massive smash hit, but that hasn't stopped some fans from launching a campaign for a sequel.
The hashtag #MakeSolo2Happen began trending on Twitter at the one year anniversary of Solo as fans who loved the spinoff film began to show their support. Director Ron Howard has already thanked fans for the outpouring of affection. Now, co-star Joonas Suotamo, who wears the massive Chewbacca costume now, has made it clear on Twitter that he's up for any potential sequel.
Solo: A Star Wars Story not only failed to make a billion dollars at the box office, but it wasn't as warmly received from a critical perspective as the other recent films in the franchise. The movie didn't necessarily do poorly by either metric, but in comparison to the high expectations of the Star Wars franchise, it came up short.
The film is largely credited with the decision by Disney to put the Star Wars franchise on hiatus following the release of Star Wars: The Rise of Skywalker. We won't see another film in the franchise until 2022. Initially, we were expecting at least one Star Wars movie per year from now until the heat death of the universe.
For that reason, it seems even more unlikely than it otherwise would that we'll ever see a sequel to Solo. Lucasfilm has a plan for the franchise going forward and while the studio could certainly try to fit something else in, if the belief is that Lucasfilm was trying to do too much too fast by making Solo in the first place, people will be awfully gun shy about the idea of trying to fit in a sequel.
And that is too bad for those of us who enjoyed Solo: A Star Wars Story. The movie, as most franchise movies do these days, set itself up for future installments by revealing Darth Maul as the power behind the throne for which Emilia Clarke's Qi'ra now works. There's clearly more to that story but now one wonders if we'll ever learn it.
There's always the possibility we could still get something that roughly approximates a sequel down the line. If the Star Wars film universe begins to expand in the same way as Marvel's universe, we could see Qi'ra and Darth Maul or Donald Glover's Lando Calrissian pop up in another movie down the road. We have little clue what the Star Wars movies we are getting will actually be about, so they could be anything.
While Solo 2 may not ever happen, it's still great to see thew fans show their love for it. It probably means a lot to those people who made the movie happen.
CinemaBlend's resident theme park junkie and amateur Disney historian. Armchair Imagineer. Epcot Stan. Future Club 33 Member.
Your Daily Blend of Entertainment News
Thank you for signing up to CinemaBlend. You will receive a verification email shortly.
There was a problem. Please refresh the page and try again.