The 10 Best Reese Witherspoon Movies, Ranked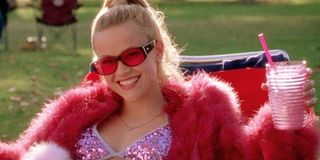 For decades, Reese Witherspoon has continued to shine. The actress currently appears on the second season of HBO's Big Little Lies, which made its debut last night, but there's no denying that Witherspoon is among the brightest, most dependable actresses in Hollywood. She is capable of extending herself to a multitude of genres, both serious and light-hearted, and one gets the sense that we are only seeing the beginning of her talents.
It's difficult to choose, but I went through Reese Witherspoon's 10 best movies and then determined which truly prove her strengths, although some of your favorites may not have quite make the cut. Because there are a great number of strong movies which have been improved through Reese Witherspoon's involvement, and the top-notch actress continues to grow into a mature, meticulous actress with a wealth of experience and long resume.
10. Twilight (1998)
No, Reese Witherspoon never made an appearance in the vampire saga Twilight. Before Edward Cullen and Bella Swan became an item, Reese Witherspoon appeared in a thriller drama of the same name alongside Paul Newman, Gene Hackman and Susan Sarandon. The film, while not exactly a "Reese Witherspoon movie" in a traditional sense, is nevertheless one of the actress' first movies, and it's an overlooked highlight.
In the role of Mel Ames, a runaway teenager at the center of a dangerous (and lethal) turn of events, Twilight was a stark departure for Reese Witherspoon. Back in the the '90s, Witherspoon was an actress on the rise through noteworthy performances in The Man in the Moon and Fear. But it was with Twilight (1998) that Reese Witherspoon found a compelling, even controversial opportunity to take on one of her first mature roles, one that is filled with intrigue and mystique and one that drives the core mystery at the root of this gritty neo-noir thriller. The result is a turning point for the star, one that would lead the actress to take on more compelling, dark and alluring performances later in her career. And it's never easy to have to stand-up to veteran performers like Gene Hackman, Paul Newman and Susan Sarandon at a young age, but Witherspoon took on this bold challenge in stride.
9. American Psycho
Ultimately, American Psycho is better remembered for Christian Bale's commanding, unhinged lead performance. But it would be a shame to overlook Reese Witherspoon's Evelyn Williams, the fiancee to Bale's Patrick Bateman, who often helps to showcase our lead character's dissonance to the outside world. As a ruthless, literally cutthroat businessman who cares more about his social standing than the lives of others, Patrick Bateman is called a psychopath for a reason. He is cold, calculated human, with little remorse for anyone and no desire to have meaningful connections to others. Witherspoon's Evelyn is similarly self-obsessed — the way most characters in the film can be — but in a way that is notably a lot less deranged and ultimately more humane.
As the only on-screen person in the movie who arguably has any real sort of connection to our main character, Evelyn Williams is nevertheless a different sort of a vein, the type of person who cares deeply about how she is perceived in the world and the type of woman who wants to make a good impression on others and cares about her looks and appearances. While she may not actually share any sort of love with our main character, Evelyn is often under the presumption that they should get married — notably since the couple shares the same friends and, therefore, the same social circles. It all adds to the film's high satire, and Reese Witherspoon absolutely aces it.
8. Pleasantville
In Gary Ross' immersive 1998 dramedy Pleasantville, Reese Witherspoon plays Jennifer, the twin of Tobey Maguire's David, who gets trapped inside the world of a 1950s television series in which the residents are all seemingly as perfect as can be and no conflicts can be found inside their nice, tidy lives. That is, until things obviously start to take a turn and everything literally doesn't become so black and white. You get the idea. If not, you should check out the movie, as it's a well-regard period piece with an astute message and resonant commentary.
While Reese Witherspoon's filmography has eclipsed Pleasantville for some folks, her performance in the tender, meaningful dramedy is often fondly remembered — similar to how some older folks might look back and wax nostalgia about the olden days. While Reese Witherspoon had been the star of a few movies by this time in her career, Pleasantville quickly became one of her most acclaimed films, continuing to propel the actress into stardom.
7. Walk The Line
James Mangold's rise-to-fame 2005 biopic Walk the Line focuses primarily on the life and times of the late, great musician Johnny Cash, played exceptionally by Joaquin Phoenix. The actor pulled off one hell of a feat, becoming the highly-influential country/rock 'n' roll singer-songwriter. But the movie wouldn't be nearly as impactful as it became if it weren't for Reese Witherspoon's tender, compassionate portrayal as June Carter, Cash's wife.
As Johnny Cash's long-suffering partner, Reese Witherspoon is given an exceptional opportunity to showcase her broad range of talents — comically, dramatically and even musically. And while Walk the Line often follows Johnny Cash's story, it's the legendary musician's turbulent relationship with his dearly-departed wife that serves as the core emotional crux of the story. And with that, Witherspoon finally became an awards darling, winning the Best Actress in a Leading Role for her emotionally-resounding role. It's not easy to sell Johnny Cash's thunder. In fact, some might've said it's damn-near impossible. Yet, that's what Reese Witherspoon did with this electrifying, award-winning performance.
6. Legally Blonde
Perhaps her most iconic role, or at least her most pop culture-friendly, Legally Blonde's Elle Woods is the role that cemented Reese Witherspoon's mainstream status as a cinema mainstay in the eyes of viewers everywhere. The performance, which finds a sorority sister who gets dumped by her law school-bound boyfriend and decides to follow him into the ivy leagues, might seem fluffy and frilly on the surface. But much like Elle herself, Legally Blonde proves to be a smart, subversive comedy, one that builds our main character into a fitfully determined, righteous headstrong woman who can seemingly do no wrong under pressure — despite the challenges presented before her and the dismissive attitude of her brainy, elitist peers.
While the script is winning and the film's presentation is often sharp, Legally Blonde wouldn't be nearly as beloved as it is today if it weren't for Reese Witherspoon's top-notch performance. A performance that's as bubbly as it's quick-witted, Witherspoon plays the role with fierce determination, one that mirrors and ultimately parallels Elle's desire to prove herself and to show everyone that she has what it takes to make it into the big leagues. In that respect Reese Witherspoon certainly excels, and it's hard to imagine anyone else playing this particular role. Much like the bend and snap, she just nails it. And much like Elle's aspirations to make it as a lawyer, Legally Blonde was a major career-maker for the rising, awards-nominated actress.
5. Inherent Vice
Paul Thomas Anderson's ludicrous, intoxicating 2014 pulp noir Inherent Vice is decidedly not for everyone. Following the mindset and perspective of its dazed-and-confused protagonist, who is often hazy (in more way than one) about what is going on around him and if everything actually connects, the movie's lounge-heavy feel can be a bit alienating if you don't like your mysteries with a little open-ended interpretation, to say the very least. But even if Inherent Vice isn't your drag, there is a lot to appreciate in this gonzo little movie. Most especially its cast, including Reese Witherspoon.
In the role of Deputy D.A. Penny Kimball, Reese Witherspoon finally got an opportunity to reunite with her Walk the Line co-star Joaquin Phoenix, playing an assistant district attorney with a previous fling with Phoenix's Doc Sportello. It's a supporting turn, undeniably, but it's one that allows the actress to play inside the fun, screwy world of author Thomas Pynchon, as told by Paul Thomas Anderson. The result is a wickedly entertaining spell, the sort of alluring daze that slowly-but-quickly become real before the final reel is played. It's a bittersweet tome, and Witherspoon is great here too!
4. Mud
In writer-director Jeff Nichols' poetic coming-of-age tale, Mud, everything is either fleeing or trying to find themselves. The world around them is disjointed and decayed, caked in dirt and — you guessed it — mud and nothing is particularly glamorized. The inclusion of A-list stars like Matthew McConaughey and Reese Witherspoon might seem distracting at first, but their immersive, soulful performances prove otherwise throughout the film.
In the role of Juniper, an old girlfriend of our mystic main character, Mud (Matthew McConaughey), Reese Witherspoon is both resilient and fragile, a woman who has gone through life on uneasy terms, but who continues to press forward. Having done a number of high-profile films since her Oscar win, this particular film felt like an engaging change in direction for the actress, one that proved beneficial for showcasing the range she could command in the second leg of her acting career. With roles like Juniper in Mud, Reese Witherspoon was commanding the screen in new, excitingly different ways.
3. Wild
In what is quite easily among her boldest, more fearless and most vulnerable performances to date, Reese Witherspoon emboldened herself to become author Cheryl Strayed and bring her raw memoir to the big screen as both an actress and a producer in the Oscar-nominated drama, Wild. The resulting dramatization is a compelling, astute and dutifully-told character study, one that captures the lows and highs of its real-life subject in authentic, nuanced depictions. Thanks to Reese Witherspoon's commanding, fully-committed performance and dedication to this film, its free-flowing narrative not only tells the incredible true story in rigorous, yet connectable, detail, but allow us to understand the extensive toll the journey takes on our hard-lucked protagonist, while never exhausting the enraptured audience in equal measure.
Oftentimes in Hollywood, actors and actresses try to tell stories that show them playing characters who fight against the odds and work hard to save and cleanse themselves and the people around them for the better. It's not often that you get a movie that allows the actress on hand to tell these details in such realistic, emotionally-honest ways. There is often a phoniness that gets in the way, and that's never the case here. Through the trusted work of director Jean-Marc Vallée, who would later go on to direct Reese Witherspoon again in the first season of Big Little Lies, she crafts an authentic, personable story, told with great courage and conviction. There's a good reason why it earned the actress her second Oscar nomination.
2. The Man In the Moon
Not to be confused with Jim Carrey's Andy Kaufman biopic, Man on the Moon, which came out in 1999, 1991's The Man In The Moon was Reese Witherspoon's first-ever film performance. And she certainly shined bright as the moon itself in the pale blue night. And playing the lead role of Dani Trant, it's not hard to see why the actress would go on to become a world-believed movie star and an Oscar-winning actress. Even from a young age, and despite a lack of experience, it was clear that Reese Witherspoon was well on her way to become a full-fledged movie star. It was only a matter of time before that sentiment became true.
in the heart-tugging film, Reese Witherspoon displays a rich balance of tone and emotions, capturing the wide array of feelings that can be found in a young person's heart when their first romantic feelings are fluttering inside. As she and her on-screen sister begin to form affections for the same man, the actress' willingness to be raw and intimate in these moments makes it quickly apparent why she was soon set to become a major talent. Sure enough, everyone has a beginning. This was it for Witherspoon.
1. Election
While Elle Woods would go on to become the determined law student who showed everyone she meant business, it was a couple years earlier with Reese Witherspoon's equally-adored performance as Tracy Flick in Election where Witherspoon first showed people that she truly had what it takes to win. In Alexander Payne's ruthless dark comedy, Witherspoon provides her best performance to date as the eager, strong-willed high school student who is persistent in her desire to become Class President. Unfortunately for Tracy, however, Jim McAllister (Matthew Broderick, who has also never been better), the school's social studies teacher, is on the verge of a personal crisis, and he finds himself determined to do whatever it takes to squash Tracy Flick's presidential ambitions.
The result is a satirical, warped bit of comical nastiness, the likes of which are never easy to pull off successfully. Yet, thanks in large part of the performances at the center, Election is a landslide success, and the film that finally proved to audiences everywhere that Reese Witherspoon was here to stay as an actress. The gumption, the intelligence, the ferocity and the stealthiness that is seen in every single scene with Witherspoon's character is masterful in its execution and clearly the work of an actress who is talented beyond her years. In order to make a character like Tracy Flick work, you need an actress who is able to sell that right amount of preciousness, depth, vigorous determination and copious drive. Reese Witherspoon was a great pick for this part, and it proved the actress with a future that only continues to shine bright with a lovely stream of exceptional performances.
Now, since we only had 10 slots to fill here, not every Reese Witherspoon movies fit, including a few household favorites like Sweet Home Alabama, Just Like Heaven, Cruel Intentions and Water For Elephants. Vanity Fair was also left unselected, and Legally Blonde 2 didn't make its way onto this list either — for better or for worse.
You might not agree with all of these picks, but it's hard to deny that Reese Witherspoon is a great talent, and she deserves her fame and fortune. Of course, let us know what you think, and if you believe we unjustly looked over one key movie from the actress' extensive filmography.
Your Daily Blend of Entertainment News
Will is an entertainment writer based in Pittsburgh, PA. His writing can also be found in The Playlist, Cut Print Film, We Got This Covered, The Young Folks, Slate and other outlets. He also co-hosts the weekly film/TV podcast Cinemaholics with Jon Negroni and he likes to think he's a professional Garfield enthusiast.