What Happened To Election's Tracy Flick, According To Reese Witherspoon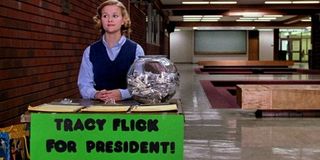 Reese Witherspoon proved that she was one of Hollywood's most promising young talents with her stupendous turn as the devilishly ambitious Tracy Flick in Alexander Payne's 1999 drama-comedy, Election. But what does she think would have happened to Flick if her story had continued? Well, it turns out, Witherspoon actually has a pretty good idea of where her character might have ended up.
During a chat with Vogue's video series, 73 Questions, which also saw the actress shamelessly show-off her 2006 Academy Award for Best Actress, Witherspoon was asked, "What do you think ever happened to Tracy Flick?" and without skipping a beat she declared, "I think she probably runs the Tea Party now." That's both a pretty stellar guess and dig.
The last that we saw of Flick was in the final scene of Election, which took place several years after Broderick's Jim McAllister had been forced to resign for tampering with the high-school election results in order to stop Flick from winning. McAllister, while on a visit to Washington D.C., sees Tracy enter a limousine alongside a congressman, whom with, it is teased, she is having an affair McAllister becomes so apoplectic at the discovery that the over-achieving brat is somewhat powerful that he can't resist hurling his milkshake at the automobile and then running away so that he doesn't get caught. You can watch it unfold below:
Alongside her roles in Cruel Intentions and Pleasantville, which were released in 1999 and 1998 respectively, Witherspoon's performance as Flick helped to turn her into a Hollywood darling, and not only did she receive a Golden Globe nomination for Best Actress, but Premiere even ranked her portrayal as #45 on their list of the 100 Greatest Film Performances Of All Time. That might be pushing it a stretch, but there's no denying the fact that she is hugely impressive as the Machiavellian high-school student. And even though she was eventually awarded an Oscar for her performance as June Carter Cash in Walk The Line, I'd still say that Election was the pinnacle of her career.
I know what you're thinking though; did Witherspoon reveal anything else that was worth knowing as Vogue's kleptomaniac reporter barraged her with questions? Not really. Unless not knowing what Witherspoon's hip-hop stage name is has kept you up at night (FYI, the answer is Little Spoon). But we also now know that her favorite television show is Mad Men, her favorite movie of the last five years was, The Grand Budapest Hotel, and she laughed until she wept while watching Bad Grandpa. Plus, I bet you didn't know that she was a relative of John Witherspoon, who signed the Declaration Of Independence. You learn something new everyday.
Your Daily Blend of Entertainment News