Reese Witherspoon Confirms Legally Blonde 3 While Proving She Can Still Rock The Bikini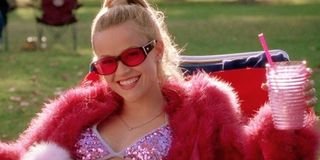 Amidst a slew of other revivals, remakes, reboots and sequels, we learned the other day that MGM was looking to bring back Elle Woods for a third installment in the franchise. Reese Witherspoon was reportedly in talks, and she confirmed the gig this morning in a very Elle Woods way, by squeezing into the teeny-tiny, itty-bitty hot pink bikini she wore during the original movie back in 2011. Take a look at Elle Woods back in the sunlight.
Reese Witherspoon was already a mom when she strapped on that bikini for Legally Blonde; regardless, it has been 17 years since that movie came out and a lot can change in that time. It's pretty much living the dream to be able to wear the same clothes at 42 that you did at 25, and Reese Witherspoon isn't just squeezing into that shiny suit, she's rocking it out. Plus, she's looking totally relaxed on that pool float. It's not the first time she's decided to re-share a look at the iconic suit, either. Just don't ask her to bend and snap in that getup.
When we recently heard about Legally Blonde 3, we learned that the project will likely be written by the original writing duo, Kirsten "Kiwi" Smith and Karen McCullah. Presumably now that Reese Witherspoon is officially on board, more will move forward on the actual creating of the movie in the coming weeks. Witherspoon's announcement doesn't include director information, yet, so there's still a lot that needs to happen on that front. Luckily, there have been some ideas already bandied about regarding another potential sequel.
When Legally Blonde originally came out back in 2001, it was a huge movie for Reese Witherspoon's career. It also made $141 million worldwide on a reported $18 million production budget, which should have equaled a tidy profit for the studio. The less talked about sequel, Legally Blonde: Red, White and Blonde, still made $125 million worldwide on a reported $45 million budget. Obviously, the margins are a little thinner there, but there's no reason a third movie couldn't work, given a good script and the correct price tag.
Reese Witherspoon is still really active in Hollywood, although she's been concentrating her efforts less on teeny-tiny bikinis and more on TV of late. She recently has had great success over at HBO for her Big Little Lies series, which is getting a second season. She also has a reported TV project in the works with Jennifer Aniston. On the big screen, Witherspoon is also attached to a live-action adaptation of Tinkerbell's story. Obviously, it's early days for Legally Blonde 3, but we will definitely continue to share bikini images and more as this project comes together.
This poll is no longer available.
Reality TV fan with a pinch of Disney fairy dust thrown in. Theme park junkie. If you've created a rom-com I've probably watched it.
Your Daily Blend of Entertainment News
Thank you for signing up to CinemaBlend. You will receive a verification email shortly.
There was a problem. Please refresh the page and try again.