For Real, X-Men: Days Of Future Past Was A Better Conclusion Than Dark Phoenix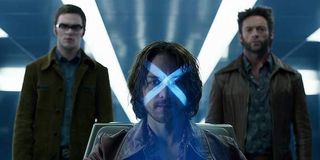 (Image credit: (Fox))
Welp, I guess Dark Phoenix was goodbye to Fox's X-Men franchise! After almost 20 years, was that the sendoff fans wanted… deserved? We've stuck through the good (Logan), bad (X-Men: The Last Stand) and ugly (X-Men Origins: Wolverine), but this release ends on a note that a lot more bitter than it is sweet.
If it wasn't for the all the happy nerd tears I'd just wiped away thanks to Avengers: Endgame, I might not have known what I was missing (nah, it was coming either way). What's worse is that the marketing team for Dark Phoenix went around calling it the culmination of the X-Men movies. Instead, it felt a lot more like the finale of one of those television shows that keeps getting renewed for season after season when it's clear the writers have lost their way and the actors are just abiding by their contracts. In the words of Dark Phoenix director Simon Kinberg, this was his intention for the franchise with this summer's big box office flop:
I'm sorry sir, but NOPE. These words and the Dark Phoenix I saw do not line up. The epic conclusions of Endgame and Game of Thrones will not go down in history alongside this X-Men installment. But thankfully, the movie series already delivered on a conclusion of this caliber back in 2014: X-Men: Days of Future Past. It was actually the perfect ending to the popular Marvel films. Let's talk through why - in hopes of wiping our brains of Dark Phoenix.
Days Of Future Past Is A Crowd-Pleasing Summer Blockbuster
Dark Phoenix was not meant to be a big summer release as it was supposed to come out in November or February, but it wound up hitting theaters right around the date Days of Future Past nabbed five years ago anyway. No matter what hullabaloo happened behind the scenes, there's a certain high expectation that comes with a "summer blockbuster" slot and Dark Phoenix just doesn't deliver on that front. It feels like another episode of a series, but a grand finale, no way.
When I say goodbye to beloved characters and storylines, I want to feel it all. All the feels. Every single one of them. Days of Future does this. There are huge stakes, as terrifying robots are going to kill every last mutant if Wolverine doesn't go back in time and stop Mystique's actions from putting history on this trajectory. Audiences are invested because there is a lot to lose for not only these characters, but the cause they've been fighting for the entire franchise.
Days of Future Past has some incredibly big and memorable moments. The franchise pulled all the stops. The moment when Quicksilver runs to "Time in a Bottle" will go down in history as one of the greatest scenes in the superhero genre. This is comparable to the kind of crowd-pleasing moments Endgame delivered with its MCU culmination. It goes out with an absolute bang on so many levels that I'll discuss in a moment. Scale is important for a conclusion and Dark Phoenix tried to be a small story amidst a grand, long-running blockbuster franchise.
Days Of Future Past Rewards The Fans
As an audience, we like to feel like our attention and investment in the franchise matters. Days of Future Past rewards fans for sticking it out through each of the six movies before it. The setup is perfect because it mixes the old franchise with the new and has fan favorite, Hugh Jackman's Logan, at its center. This allows for the characters and storytelling in the original trilogy, Wolverine standalone flicks and the newcomers from X-Men: First Class to feel equally important and cohesive with the series of films.
There may be a time and place for nostalgia, but the end of a franchise is where it's most welcomed. Dark Phoenix does very little to remind fans of why they love the franchise that's about to conclude. It's like going to a funeral… watching your loved one be buried in the ground and not getting invited to the part where everyone eats and reminisces about the good times.
Days of Future Past provided this perfect going away party for the franchise all along. We get to see Patrick Stewart's Xavier and Ian McKellan's Magneto for the last time together with Halle Berry's Storm, James Marsden's Cyclops, Famke Jannsen's Jean, Ellen Page's Kitty and Shawn Ashmore's Iceman. James McAvoy's Professor X gets a pep talk from Stewart's. Everything that has happened with the X-Men thus far ties in with the story matters and the part fans vocally disliked (i.e. The Last Stand) was retconned due to the events in this movie. It's honestly genius.
The X-Men Go Out On A High Note In Days Of Future Past
The X-Men movies have always revolved around Wolverine's story. He's a reluctant hero who doesn't understand the value of teamwork and saving the day. Days of Future Past forces him to work with Charles, Erik, Peter and Hank to prevent the future from happening, and in the process he's able to reverse Jean's fate in Last Stand. It completes Wolverine's story arc in the context of the X-Men perfectly, while also leaving room for Logan.
Charles and Erik's relationship is also wrapped up in Days of Future Past as well. The pair have also been a central element to the franchise, as they have polar opposite ways of thinking. Following the events of this movie, audiences learn that they do ultimately find peace among one another and become friends in the future. When Apocalypse and Dark Phoenix depict them, their relationship starts to become a bit of a broken record (Erik even touches on this with the Dark Phoenix line "there's always a speech… and nobody cares").
Dark Phoenix is a whimper, but Days of Future Past is an empowering roar. It was the perfect conclusion to the franchise established with 2000's X-Men. Instead of mourning this X-Men failure, let's celebrate what made it great! Re-watch Days of Future Past and forget the pain that is Dark Phoenix!
Let us know your thoughts on Days of Future Past, Dark Phoenix and the rest of the X-Men franchise in the comments below!
Your Daily Blend of Entertainment News
YA genre tribute. Horror May Queen. Word webslinger. All her writing should be read in Sarah Connor's Terminator 2 voice over.