Apparently Dark Phoenix Was Delayed Due To Alita: Battle Angel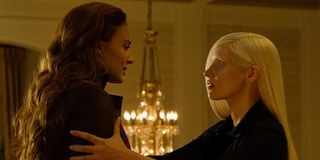 This past weekend saw the release of Dark Phoenix, the final entry in the main X-Men film series that kicked off in 2000. The Simon Kinberg-written and directed flick was already being plagued by bad reviews, but with a dismal $33 million debut, it's safe to say Dark Phoenix is a critical and commercial failure.
Had 20th Century Fox stuck to its original plan, Dark Phoenix would have come out last November, but because the movie needed reshoots, it was moved to February 14, 2019, which would have made it the second X-Men franchise movie to release during Valentine's Day Weekend following Deadpool. However, Dark Phoenix was moved again its final June date, and apparently the reason for that delay is reportedly due to James Cameron not wanting fellow Fox release Alita: Battle Angel to duke it out in the December 2018 cinematic landscape.
Just like Dark Phoenix, Alita: Battle Angel was originally supposed to hit theaters earlier; July 2018, to be precise, followed by a move to December 21, 2018. You might recall that that week was a particularly crowded on the movies front, because along with Aquaman and Bumblebee opening that same day, Mary Poppins Returns came out two days earlier.
James Cameron, who produced Alita: Battle Angel after years of being attached to the project as director (Robert Rodriguez ended up sitting in the director's chair instead), apparently went to the Fox brass and expressed concern that Alita would be crushed by that opening week competition. Because Cameron is arguably Fox's most important filmmaker thanks to the success of Titanic, Avatar and more, then-Fox CEO Stacey Snider agreed to push Alita to February 14, 2019.
This resulted in Dark Phoenix being pushed to June 7, despite the fact that director Simon Kinberg, producer Hutch Parker and Fox vice-chairman Emma Watts "begged" Stacey Snider not to do this, according to sources who spoke with THR. The problem, according to one of these insiders, was that Dark Phoenix wasn't designed to be a summer movie. It was described as the "anti-Apocalypse," focusing less on "spectacle and scale." Plus, given how many superhero movies in recent years have been successful outside of the summer movie season, there was a feeling that Dark Phoenix could join that group.
Alas, when it came to the Fox calendar, Alita: Battle Angel took precedence, and Dark Phoenix came out after movies like Avengers: Endgame, Pokemon: Detective Pikachu, Aladdin and more took May by storm. Dark Phoenix also opened opposite The Secret Life of Pets 2, which won the weekend with a $47 million debut.
It's also noted in THR's article that at the time Dark Phoenix was pushed to June, the marketing campaign was "muddled" due to preparations for the upcoming Disney-Fox merger and uncertainty over if this was indeed the last X-Men movie. Although The New Mutants is still scheduled for theatrical release, it's safe to say that Dark Phoenix ends the main mutant-filled saga on a whimper.
While Dark Phoenix's critical reception would have been the same no matter what month it was released, it is interesting to imagine how it would have performed commercially had it been released on February 14. Isn't It Romantic and Happy Death Day 2U opened a day earlier, so perhaps Dark Phoenix would have fared better since there wouldn't have been any other blockbuster competition.
It's also worth mentioning that despite its move to February, Alita: Battle Angel didn't exactly make a splash at the box office in February. While its critical reception fell in the mixed range, it only made a little over $404 million worldwide, making it either underperformed or just barely breaking even, depending on who you ask. As a result, it's unclear if a sequel will get the green light.
Stay tuned to CinemaBlend for more coverage on Dark Phoenix, and don't forget to read through our review. Looking to the future, the X-Men are expected to rebooted for the Marvel Cinematic Universe, although don't expect that to happen for a long time.
Your Daily Blend of Entertainment News
Connoisseur of Marvel, DC, Star Wars, John Wick, MonsterVerse and Doctor Who lore. He's aware he looks like Harry Potter and Clark Kent.