People Are Obsessed With This Viral Game Of Thrones Alternate Ending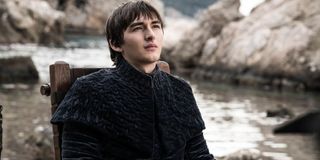 Warning: Spoilers for Game Of Thrones' series finale are in play. So if you're somehow not caught up just yet, come back to this story after your watch has ended.
The moment that Tyrion Lannister crowned Bran "The Broken" Stark as the king of the six realms in Game of Thrones' fictional kingdom of Westeros, there was much discussion about whether or not this choice was the best fit, as well as whether or not HBO was worth keeping given that ending. Within those conversations, the discussion of whether Bran was on the level or not when accepting the throne was one of the sticking points that recurred within such judgements on the series finale's big resolution.
Now, a fan has gone and made an edit to the finale so mind-blowing, it's convinced a lot of fans that this ending does indeed make sense. And all it took was 30 seconds, a little bit of tweaking, and the implication that Bran is the next evil to sit on the throne of Westeros. Watch this fan edit for yourself below:
So from the looks of this brand new addition to the record-breaking Game of Thrones finale, right at the moment that Jon Snow apologizes to Bran Stark for not preventing him from being crippled, Bran tells him as he did in the series that he was right where he should have been in the scheme of things. But as it turns out, Bran had his own special places in Season 8.
Namely, this new ending suggests that Daenerys' gigantic heel turn was thanks to Bran possibly being possessed by The Night King, and using his warging abilities to take over the Mother of Dragons right as she laid waste to King's Landing. This, in turn, set off the chain of events that ultimately lead to the death of the Khaleesi, and the rest of the events that saw Game of Thrones put the three Stark children in their own powerful places of destiny, and Jon returning to the Night's Watch.
Social media has been buzzing about this ending, as not only was it the platform for releasing this quick but exciting clip, it was also a massive source of the reactions to this ending.
Perhaps one of the best tweet reactions to this Game of Thrones theory is the following, which laid out two convincing cases for what exactly happened in that video:
Then there's another fan who, when goaded by a friend, confirmed that this was the way that the series finale should have played out, without question:
While Bran's supposed heel turn does have some pretty massive support, there's one Twitter user who felt that there should have been a couple more key events included in this flashback. You know, to really drive the point home:
Last, but not least is this message, congratulating the user who created this clip with a hearty dose of Ron Swanson pride:
Whether Ron would have approved of this ending or not, it seems that Game of Thrones fans accept this explanation to Bran's coronation without a doubt in their minds. Perhaps it's the show's consistent rewarding of villains that has the audience primed to accept such a bleak ending. Or maybe the last couple of seasons were indeed that weak enough that a simple 30-second reveal could tie things together.
In either case, Game of Thrones is officially wrapped, and now the story will continue through the books and spin-offs that follow. Though if you're still in the mood for a trip to memory lane, last night's documentary Game Of Thrones: The Last Watch is now available, along with the entire series, on HBO Go and HBO Now, for your perusal.
Senior Movies Contributor
CinemaBlend's James Bond (expert). Also versed in Large Scale Aggressors, time travel, and Guillermo del Toro. He fights for The User.