Star Wars: Galaxy's Edge Features A Ship From Colin Trevorrow's Episode IX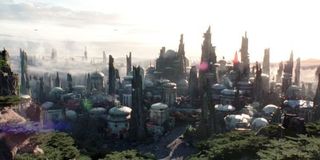 You'll recall that before J.J. Abrams returned to the Star Wars franchise to direct The Rise of Skywalker, what was then simply known as Episode IX was going to be helmed by Jurassic World's Colin Trevorrow. Due to creative differences with Lucasfilm, Trevorrow departed the final installment of the Skywalker Saga in September 2017, but one element from his version of the Star Wars movie can now be seen at the new Disneyland attraction Star Wars: Galaxy's Edge: a ship called the TIE Echelon.
Star Wars: Galaxy's Edge is now open to the public at Disneyland (if you have a reservation), but needless to say that it takes a long time for that large of an attraction to be constructed. By the time Colin Trevorrow departed Star Wars: Episode IX, Galaxy's Edge was nearly a year and a half into the construction process, and even though we'll never see Trevorrow's Episode IX, the TIE Echelon was kept as one of several life-sized ships on display.
As for what specific use the TIE Echelon had during combat, here's what Colin Trevorrow revealed:
If there's one thing you can count on from The Empire and The First Order, it's a lot of variations on the TIE Fighter. Assuming Colin Trevorrow's Episode IX also took place a year after The Last Jedi like The Rise of Skywalker does, that would presumably give The First Order enough time to get numerous TIE Echelons into the fight against the Resistance, which has now resorted to guerrilla tactics against the Kylo Ren-led tyrannic force.
Alas, it doesn't sound like the TIE Echelon will appear in J.J. Abrams' Star Wars: The Rise of Skywalker, but because the ship is on display in Galaxy's Edge, perhaps that's enough incentive to feature it in a Star Wars TV series, video game or novel down the line. At least The Rise of Skywalker won't be lacking in special TIE starfighters, as the teaser trailer shows Rey leaping over one, which is almost certainly being piloted by Kylo Ren.
Colin Trevorrow also said the following during his interview with Collider about his involvement with Star Wars: Galaxy's Edge and the behind-the-scenes story on creating the TIE Echelon:
The director didn't elaborate on provide any details on the sequence where the TIE Echelon would have shown up in Episode IX, but he still loves that ship. As for the Star Wars: The Rise of Skywalker that is being released for the masses, specific plot details are still being kept under wraps, but it'll result in the ancient conflict between the Jedi and Sith reaching its climax.
Star Wars: The Rise of Skywalker opens in theaters on December 20, and those without a reservation can check out Star Wars: Galaxy's Edge starting June 24.
Connoisseur of Marvel, DC, Star Wars, John Wick, MonsterVerse and Doctor Who lore. He's aware he looks like Harry Potter and Clark Kent.
Your Daily Blend of Entertainment News
Thank you for signing up to CinemaBlend. You will receive a verification email shortly.
There was a problem. Please refresh the page and try again.