Star Wars: Galaxy's Edge Has Had A Surprising Impact On The Rest Of Disneyland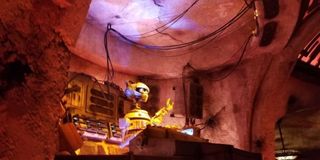 Star Wars: Galaxy's Edge is the hottest ticket in theme parks right now. To even get into the Disneyland location for the next week and a half you need a reservation on top of your Disneyland admission ticket. However, while one might think that limiting access to Galaxy's Edge would make the rest of Disneyland that much more crowded, quite the opposite has happened. The rest of Disneyland is comparatively empty.
To be clear, that's "comparatively" empty. Disneyland is the second most popular theme park destination on the planet behind Walt Disney World's Magic Kingdom, but considering that we're now in the middle of June, prime summer vacation time, the lines at Disneyland's other attractions are actually shockingly short, some of the shortest the park has ever seen on days that weren't pouring rain.
The exact reason for this isn't entirely clear. The Orange County Register suggests that the fear of overly long lines might have actually resulted in the lack of the same. Because Galaxy's Edge was expected to draw massive crowds, people who wanted to avoid the insanity more than they wanted to fly the Millennium Falcon may have decided to stay away.
The reservation system that has been required up until this point may have also had a lot to do with the lack of crowds. The reservations for the first three weeks of Galaxy's Edge's opening were gone within two hours of being made available, meaning the only way to get into the new land before June 24 is to book a room at a Disneyland Resort Hotel.
Because reservations were required for the land's first three weeks, many who might otherwise be riding Spacer Mountain right now may have scheduled their vacations for later in the summer so that they could get into Galaxy's Edge as well.
Finally, many Disneyland Annual Passes are currently in blackout periods for the park, meaning those that hit the park frequently are taking some significant time off.
All this, combined with the fact that Disneyland can simply hold more people, thanks to the new 14-acre land, have likely combined to create the perfect scenario for those who are experiencing the rest of Disneyland.
We'll know shortly just how much some of these factors are influencing the lighter crowds. We're only 12 days away from not needing a reservation to get into Star Wars: Galaxy's Edge. If people who could not get reservations have been holding off, we could see a mass influx of guests very soon.
Of course, the good news for those that are getting into Galaxy's Edge, is that things aren't all that crowded there either. As of this writing, Millennium Falcon: Smuggler's Run has a wait time of all of 15 minutes. This is probably due to a combination of things. There's a lot to do inside Galaxy's Edge that doesn't include attractions, and the land might be keeping the crowds a little on the small side just to make sure things don't get out of control.
I'm not sure I've ever experienced Disneyland with crowd levels like the park is currently seeing, but I certainly can say that the difference between the park on a very crowded day versus a light crowd day is an entirely different experience. Disneyland is always fun, but Disneyland when, with a little skilled use of FastPasses, you can almost entirely avoid lines, is something else.
If Annual Pass blackouts or the Galaxy's Edge reservation requirements are the main reasons crowds look down, then these short lines certainly won't last forever, as those things will change before too long. If however, the general popularity of Galaxy's Edge is the reason crowds in the rest of the park are down, we could see these levels hold for a while. And if this is how things look in June, the park could seem absolutely empty during lower volume periods.
Things are likely to remain in flux for a while. The reservation system ends June 24, and then, at some point later this year, the second E-ticket attraction inside Galaxy's Edge, Rise of the Resistance, will open, which will certainly increase the crowds in that part of the park, but again, might make the rest of Disneyland a bit more bearable.
And then, of course, there's Disneyland Resort's other park, Disney California Adventure. Crowds there have always been smaller than you'll find at Disneyland proper. Although, the same Disneyland Annual Passes that are blacked out at Disneyland right now are allowing those same guests into California Adventure, so things might be a bit more balanced than usual.
Whether crowds are actually down, or just seem that way, it looks like, if you're willing to skip a trip to Batuu, there's no better time to hit Disneyland. Pardon me while I go price flights.
Your Daily Blend of Entertainment News
Content Producer/Theme Park Beat
CinemaBlend's resident theme park junkie and amateur Disney historian. Armchair Imagineer. Epcot Stan. Future Club 33 Member.