Men In Black Box Office: International Gets The Number One Spot, But Still Disappoints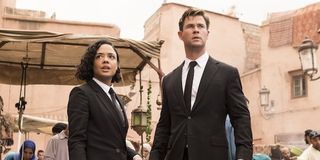 Folks, the domestic box office is in a rut. In preparing to write up the latest numbers, I looked back on headlines from the last couple weeks, and rediscovered the used phrases "tepid opening" and "slow weekend" to the way things had gone. Sadly that's a trend that we are seeing continue as we slide past mid-June. This weekend saw the return of two well-known franchises hit the big screen, but on the whole nobody really cared about them, as both F. Gary Gray's Men In Black International and Tim Story's Shaft failed to inspire a lot of ticket sales.
Check out the results in the full Top 10 rundown below, and join me after for analysis!
For what it's worth, the foreign numbers for Men In Black International should keep the brand a viable property for Sony Pictures going into the future - as the release has already surpassed $100 million globally - but things definitely did not go well for the movie here in North America. The trouble started mid-week with a modest-sized wave of negative buzz, as critics at large were left feeling underwhelmed by what the blockbuster had to offer. This lowered expectations to the point where prognosticators were estimating at least a $30 million three day start for the film, but as you can see above, it wasn't even able to get over that bar (and keep in mind that there were once suggestions of a possible $50 million opening).
This is most definitely a bad start in the age of the $350 million opening, but what truly makes the performance look bad is when the figures are compared to the numbers generated by previous titles in the sequence. From 1997 to 2012, Men In Black as a brand could be relied on bringing in at least $50 million in its first Friday-to-Sunday - and this latest chapter barely eclipsed half of that. And certainly not helping anything is the fact that it's received a rather tepid audience response - as represented by the "B" that it received from CinemaScore. So don't expect this to be a release that gets a late swell of support because of folks telling all of their friends how good it is.
So what went wrong? Well, most critics seem to agree that it has nothing to do with stars Tessa Thompson and Chris Hemsworth - who reunite after Taika Waititi's effortlessly delightful Thor: Ragnarok - but instead the fact that they are given nothing to do by the film's script. Should there be future sequels, this is fortunately something that can be remedied with talented individuals taking proper care and attention when it comes to the story being told, but Sony might now also feel a bit gun shy about greenlighting any future chapters in this continuity.
What about Shaft? To turn a phrase, people didn't dig it.
Clearly the latest film in the legendary blaxploitation franchise didn't cost nearly as much as Men In Black International, but even still there can't be anybody at Warner Bros. who is smiling because of these results. Opening under $10 million is bad; opening in sixth place is worse; and earning a mere fraction of the opening weekend numbers for John Singleton's 2000 sequel ($21.7 million) is pure insult to injury. The critical responses doesn't even earn it a modest cherry on top either, as multiple write-ups have included words like "homophobic" and "misogynistic." All of that together, along with the number of anticipated releases set to come out in the next few weeks, should guarantee that Shaft's stay in the Top 10 won't be long - even with the reported support of audiences that has manifested in contrast to professional critics.
Of course, it wasn't exactly a banner weekend for everything else out in circulation either. Illumination Entertainment's The Secret Life Of Pets 2 had a solid 49% drop from week one to week two, but its domestic gross is still about $10 million less than what its predecessor was able to bring in during its first three days. And as I mentioned in my box office report last Sunday, the audience for it is likely going to totally disappear next weekend when Pixar's Toy Story 4 lands in theaters nationwide. The drop won't be massive, but the numbers are definitely going to sink.
At the very least one can say that the animated dogs and cats movie did a hell of a lot better than Simon Kinberg's Dark Phoenix. It was a rough state of affairs last time around when the latest/last chapter of the X-Men series earned the "Weakest Opening In The Franchise" title, and things now aren't exactly better. The news cycle made note of the fact that both Brightburn and Godzilla: King Of The Monsters recently experienced massive drops in their second weekends (68.7 percent, and 67.7 percent, respectively), but the Marvel comics movie actually managed to outpace both of them in that regard. The $9 million earned from Friday to Sunday means that the blockbuster's numbers sank 72.6 percent, and that's significant. At this rate, making $100 million domestically will likely be impossible, and that will make it easily the worst performing chapter in the history of the big screen brand.
How will things turn around for Hollywood? Well, Disney seems to have the magic touch so far in 2019 (note that Guy Ritchie's Aladdin may soon be nearing $300 million domestically), and as mentioned above, the studio has another hotly anticipated title arriving in just a few days. Lee Unkrich's Toy Story 3 was a crazy big hit when it came out in 2010, making $110 million in its first weekend, and it wouldn't surprise many to see its follow-up perform similarly. Throw in some interesting question marks like Lars Klevberg's Child's Play reboot, Luc Besson's new action flick Anna, and Tom Harper's musical drama Wild Rose and you have all the ingredients for some interesting Top 10 shake-ups.
Be sure to come back next Sunday to see how everything plays out.
Your Daily Blend of Entertainment News
Assistant Managing Editor
NJ native who calls LA home and lives in a Dreamatorium. A decade-plus CinemaBlend veteran who is endlessly enthusiastic about the career he's dreamt of since seventh grade.