FKA USA: Warner Bros. To Adapt This Wizard Of Oz-Tinged Dystopian Novel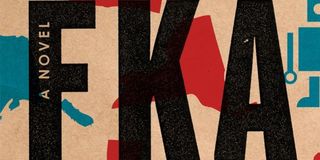 The dystopian subgenre is an area of film history rich with bold and detailed (albeit bleak) visions of the future, but we've never seen anything quite like the one presented in author Reed King's new novel FKA USA. Set just a few decades from now, and written like a memoir from the perspective of its protagonist, Truckee Wallace, the plot takes readers through the wasteland remnants of a post-secession America – with corporations controlling large regions, outlaws holding others, and vast segments deemed uninhabitable due to extreme weather conditions. And while the story may currently only exist in book form, that may not stay true for long.
FKA USA isn't arriving in bookstores until this Tuesday, June 18th, but Warner Bros. decided not to wait and see sales numbers before imagining what the adventure could look like on the big screen. The studio purchased the film rights to the story all the way back in November, and this means we might only be a few years removed from seeing a cinematic adaptation. It will admittedly be an interesting challenge for filmmakers, as the storytelling is woven into a wonderfully complex and dense fictional world history, but it's a challenge worth taking on if it means seeing Reed King's frightening, funny, weird, and Wizard Of Oz-tinged vision come to life.
King (which is a pseudonym) has been working on the book for nearly a decade – which I recently learned from an email exchange with the author via his publicist. The inspiration for the story first stuck when he was doing a lot of traveling, and had the opportunity to witness and experience the many different cultures that all exist within the borders of America. What seemingly turned the plot toward the dystopian, however, was the fact that he also taken aback by the disconnect that exists between all of the different populations. Wrote the author,
It was from here that FKA USA started to piece itself together. Readers are introduced to Truckee Wallace as a nobody teenager living in what used to be Little Rock, Arkansas (now known as Crunchtown 407). He has assimilated to the hellish life that exists on Earth, full of chemically-created food and addiction to electronics, but everything changes with the reemergence of his former best friend – who attempts to kill a talking goat in a vat of chemicals at the factory where Truckee works. This sets off a chain of events that sees the would-be hero on a cross-country adventure trying to stop a potential apocalyptic event.
Along the way Truckee is joined on his journey by not only the intelligent-but-fainthearted goat, named Barnaby, but also a friendly android named Sammy, and a lobotomized giant (a.k.a. "Straw Man") named Tiny Tim. It's an ensemble purposefully reminiscent of The Wizard of Oz – with each respectively standing in for Dorothy, the Cowardly Lion, the Tin Man, and the Scarecrow – and it was apparently a key element that came together as the author began to define his lead characters. King explained,
It's an element of the book that could come together in a fascinating way on the big screen. After all, Warner Bros. owns the rights to Victor Fleming's 1939 classic, which means that the movie could potentially recycle some iconic cinematic imagery. I specifically asked Reed King about it, and while he noted that the final decisions would certainly be in the hands of the director making the adaptation, he added that trying to get around those elements would probably be a challenge:
On theme with his willingness to leave those kinds of decisions to the filmmakers adapting FKA USA, Reed King also wrote in his responses to my questions that he doesn't have a personal desire to be directly involved with the writing of the project. On the contrary, he's curious about seeing another creative's take on his work (not to mention that the whole experience writing the novel was apparently exhausting enough). Wrote King,
We'll see what happens as FKA USA (opens in new tab) navigates its way through development at Warner Bros. – but you don't have to wait for the film adaptation to experience the epic and wild story for yourself. The book will be on shelves everywhere on Tuesday, so go pick up a copy, and enjoy.
Your Daily Blend of Entertainment News
Assistant Managing Editor
NJ native who calls LA home and lives in a Dreamatorium. A decade-plus CinemaBlend veteran who is endlessly enthusiastic about the career he's dreamt of since seventh grade.