5 Things The Men In Black Franchise Needs To Do To Get Back On Track After International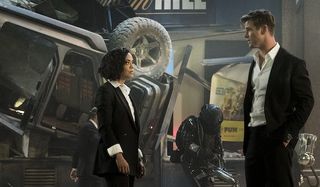 To say the least, F. Gary Gray's Men In Black International didn't work out as well as many had hoped it would. After being dormant for nearly a decade, the sci-fi franchise returned with a new chapter that has not only been bashed by critics, but got an uninspired response from audiences on opening weekend. It's a major disappointment, and many have wondered if it could lead to the end of the series' big screen run.
At this point, only time will tell if that turns out to be true – but if it does, one could make a fair argument calling it a mistake. While there are a lot of things that aren't done well in Men In Black International, there still exists a tremendous amount of potential in the franchise, and things could totally turn around with the implementation of just a few changes in another installment. It's with this in mind that I have put together this feature, suggesting five things the Men In Black brand can do to get things back on track:
Keep Tessa Thompson And Chris Hemsworth As The Stars
There are many reasons why Men In Black International doesn't really work, but not listed among them are the contributions of stars Tessa Thompson and Chris Hemsworth. On the contrary, it's because of their individual charisma and wonderful chemistry together that the movie is at least semi-watchable. They are unquestionably the best part of the new film, and it would be a serious mistake if the franchise were to try and replace them in favor of fresh faces for a follow-up.
Not only are the performances from Tessa Thompson and Chris Hemsworth solid, but the characters they play are actually well-drawn as well (the big issue is just that the script gives them nothing to do). Both Agent M and Agent H get something different from the experience of being in Men In Black, and there is tremendous potential in the idea of future chapters that force them to evolve and change their perspectives on the covert alien tracking organization. The foundation for larger arcs is now established thanks to Men In Black International, and sequels could take them in hundreds of great directions better than what we've already seen.
Do More World Building With The International Premise
One of the most disappointing aspects of Men In Black International is the way in which it fails to deliver on what feels like a promise from the title: world-building. While Barry Sonnenfeld's trilogy primarily kept the extraterrestrial-driven action contained to the streets of New York City, F. Gary Gray's film seemed like it would offer the opportunity for audiences to discover how alien activity is monitored around the world. But it doesn't. Instead, it simply uses London instead of Manhattan as a base of operations (the style of the headquarters being basically identical), and the story just happens to take the film's heroes to multiple other countries.
There is still a lot we don't know about Men In Black's global activities following Men In Black International – so it would be nice to see a future installment of the franchise actually make an effort to answer some questions. While the London office may look the same and operate similarly to the one in New York, there is still the possibility that there is variety to be found in other nations, and perhaps even a few controversial methods of doing things in certain offices that could spark conflict (and therefore plot). After four movies this brand has still really only scratched the surface when it comes to the potential of this expansive sci-fi universe, and it would be great to see more digging.
Tie The Plot Into History
As described by producer Walter Parkes, Men In Black has a rather straightforward comedic approach: it takes the world that we all know and recognize, and then proceeds to shine a light on all of the weirdness that exists within it. Because of this, there is an extra bit of fun to be had with major depicting historical events, as it's entertaining to watch a sci-fi movie tell its own version of the way things happened through a unique special lens. This was an element that was well implemented in the original trilogy, but it's disappointing that it's lacking in Men In Black International.
Past Men In Black movies changed the way we look the observation towers of the New York State Pavilion in Flushing Meadows Park, and altered our perception of the Apollo 11 rocket launch in 1969 – and that's a tradition we'd love to see come back in future films. From Area 51 or the events at Roswell, to the story of Utsuro-bune in 19th century Japan, there is a lot of material in our own world that could serve as inspiration for new blockbusters.
Go Back To Using Special Effects
There are many ways in which the film industry has changed since the release of the first Men In Black 22 years ago – but one of the most significant is the way in which visual effects have decimated the special effects industry. As software continues to evolve and improve, Hollywood has almost exclusively started relying on digital solutions over practical ones when trying to make the impossible possible, and it has totally changed modern moviemaking. Unfortunately, it also makes Men In Black International stick out like a sore thumb when compared to its predecessors in the series, and in the future it's something that needs to be remedied by the franchise.
Legendary effects artist Rick Baker did some of the best work of his career contributing a crazy variety of alien designs to the original Men In Black trilogy, but all of the magic of his tactile work is totally absent in Men In Black International – which is populated with computer-generated otherworldly beings that very clearly aren't breathing the same air as their scene partners. In the same way that J.J. Abrams brought special effects artistry back to the Star Wars franchise with The Force Awakens – recognizing it as a key part of the brand's aesthetic – any future Men In Black movie would be smart to return to Hollywood's more classical techniques.
Make The Movies Scary
If one were to rank the villains of the Men In Black films, the character occupying the top spot would be undisputed. The creation of Vincent D'Onofrio's Edgar/Bug is one of the great accomplishments of the franchise, as the character is at the center of some of the original Men In Black's best moments. It's a shame that none of the sequels released since have been able to match his level of awesomeness – but one element that would help any future installments at least try would be leaning more into the horror/scary side of things.
Whether he was pulling his face skin to be more taut, or snapping at Agent J after eating Agent K, Edgar was frequently nightmare inducing during his screen time in Men In Black, and no villain in the series since then has attempted a similar energy. It's too bad, because the legitimate scariness is not only entertaining, but it raises the stakes for the storytelling, and makes the audience more emotionally engaged with the plight of the heroes. The antagonists since the first movie have all been tamer in hopes of making the blockbusters more family friendly, but changing things up would be a great way to re-energize things post-Men In Black International.
If you were to hear about a new Men In Black movie entering development, what would you like to see it change after Men In Black International? Do you agree with our suggestions? Do you have a few of your own? Hit the comments section with all of your thoughts, feelings, and opinions, and stay tuned here on CinemaBlend for all of the latest updates.
Your Daily Blend of Entertainment News
Assistant Managing Editor
NJ native who calls LA home and lives in a Dreamatorium. A decade-plus CinemaBlend veteran who is endlessly enthusiastic about the career he's dreamt of since seventh grade.