Men In Black Producers Explain The Life And Death Of The 21 Jump Street Crossover Movie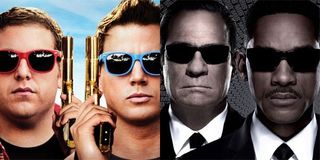 Back in late 2014/early 2015, it looked like the faces of both the Men In Black and 21 Jump Street franchises were going to change. It was a time when Sony Pictures was trying to figure out what was in store for the future of both of the brands, and that shared status led to some interesting talk about to potential of a crossover. Minds around Hollywood immediately started buzzing about the possibilities for the project, and while it ultimately turned out that the film just wasn't worth pursuing, it remains one of the most interesting "What If?" Hollywood stories of the last few years.
So what exactly happened? How did the project initially start developing, and what was the reason for it never moving forward? For answers to those questions, I recently turned to Men In Black franchise producers Laurie MacDonald and Walter Parkes, with whom I spoke during the recent London press junket for the upcoming Men In Black International.
Approximately two years after the release of Men In Black 3 (which made $624 million at the global box office), the franchise was still looking at how to continue its cinematic future, particularly because there was an awareness that the Will Smith/Tommy Lee Jones era had come to an end with the Barry Sonnenfeld-directed trilogy. Work was being done behind the scenes on another kind of spin-off idea, but the concept wasn't fleshing itself out property. It was at that point that the idea of a radical crossover came into the picture, and it was essentially viewed as an approach that had a "crazy enough to work" type vibe.
Phil Lord and Chris Miller – who were just coming off of the massively successful 22 Jump Street, and had a growing reputation for turning bad ideas into great ideas – put forward the idea of a movie that would blend the universes of 21 Jump Street and Men In Black, and reveal that they take place within the same world. It immediately struck Laurie MacDonald as an odd trajectory for the sci-fi heavy franchise, but she was won over by the notion particularly because of the talent of the men making the sale. She explained,
It was also basically a win-win scenario for the Men In Black producers. According to MacDonald, the deal that was struck gave them the option to back out once a script had been written – and that was apparently the only safety net required for the crossover to be explored. Chris Miller and Phil Lord started working on combining the two worlds with help from Rodney Rothman (who would eventually go on to co-direct Spider-Man: Into The Spider-Verse in collaboration with the filmmaking duo). Unfortunately, though, it didn't quite go as well as hoped. In MacDonald's words,
"There," of course, is the determined threshold where a concept makes the leap into becoming a real potential movie – and Men In Black/21 Jump Street was just never able to make it to that point. One might find that surprising, not only because of the aforementioned talent involved, but also because you'd expect that both buddy cop-centric approaches would play off each other well. There was, however, a bigger issue which ultimately prevented the project from fully functioning.
As Walter Parkes explained, it all had to do with the way in which each series generated its core sense of humor. For Men In Black it was all about grounding heightened events; while for 21 Jump Street the humor called for heightening what otherwise might be mundane. Putting the two side-by-side, he explained,
If the Men In Black/21 Jump Street crossover were to happen, it sounds like it would have essentially be a robbing Peter to pay Paul situation. Going one way it would have just meant basically turning Schmidt (Jonah Hill) and Jenko (Channing Tatum) into lesser-skilled alien fighting agents. In the other direction it would have been a pair of black sunglasses-clad agents entering the world of undercover police work in schools. One franchise would have had to sacrifice its essence in favor of the other, and that just didn't really work.
So the movie didn't get made, and the Men In Black franchise decided to go the International route – re-pairing Chris Hemsworth and Tessa Thompson as the new leads – but both Laurie MacDonald and Walter Parkes look back with a certain fondness on the 21 Jump Street crossover that was ultimately not meant to be. It was a funny idea, and an outside-the-box approach, and while it proved to be too great a challenge it was something they were happy to develop for the time that they did:
Fans of Men In Black will soon get to see the alternate direction that was chosen for the franchise, as Men In Black International is coming to a theater near you this Friday, June 14th. Between now and then, you're definitely going to want to keep coming back to CinemaBlend, because I will not only have more from my interview with the wonderfully informative Laurie MacDonald and Walter Parkes, but also my sit downs with stars Chris Hemsworth, Tessa Thompson, and Kumail Nanjiani.
Your Daily Blend of Entertainment News
Assistant Managing Editor
NJ native who calls LA home and lives in a Dreamatorium. A decade-plus CinemaBlend veteran who is endlessly enthusiastic about the career he's dreamt of since seventh grade.