The 10 Best Kate Beckinsale Movies, Ranked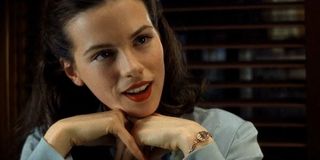 Though she is still best known for her work in the extenuating Underworld franchise, Kate Beckinsale has been exceptionally expansive in the films she chooses to appear in. Whether it's comedies, dramas, horror or what-have-you, Beckinsale makes a point to push herself as an actress and appear in a wide variety of titles, even if they don't always turn out for the best. You gotta respect an actress who's willing to push herself with new projects.
With that in mind, I want to take a moment to celebrate some of Kate Beckinsale's best movies. While she has starred in a few not-so-great titles (I've heard The Disappointments Room more-than-lives up to its title), she has also proven herself to be a commendable actress with a variety of well-regarded films under her resume. That's why we're taking the time to celebrate some of Kate Beckinsale's best films.
10. Contraband
I'll have a hard time convincing anyone that it's a sold-cold classic, but Contraband is a lot more fun that people give it credit for. Director Baltasar Kormakur's 2012 English-language remake of the Icelandic film Reykjavík-Rotterdam, which starred Kormakur, was given an unceremonious January release, leading many moviegoers to write it off as a disposable Mark Wahlberg action flick that somehow escaped being a direct-to-DVD exclusive. If you check out the film, it proves to be a surprisingly pulpy, action-friendly crime thriller with some solid performances and some solid suspense.
Included in the cast's roster of dependable talents is none other than Kate Beckinsale. As Kate Farraday, the wife of Mark Wahlberg's Chris Farraday, Beckinsale helps to sell the heightened emotions of this intense film, and Beckinsale proves that even in a small role, she can still sell the tension.
9. Everybody's Fine
While there are many movie fans out there who are quick to lament the loss of great Robert De Niro performances in recent years, the actor provided a richly compelling performance in 2009's gently moving ensemble piece, Everybody's Fine. Sadly, however, there weren't many people who got a chance to see the actor prove his talents in this particular film. He wasn't alone. De Niro was joined by a strong ensemble, including Drew Barrymore, Sam Rockwell, Melissa Leo, and Kate Beckinsale. Though the movie wasn't well-regarded as a whole, everyone here works in their respective parts.
In the role of Amy, Kate Beckinsale is one of many conflicted characters who are at-a-loss for how to deal the current situation with their father, Frank Goode, played by Robert De Niro. It's a character study that doesn't come together quite as well as it should have, but the great character work and the strong acting does a good deal to help the film become an emotionally enriching, then heartbreaking, experience for the viewers who did see it.
8. Serendipity
In an interview with Bustle back in 2016, Kate Beckinsale admitted that when fans come up to her to profess their love for one of her movies, more times than not it's Serendipity that comes out of their mouths. Often from guys too, believe it or not! The romantic comedy was met with modest reviews when it was released, but it has struck a chord with a lot of people, and this romantic comedy about destiny and chance has really found a warm place in the hearts of romantics everywhere, waiting for that perfect moment with fate aligns, stars cross and lovers — at last — find each other.
Evidently, it's not as easy as it seems in the movies, but that doesn't mean people like Serendipity any less. The 2001 romance finds Kate Beckinsale playing the role of Sara Thomas, who alongside John Cusack's Jonathan Trager, has a chance encounter with her soulmate and spends the next few years hoping to get reacquainted. It's a charming, earnest little movie, and if you take a chance on it, you mind find yourself falling in love with it too.
7. Cold Comfort Farm
An eccentric and sophisticated comedy with an exceptional cast, Cold Comfort Farm hasn't been in the spotlight much since its release back in 1996, and that's a bit of a shame. Joining the bright talents of Joanna Lumley, Ian McKellen, Rufus Sewell, Stephen Fry and Eileen Atkins, Kate Beckinsale certainly was in great company for this high-minded period piece. Yet, similar to the other comedies mentioned here, she certainly proves herself well.
Playing Flora Poste, Kate Beckinsale is given another great showcase earlier in her career to prove her talents in both comedy and drama, and she uses this opportunity to excel in both regards. A film that is bristling with wit and often giving ample time to its talented array of actors, Cold Comfort Farm is a very fine showcases for this rising actress — even if it's one that, in the scheme of things, has been forgotten about by moviegoers at large.
6. Much Ado About Nothing
Everyone has to start somewhere. For Kate Beckinsale, the famous actress got her big break in Kenneth Branagh's Shakespeare adaptation, Much Ado About Nothing. Playing the role of Hero, opposite her on-screen lover Claudio (Robert Sean Leonard), Beckinsale plays a bright and warm presence, full of youth and exuberance as she makes her first trip to the silver screen. Of course, this movie would pave the way for many more trips.
Although Much Ado About Nothing is the actress' first movie, away from some TV projects, it still remains one of her most well-acclaimed projects, showcasing a bright future for the actress in a variety of films. Everyone gets their start somewhere, and this is where Kate Beckinsale had her first chance to shine. Clearly, Much Ado About Nothing proved there was certainly something for Kate Beckinsale's promising future as an actress.
5. Love & Friendship
Quite possibly Kate Beckinsale's best-reviewed films by critics, as well as one of her most celebrated performances, Love & Friendship was the second time that Kate Beckinsale found herself in good company with writer/director Whit Stillman, providing Beckinsale with a strong, elegant performance that served as one of her most established in recent years. It's the type of performance that makes you wish she could do more witty period comedies like this one, but it's evident these type of movies are becoming harder to come by. Better to just appreciate those we have.
As the quick-witted, bitingly funny Lady Susan Vernon, Love & Friendship was based on Jane Austen novella, Lady Susan, and it makes you wonder why Whit Stillman has adapted a Jane Austen novel before. Or why it took him this long to make a period piece in this vein. No matter. In addition to the director having a grand time with the material, Kate Beckinsale is living it up in a way she hasn't in ages. It results in one of her best roles to date.
4. Nothing But The Truth
A well-crafted political thriller with a strong script, tight direction and exciting performances, Nothing But The Truth is one of those movies that weirdly — and disappointingly — got overlooked in the broad scheme of things. It's a shame because, as you might guess, it's a good movie, and one that deserved a bigger audience than it was given. Alas, there are always good films that fall through the cracks. This is one of them.
Featuring a strong cast to help bring its true life story to the big screen, including established talents like Matt Dillion, Angela Bassett, Vera Farmiga, David Schwimmer and Alan Alda, it's Kate Beckinsale in the lead role of Rachel Armstrong who gets to shine the most. A top reporter who outs a CIA agent and finds herself imprisoned for being a good journalist and refusing to reveal her source, Beckinsale is given a chance to prove herself as an actress in many different respects, and I hope she gets more movies like this one to prove that she has what it takes to really excel.
3. Snow Angels
While David Gordon Green might be better known for his studio comedies like Pineapple Express and Your Highness or horror thanks to 2018's reboot Halloween, it's often his independent dramas and dramedies that showcase the best of his filmmaking talents. Indeed, one such drama is Snow Angels, the somber and coldly compelling adaptation of Steward O'Nan's novel dealing with the loss of innocence in a quiet, humble small town.
Working alongside future Oscar winner Sam Rockwell, Kate Beckinsale provides a commanding performance as Annie Marchand, who finds herself put into emotional turmoil after a string of unfortunate events. It's a gentle, yet heartbreaking, movie, filled with pathos and sadness at nearly every turn. It doesn't necessarily earn "crowdpleaser" status in a conventional sense. Yet, the craftsmanship and the great character work result in one of Kate Beckinsale's finer movies.
2. The Aviator
While Martin Scorsese's The Aviator, based on the life and times of millionaire Howard Hughes, isn't often seen as one of the director's greatest films, it's rare that Scorsese churns out anything less than subpar. Indeed, The Aviator is not only a good film, but one that is better than it's given credit for. With top-notch production details, gorgeous period designs and lavish spectacle to compliment the rich character work of this complicated character, it is a compelling movie, and one that is certainly made better by its array of strong performances, and not merely from Leonardo DiCaprio as Hughes.
In addition to stellar work from John C. Reilly, Ian Holm, Alec Baldwin and Cate Blanchett in an Oscar-winning supporting turn, Kate Beckinsale also makes a noteworthy appearance as actress Ava Gardner, who shared a relationship-of-sorts with our main character throughout a 20-year period of time. It takes enormous pressure to play such a famous figure of the silver screen. Yet, Kate Beckinsale pulls it off splendidly, capturing the legacy and the luxury of the character, while also showing us her dramatic talents. It's an overlooked performance from Beckinsale's career, and it shouldn't be.
1. The Last Days Of Disco
Whit Stillman is one of our great, if often under-respected, wordsmiths who also happens to helm a great many terrific movies. One of his better works is often considered to be The Last Days of Disco, which features one of Kate Beckinsale's best performances — if not her absolute best to date. Joined alongside Chloe Sevigny, Beckinsale often proves her firecracker talents for comedy is often at their best when she works with Stillman.
Playing the role of Charlotte, one of a pair of Manhattan book editors who are fresh out of college and looking to take on the world-at-large, often hoping to find love and laughter under the disco balls of local night clubs, The Last Days of Disco is a comedy that's fun and sophisticated in equal measures, once again proving the sharp, witty talents of its cast and creator. While the actress would return to comedies in frequent measure, she only rarely achieved the success she found with this particular role in this particular movie. At least she and Stillman worked together again with Love & Friendship.
There are several other movies from Kate Beckinsale's filmography which are popular, but didn't make the cut this time around. For instance, in addition to the aforementioned Underworld series, there are probably folks out there wondering where Pearl Harbor, Vacancy, Click and The Only Living Boy in New York might be. Alas, none of them made the cut. But if you wish to disagree, be sure to let us know your favorites in the comments.
Your Daily Blend of Entertainment News
Will is an entertainment writer based in Pittsburgh, PA. His writing can also be found in The Playlist, Cut Print Film, We Got This Covered, The Young Folks, Slate and other outlets. He also co-hosts the weekly film/TV podcast Cinemaholics with Jon Negroni and he likes to think he's a professional Garfield enthusiast.