Toy Story 4 Box Office: Buzz And Woody Can Still Draw A Crowd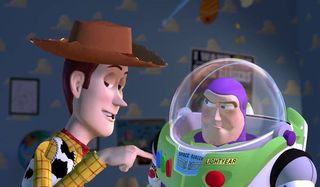 There was a lot written about Toy Story 4's potential box office heading into its opening weekend. Hot off the heels of some gaudy pre-sale numbers, some within the industry refined their forecasts to predict an absolutely gigantic opening for Pixar's latest. Those last minute increases, for the most part, proved to be inflated, but there's a big difference between not meeting elevated expectations and underperforming. So, first and foremost, the story of this weekend should be that fans still love Toy Story, and they turned out in huge numbers to support Buzz and Woody.
You can check out Toy Story 4's performance below, along with everything else from the top 10 at this week's box office...
So, obviously the conversation about this week's box office has to start and end with Toy Story 4. Because of the expectations (some had it bringing in as much as $200M this weekend), there are going to be some who refer to these box office results as a disappointment. I think that's a bit ridiculous. Toy Story 3 opened to $110M 9 years ago, according to Box Office Mojo. Given inflation, you could obviously dream of bigger growth than that, but 99% of all the movies released this year would be desperately happy with $118M. That's a huge number, and given the extremely positive reviews, it's fair to say the decision to make the movie has proven to be a great one. Hard. Stop.
I'm sure those involved with Child's Play were hoping for a little bit more than $14M and change, but with a reported $10M production budget and some halfway decent reviews, this performance is definitely not a disaster. Hopefully decent word of mouth will help it put up a pretty decent next weekend and then streaming and home entertainment can work together to produce a nice little profit for everyone.
This weekend's news is, of course, much less exciting for some of the other entries including Dark Phoenix and Men In Black International. The two poorly received latest entries into their franchises dropped off by quite a bit, and we're likely at the point where the studios behind both of these franchises will need to press pause and figure out how to continue. Let's start with Dark Phoenix. Now that the X-Men are available to the Marvel Cinematic Universe, Kevin Feige and co will need to decide whether or not to keep the mutants as the protagonists of their own series. It would be one thing if they were putting up huge money, but it's been a less than stellar run lately of disappointing reviews and slumping box office.
The Men In Black decision is also very complicated. Following the movie's less than stellar debut, stories started pouring out about behind the scenes drama and tension on the set. The main stars allegedly hired their own dialogue writers. The director allegedly tried to quit. In short, the whole thing seems like a mess. Sony, however, doesn't have a ton of booming franchises like Disney does. With improved graphics and movies like Guardians Of The Galaxy proving the appetite for aliens, I'm sure everyone involved feels like there should be something here. But if this didn't work, can they really try again with Tessa Thompson and Chris Hemsworth? Should the studio bring back Will Smith and Tommy Lee Jones? I don't know if anyone else remembers, but the first movie with them was a behind the scenes mess too.
As for next week, I'd expect a really nice hold out of Toy Story 4, but it'll still be interesting to see how the film stacks up against the new Annabelle movie, as well as Yesterday, which both open next Friday.
Enthusiastic about Clue, case-of-the-week mysteries, the NBA and cookies at Disney World. Less enthusiastic about the pricing structure of cable, loud noises and Tuesdays.
Your Daily Blend of Entertainment News
Thank you for signing up to CinemaBlend. You will receive a verification email shortly.
There was a problem. Please refresh the page and try again.