Why Stephen Curry Turned Down Space Jam 2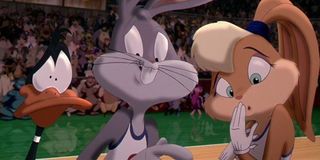 In an age of sequels, prequels, spin-offs, and in-betweenquels, it's not surprising that Hollywood would want to make a sequel to the beloved Space Jam. The original film pitted Michael Jordan and a host of Looney Tunes characters against the Monstars, an impossible-to-take-seriously team of cartoon aliens sent to Earth to capture Bugs Bunny and company. While it's unclear what its sequel will be about, what we do know is that legendary NBA player LeBron James is leading a cast of NBA and WNBA players. Unfortunately, six-time NBA All-Star Stephen Curry won't be one of them.
In an interview with NBA reporter Sopan Deb for The New York Times, Stephen Curry said,
Expanding on his connection to Space Jam 2 producer and Black Panther director Ryan Coogler, Curry continued,
Stephen Curry has repeatedly been called the greatest shooter the NBA has ever seen. His time with the Golden State Warriors has seen the team win three NBA championships and has solidified it as one of the best teams in the country. His involvement in a Space Jam film would absolutely draw sports fans to theaters in droves. Unfortunately, despite how difficult it was for him to turn down, he had to pass on the project. He definitely would have elevated the movie, even if it was just as player and not as an actor. Fortunately, the film still has a shot at becoming something special.
Helmed by An Oversimplification of Her Beauty director Terence Nance and showcasing a star-studded cast, Space Jam 2 will undoubtedly be bigger (and maybe better) than its predecessor. In addition to James, the cast includes Star Trek: Discovery star Sonequa Martin-Green, Anthony Davis, Damian Lillard, Klay Thompson, Diana Taurasi, and Chiney and Nneka Ogwumike. Martin-Green and the aforementioned players will reportedly have key roles. As a side note, O'Shea Jackson is also not in the movie. So lay those hopes to rest.
Details on the film are still scarce, but knowing that Stephen Curry won't make an appearance will allow fans to manage their expectations.
Space Jam 2 is currently slated for release on July 16, 2021. Stay tuned for updates because they will likely come pouring in as we inch toward the film's opening.
Your Daily Blend of Entertainment News