The Best Movie Adaptations Of Stephen King Books, Ranked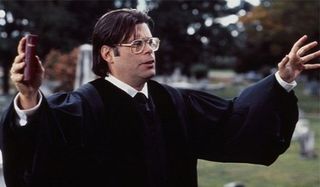 Stephen King is one of the most prolific, well-known, and best storytellers of a generation – or multiple generations. Over his now 50+ year career, Hollywood has been cranking out movies adapted from his books almost as fast as he can write them. Most recently a second movie adaptation of his book Pet Sematary was released earlier this year.
We've also seen another book adaptation made for a second time with 2017's IT. Though this is a second go at Pet Sematary, neither it or the first one from 1989 100% did justice for the very scary book they are based on, but at least the first one was responsible for the awesome theme song by The Ramones. IT, on the other hand, is a masterpiece of adaptation and despite Tim Curry's excellent performance in the 1990 miniseries, there is no question the big screen movie adaption is superior.
An astonishing 45 novels, novellas and short stories by Stephen King have been made into feature films and that doesn't include three more that are set for release later this year, IT Chapter Two, Doctor Sleep in theaters and In The Tall Grass coming to Netflix. It also doesn't include another couple dozen plus projects that have been made into TV shows and TV miniseries!
Because there's so much to work through, we've kept it to theatrical releases, so excellent shows like Under The Dome and Hulu's 11.22.63 aren't included, but are certainly recommended!
10. The Running Man (1987)
The Running Man is the kind of movie that is never going to win any awards. It's not going to change the world or launch a new era in filmmaking. It's just a really, really fun movie. The Running Man is a great watch for a lot reasons; for one, it has great supporting actors, like the original host of The Family Feud, Richard Dawson, WWE Hall Of Famer Jesse Ventura, and all-time football superstar Jim Brown, not to mention two awesome cameos from musicians Mick Fleetwood and Dweezil Zappa.
The main reason The Running Man is so fun though, is that it comes from that creative mind of Stephen King, as it's based on his book of the same title and written under his pseudonym Richard Bachman. The movie changes quite a bit, but it keeps the basic idea that a man must survive a gauntlet of killers to win money and/or his freedom. It's one of the most fun adaptations of any of King's works.
9. The Dead Zone (1983)
Director David Cronenberg's adaption of Stephen King's novel The Dead Zone was one of the first times a King novel was ever adapted. It stars Christopher Walken as a regular guy who finds himself with the ability to see into people's pasts and presents simply by touching them after he awakens from a years-long coma after a car accident.
David Cronenberg is a master of directing weird, scary, and suspenseful stories and teaming up with Stephen King was a wonderful combination of two first-rate talents. Casting the weird and wonderful Christopher Walken as the protagonist, John Smith, was another stroke of genius. The Dead Zone isn't the best known of King's work but it is definitely one of the best.
8. Children Of The Corn (1984)
Children Of The Corn is one of the scariest movies from the 1980s. It was released in the midst of the slasher film craze in the '80s, among the huge horror franchises like Friday The 13th, Nightmare On Elm Street, and Halloween, but Children Of The Corn isn't like those. It is way freakier and way scarier.
Like a lot of Stephen King's best stories, this one is super creepy. It's about a cult of religious kids that murder all the adults in a small town and are lead by the terrifying Malachi, played Courtney Gains as they terrify a couple on a road trip that happen upon the town they crash into an-already dead boy, forcing them to stop in the middle of the corn fields. Children Of The Corn is King at his weird and scary best.
7. The Green Mile (1999)
Director Frank Darabont has collaborated with Stephen King three times, with The Green Mile, starring Tom Hanks and Michael Clarke Duncan (in his breakout performance), being the second of those movies. The first is one we'll actually get to a little later in these rankings.
The Green Mile, is less of a horror story as it is a pure supernatural story about a death row inmate, played by Michael Clarke Duncan, who has magical healing powers and goes on to form a bond with his prison guard, Tom Hanks, after curing Hanks' character of a bladder infection. The Green Mile is a morality tale filled with twists and surprises and is one of the best examples of Stephen King's versatile storytelling abilities. It's not always about horror.
6. Carrie (1976)
Carrie is all about horror, however. It is one terrifying film and the first time a Stephen King novel was adapted into a movie. Directed by the great Brian De Palma and starring Sissy Spacek as the titular character, a high school teenager with terrifying telekinetic abilities who goes on the rampage after finally hitting her breaking point from being bullied by her classmates, teachers, and family.
Sissy Spacek's performance is amazing and completely frightening. The story, like all the best of King, is disturbing and uncomfortable. In the beginning, you are rooting for Carrie, but by the end, you are horrifying and appalled, although perhaps still a little sympathetic. It's honestly a work of genius.
5. IT (2017)
Stephen Kings novel IT, first published in 1986, has long been a fan-favorite work. It was made into a miniseries in 1990 with Tim Curry as Pennywise the clown and it was, really, just alright I think, though people praise Curry. In fact, Curry's performance was good, but it also felt very much like a made-for-TV special of the day.
However, 2017's feature film, is every bit a big budget film that is spectacularly honed and was an enormous hit in the fall of '17 when the film was released. The critical response was just as good, as it received glowing reviews from critics and fans alike. I personally feel Bill Skargard's performance as Pennywise even outshines the great Tim Curry performance. There is nothing about IT that isn't classic Stephen King.
4. The Shawshank Redemption (1994)
The Shawshank Redemption is the second fruitful collaboration between Stephen King and director Frank Derabont but it was not a hit when it was released in 1994. It's hard to believe that know because after years of heavy rotation on cable TV, it's hard to find anyone in the country who didn't grow up watching it dozens of times. It's become an indelible part of the American zeitgeist and for good reason, it's a really great movie, starring a really great cast, based on a really great story.
The Shawshank Redemption is based the Stephen King novella Rita Hayworth and Shawshank Redemption and tells the story of two unlikely friends that form a bond while incarcerated for murder in a Maine prison. Shawshank is one of the most amazing examples of a Stephen King story that has no ghost or ghouls or evil spirits or rampaging murders. It has none of that, although again, it's a spectacularly great example of King's versatility.
3. The Shining (1980)
Stephen King hates it, but movie fans love it. Director Stanley Kubrick's The Shining is without question one of the most polarizing adaptations of one of King's stories. King seems to go out his way to take cheap shots at the movie, and Kubrick certainly changed the story quite a bit, but it is also one fantastic movie.
The story, about the inner (and outer) demons of a struggling writer hired to be the caretaker of an isolated mountain hotel that closes for the winter is terrifying, both in the pages of King's original novel and on the screen in Kubrick's movie. They are both masterpieces of their genre and even if Stephen King doesn't like it, it's still an amazing movie worth seeing.
2. Misery (1990)
James Caan was the biggest star of Misery when it was released, but Kathy Bates absolutely steals the show as the psychotic Annie Wilkes, a superfan of novelist Paul Sheldon who happens to rescue him after a car crash in a remote part of Colorado and helps to nurse him back to health, for a little while.
Kathy Bates' performance, for which she won an Oscar, is astoundingly scary. Her Annie Wilkes is one of the best movie villains of all-time and the "hobbling" scene is one of the scariest, and most nauseating scenes ever. It is certainly unforgettable, as is the rest of the movie as Caan's character tries to escape and time after time has his attempts thwarted by the completely insane Annie Wilkes. You can't help but wonder what kind of misery Stephen King, as an author himself, put himself through to come up with this terrifying story.
1. Stand By Me (1986)
If you need further proof that Stephen King is much more than a horror story writer, look no further than Stand By Me. It's not scary, or freaky, or anything else that he is most known for. It is a really just a simple coming-of-age story about four friends who go on a hike and see the dead body of a child about their age who have been hit by a train, but had not been found yet. It's directed by the great Rob Reiner and based on a story called The Body.
With an all-star cast of adolescent and young actors led by River Phoenix and Wil Wheaton that also includes Cory Feldman, Jerry O'Connell, and Keifer Sutherland, with John Cusack in flashback scenes as Wil Wheaton's deceased brother, everything about Stand By Me is perfect. There are no jump scares or violent attacks, but it's a wonderful, timeless, bittersweet story about growing up. It's not what anyone expected from Stephen King, especially when it was released in 1986, but it is still the best adaptation of one of his stories, even 30-plus years later.
Of course, they haven't all been hits. Some of the author's adaptions have been seriously disappointing, most notably 2017's The Dark Tower, based on the first book of what might be Stephen King's best and most loved work, The Dark Tower series. It's also hard not to mention the epically bad, but somehow still awesome in a teenage boy-staying-up-too-late-on-a-Friday-night-kind of way, Maximum Overdrive, which was King's first and (probably for good reason) only foray into directing.
The hits far outweigh the flops though, and this looks like another great year for fans of America's scariest storyteller.
Your Daily Blend of Entertainment News
Hugh Scott doesn't believe aliens are hidden at Area 51 or that Elvis is alive, but he does believe birds are real and Meghan Markle isn't treated fairly by the tabloids. He's been writing about music, movies, and celebrities for most of his adult life after realizing stocking shelves in a paper warehouse in college wasn't all it was cracked up to be.