One Of The Dogs In Jesse Eisenberg's New Movie Wanted To Kill Him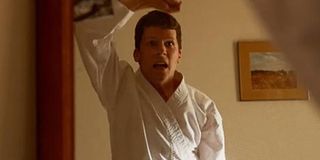 In recent months here on CinemaBlend we have been tickled by some cute animal-centric tales from the sets of movies like Captain Marvel and Pet Sematary – but today we have a different kind of story for you in that realm. Specifically, this one comes from the making of the new dark comedy The Art Of Self-Defense, and features an on-set dog that was apparently very eager to straight-up murder star Jesse Eisenberg.
With the movie set for release in just a couple weeks, I had the opportunity to hop on the phone with writer/director Riley Stearns this morning to talk about his work – and it was towards the end of the interview that I steered our conversation towards the animal wrangling that was done on set. He started by telling me that it was an incredible experience, with zero complaints about dachshund that is prominently featured, but as he continued he revealed why working with the German Shepherd in the film was a bit more… complicated
Detailing the exact role played by the larger dog in The Art Of Self-Defense would be giving away too much spoiler-wise at this point, but it can be said that it and Jesse Eisenberg's character, Casey, have an intense stare down when they first meet in the story. Initially, however, the plan was for the interaction to be much more aggressive from the canine's perspective, and things evidently got super realistic during filming.
As Riley Stearns explained, the production didn't have access to dogs with any previous feature experience, and the one they ended up hiring had what could be kindly referred to as "energy to spare." Said the filmmaker,
The good news is that the Art Of Self-Defense scene called for Eisenberg to look completely terrified, and that's exactly what comes across.
But, as noted, what the actor is reacting to in the film is much different than what he was actually reacting to during production. Continuing his story, Riley Stearns noted that the movie definitely got all of the chomping and snarling footage it needed to execute the scene as it was planned in the script, but during post-production he discovered that he needed to go a different way with it:
Of course now the funny behind-the-scenes story has been exposed.
The second film from Riley Stearns, The Art Of Self-Defense centers on a timid accountant (Jesse Eisenberg) who becomes the victim of a savage attack while out one night running an errand. Feeling completely powerless as a result, he searches for a way to rid himself of his fear, and in doing so discovers a hobby that ultimately becomes an obsession: karate. He quickly becomes a favorite of the sensei at the local dojo (Alessandro Nivola), but slowly begins to discover that there is more to the community than classes than learning about punching, kicking, and blocking.
The movie – which is one of the best of 2019 so far – had its premiere earlier this year at the SXSW Film Festival, and will be getting released by Bleecker Street on July 12th. Stay tuned here on CinemaBlend for more about The Art Of Self-Defense in the run-up to its release, including more from my interview with Riley Stearns.
NJ native who calls LA home; lives in a Dreamatorium. A decade-plus CinemaBlend veteran; endlessly enthusiastic about the career he's dreamt of since seventh grade.
Your Daily Blend of Entertainment News
Thank you for signing up to CinemaBlend. You will receive a verification email shortly.
There was a problem. Please refresh the page and try again.