Eagle-Eyed Reddit User Spots An Amusing Frozen Continuity Error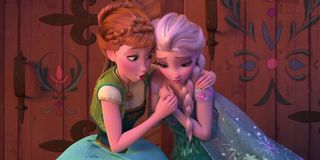 Continuity errors are often the gifts that keep on giving, whether they be disappearing weapons or instances where sometimes characters are mispronouncing names, fans love to latch onto these moments and hash them out.
However, some continuity errors are more obvious than others; therefore, it wouldn't shock me if a lot of people who caught the Frozen franchise short Frozen Fever didn't notice a continuity error involving Anna and a sandwich. However, one eagle-eyed Reddit user recently caught the moment from the 2015 film and has shared it for fans. Take a look.
As far as continuity errors go, this one doesn't change the plot in any way, shape, or form, so rather than getting annoyed about it, I actually find this sort of error to be quite endearing. It helps that Anna in general is a likable character and seeing her sneakily snag a bit of a sandwich cracks me up even if the sandwich turns up unharmed in another shot.
All credit goes to Reddit user wknmn, who caught the moment "frozen" in time and shared it with fans. Theoretically since we don't see the back of the sandwich, I suppose there's a possibility the bit is there, but it does look like there is a well-rounded end to the sandwich and some meat protruding out, so looks like a gaffe to me.
This isn't the first time a continuity error has been caught in the franchise. In 2013, Frozen had a few. There's a shot where Anna and Kristoff are tied together by a rope and then disappear. Other shots see Gendarmes lose their weapons or Anna shift positions in a room from shot to shot.
There's a whole slew of small moments like these in Frozen, just like other movies, but most, like the sandwich error, don't take away from the final project. In fact, continuity errors are common in movies, both animated and live action, sometimes simply because a brief moment is missed by the supervisor or because a take that is better than another is chosen simply because it is better. Usually those moments are small and don't detract from the final version of the film, but they can be fun to spot when all is said and done.
Doubtless, once Frozen 2 hits theaters this November, we'll see a few more of these minor moments, but hopefully none will take away from our enjoyment of the long-anticipated sequel. Or, at the very least, we can hope that no errors are as noticeable or as remarked upon as the recent coffee cup debacle on Game of Thrones.
Frozen II officially hits theaters on November 22, 2019 and Anna, Elsa and the rest of the gang will be back, as evidenced by the first trailer. To see what else Disney has coming up in the meantime, take a look at our full guide. Or catch Frozen Fever on Amazon Prime.
Your Daily Blend of Entertainment News
Reality TV fan with a pinch of Disney fairy dust thrown in. Theme park junkie. If you've created a rom-com I've probably watched it.