Walt Disney World Kills Rumor A Classic Attraction Is Being Replaced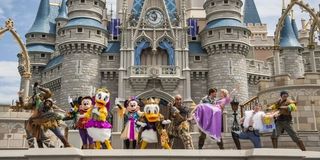 While Walt Disney World has gone through countless changes over the last nearly 50 years, there have been a few attractions that most guests would view as untouchable. If any mention of changes to those classics are rumored, people can get quite upset. Such was the case recently when a rumor reported that Walt Disney's Enchanted Tiki Room was on the chopping block to make way for a new attraction. However, Walt Disney World has now put fans at ease by stating that this will not be happening.
Walt Disney World and Disneyland are always changing and adding new things and so there's never any shortage of rumors about what the next big thing might be or what might be on its way out to make room for it. Disney Parks rarely comments directly on these rumors, so the statement recently posted to the Disney Parks Blog is quite unusual, but it's certainly welcome for fans of the Enchanted Tiki Room who might have been afraid the birds were about to fly the coop.
The original rumor stated that the plan was to replace Walt Disney's Enchanted Tiki Room with a new show themed after Moana that would be timed to open with the 50th anniversary of Walt Disney World and Magic Kingdom in 2021.
The word "replaced" was clearly used in the original rumor, but later it seemed that what, if any, truth the rumor might have had surrounded a potential Moana overlay. An attraction overlay is a temporary change when an existing attraction is given some new decorations, and perhaps slight modifications, without changing the base attraction.
The Huanted Mansion is given a regular overlay at Disneyland that themes the attraction around The Nightmare Before Christmas every year between Halloween and Christmas. the ride is then reverted back to its original state.
The Disney Parks Blog statement does make reference to the fact that Disney is "constantly evolving our stories" so it's possible that something like an overlay, or some other change, is being considered for the attraction, but there are no plans to replace the Enchanted Tiki Room.
Walt Disney's Enchanted Tiki Room first opened at Disneyland in 1963. It was a showcase for Walt Disney's audio animatronic technology in its earliest form, as dozens of mechanical birds spoke and sang to guests. Originally, the show was conceived as part of a dinner theater style restaurant, but the show portion was working so well, it was decided to spotlight it.
The show then became an opening day attraction at Magic Kingdom, though it originally opened under a different name, Tropical Serenade. In 1998 Tropical Serenade became The Enchanted Tiki Room (Under New Management). The show opened as usual, before being interrupted by Iago from Aladdin and Zazu from The Lion King, who had become the new "owners" of the Tiki Room. Iago tries to update the attraction and make it more modern, which only results in him being punished by the gods.
In 2011, following a fire that damaged some animatronics, the show reverted to its original structure, and also adopted the Disneyland version's name, Walt Disney's Enchanted Tiki Room.
This isn't the only opening day Walt Disney World attraction that has been rumored to be going away before the park's big anniversary. The Country Bear Jamboree has also been rumored to be on its way out, replaced with a show based on Woody's Round Up the fictional TV show seen in Toy Story 2.
Again, in that case, the original source of the rumor claimed that the replacement was a done deal, but other sources were only able to confirm that discussions about the change had taken place, and no decision, at least at that time, had been made.
Somewhat predictably, the fact that Walt Disney World took the time to debunk the Tiki Room rumor, but has made no comment about the Country Bears, has led some to assume that the Country Bear report must therefore be true.
I can't say whether it is true or not. What I can say is that this reaction is exactly why we rarely see Walt Disney World comment on these rumors. Disney Parks certainly isn't going to confirm stories that are true before the company is ready to do so. If Disney did debunk every patently false rumor, then the ones left over all become true by default. The only way to keep the truth behind the curtain until things are ready to be revealed is to stay quiet about all of them.
Certainly, many of these rumors do turn out to be accurate. Rumors of a Star Wars themed hotel coming to Walt Disney World and of a Marvel land coming to Disney California Adventure were rumored long before Disney officially announced them.
However, what's also clear is that there are always a lot of conversations that happen surrounding Walt Disney Imagineering. Many of the ideas that people have never see the light of day, or take years to do so. Disney's Animal Kingdom has a dragon in its logo to this day because a land dedicated to fantasy animals, called Beastly Kingdom, was absolutely planned to be built, but it ended up not happening for a variety of reasons.
If it's true that the Country Bears replacement is nothing more than a conversation, then it's quite likely the Tiki Room situation is something very similar. Even if these changes actually are on the drawing board right now, it doesn't actually mean they'll ever happen.
Disney's D23 Expo is set for August and we know that a major panel focused on the theme parks is planned. It's widely expected that we'll be getting a lot of news surrounding the plans for Walt Disney World's 50th anniversary. Epcot is undergoing some major changes right now in preparation for that, and anything else that is planned will likely be announced there.
Walt Disney's Enchanted Tiki Room is certainly one of those places that many fans would hate to see go. Having said that, if the only plan is to give the space a temporary overlay, there's really nothing wrong with that. It would breathe some new life into the space, and give Imagineers a chance to try something fun and creative. And then, in a year or so, things can go back to the attraction that we know and we get to look at the Tiki Room like it's a brand new show all over again.
Your Daily Blend of Entertainment News
Content Producer/Theme Park Beat
CinemaBlend's resident theme park junkie and amateur Disney historian. Armchair Imagineer. Epcot Stan. Future Club 33 Member.