A Walt Disney World Opening Day Attraction May Be About To Close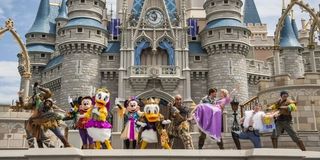 The one constant at Walt Disney World is change (and also prince increases), but while many attractions have been pulled out and replaced over the years, a few fan favorites have remained throughout the decades with little to no significant changes. It would be hard to imagine Walt Disney World without the Haunted Mansion, It's a Small World, or the Country Bear Jamboree. However, it seems that the Country Bears might actually be on the way out.
The original rumor came from WDWNT which claimed that the closure of the Country Bear Jamboree had been decided and that closure was "imminent." However, a follow up report from the Disney and More blog claims things aren't quite that simple. While the blog was reportedly able to confirm that that the closure of the Country Bear Jamboree had been discussed internally at Disney Parks and Resorts, this report claims no decision has been made, and that there is, in fact, significant resistance to the idea within the company.
If the closure does happen, the rumor, according to the original report, is that the Country Bear Jamboree could be replaced by a Toy Story marionette show (which will actually include audio animatronics as opposed to actual marionettes) done in the style of "Woody's Round Up," the fictional kids' TV show from Toy Story 2 which spawned Woody, Jesse, and Bullseye as characters.
The Country Bear Jamboree was an opening day attraction at Walt Disney World's Magic Kingdom that proved so popular thanks to it's impressive animatronic characters that the show was quickly built at Disneyland as well. The show was closed at Disneyland in 2001, and replaced by The Many Adventures of Winnie the Pooh dark ride. There was certainly an outpouring of support back then from fans who didn't want to see the show go at Disneyland, but the fact that the attraction was still around at Walt Disney World was a comfort to many fans.
The show is essentially a variety show where a collection of animatronic bears sing songs to the audience. The show has received a handful of updates over the years, and has included special seasonal Christmas shows as well as a "Vacation Hoedown" in the past. However, the show has remained largely unchanged since 1971, receiving only technical refurbishments as needed.
As you can imagine, the idea that the Country Bear Jamboree might be leaving Walt Disney World is a rumor that doesn't sit well with many fans. So many see the show as an institution. While fans know the parks are always changing, there are certainly some attractions that fans think should be untouchable, and the Country Bears would qualify as such for a lot of people.
While this is still only a rumor at this point as Disney has yet to confirm anything, it certainly has a ring of truth, which is part of why the rumor has so many fans nervous. Over the last several years we've seen a shift in Disney's thinking in the parks, away from any attractions that don't have to direct tie-ins to popular films or other media, and toward Disney's well known IP. The Maelstron ride at Epcot was replaced with Frozen Ever After. The Universe of Energy was closed to make way for a Guardians of the Galaxy roller coaster. The fact is that a decision to replace the Country Bears with Toy Story certainly fits the pattern.
On the one hand, it's understandable that Disney would want to leverage all of their popular media brands in theme park attractions. Hell, a lot of that is what we go to places like Walt Disney World for in the first place. At the same time, many of the parts of Walt Disney World that feel less "Disney" feel extra special for exactly that reason. Epcot is no less a theme park, but it many feel that the increase in Disney characters has made it feel less unique.
If there is any truth to this rumor, expect to hear about it this August. Disney's D23 Expo has already announced its main presentation for the Disney Parks division of the company, and it's at this event in the past where other major changes and additions have been revealed. If that happens we could see the show close fairly quickly. Walt Disney World's 50th anniversary is right around the corner in 2021 and if a new show is on the way, there's a pretty good chance the goal will be have it open in time for the celebration.
The decision to put a new Toy Story attraction in Frontierland at Magic Kingdom does seem to be an odd choice considering that Toy Story Land just opened at Disney's Hollywood Studios last year. A new table service restaurant is being built there and if Walt Disney World wanted to add the new show, that location would certainly make more sense.
I have no particular love for the Country Bear Jamboree, it's not a show I feel a need to go see when I'm in Walt Disney World. At the same time, I can't argue that losing it wouldn't be a big change. I would guess that for many it's about losing the show itself, simply about losing the attraction that become so iconic. The Country Bear Jamboree has always been part of Magic Kingdom, and the idea of losing it seems crazy.
Having said that, there certainly are attractions that i can't imagine Walt Disney World or Disneyland without, and if the Country Bears were to go away, it would be one step closer to the possibility that something like the Haunted Mansion or It's A Small World might also be on the chopping block someday.
While the Country Bear Jamboree might be iconic, Toy Story has become a pretty iconic franchise in its own right, and if this new show does come to pass, it could end up lasting just as long as the Country Bears. A new attraction has to be given a chance to thrive before enough people can become attached to it enough to be infuriated when the decision is made to close it down a few decades from now.
Images Courtesy WDWNews.com/Disney
Your Daily Blend of Entertainment News
Content Producer/Theme Park Beat
CinemaBlend's resident theme park junkie and amateur Disney historian. Armchair Imagineer. Epcot Stan. Future Club 33 Member.
Your Daily Blend of Entertainment News
Thank you for signing up to CinemaBlend. You will receive a verification email shortly.
There was a problem. Please refresh the page and try again.