Why Avengers: Endgame Still Might Not Top Avatar After Re-Release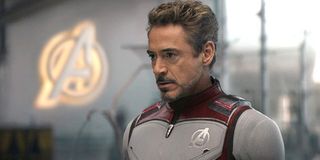 Disney re-released Avengers: Endgame this past Friday, presumably as part of a push to outperform Avatar at the global box office. In an effort to incentivize fans to revisit the film, directors Joe and Anthony Russo attached spoiler-y treats at the end of the credits. Even Captain America actor Chris Evans is urging fans to re-watch the film. But even with these boosts, the final Avengers installment may not reach the numbers it needs to in order to beat James Cameron's box office behemoth.
Avatar pulled in $2.79 billion worldwide, earning most of its money overseas. According to Deadline, only 34% of the film's lifetime gross came from the U.S. and China, contrasting starkly with Endgame's 53% U.S./China haul. Avatar's near-mythic number sent box office analysts, critics, and other industry experts reeling and, at the time, seemed impossible for other films to top. And it still might be.
That belief still holds. Even now, against a glut of superhero movies fighting for its coveted status, Avatar remains a formidable opponent. Only about $30 million stands between Avengers: Endgame and that close-but-not-that-close crown, but without substantial hauls overseas, its victory isn't guaranteed. Nor is it likely. No matter how badly Robert Downey Jr. wants it to be. As charming and persuasive as he might be, he may not even be able to influence enough viewers to make a box office thrashing possible.
The Avengers: Endgame re-release is largely a domestic push, but it will also play in Mexico, the U.K., Ireland, Germany, Spain, Russia, Japan, and Australia/New Zealand. Avengers: Endgame has no shot at beating Avatar's huge numbers in a lot of key countries, including France, Japan, Germany, Russia, and Italy. Also, it's not re-releasing in China, so that extra potential money is off the table.
Here's the thing: When Avatar hit theaters back in 2009, it was an absolute sensation. Screenings sold out quickly and frequently (even weeks into the film's release), and it seemed to be all people were discussing. James Cameron's revolutionary technology stunned, thrilled, and enthralled audiences, many of whom probably took the beauty at face value without realizing how special it was. Even knowing that everyone and their mom had seen the movie and were going back for seconds, I didn't expect its box office numbers to climb as high as they did.
Personally, I'd watch Endgame over Avatar any day, but my opinion doesn't mean anything when I'm staring up at the piles of cash obscuring the sun.
Whether or not you think the extra content is worth it, you could also just re-watch the movie because it's a good movie. That seems to be what many are doing, anyway. We will see if Endgame can make enough to dethrone the unofficial Dances With Wolves remake. Who knows? It may surprise us all and completely destroy the competition. Either way, it fought the good fight.
It's also possible Disney could decide to bring Avengers: Endgame back again for a double feature with The Lion King later this summer, or bring it back again for one last play over Labor Day weekend. There are more options.
Avengers: Endgame is back in theaters with new footage, so get your tickets now if you're eager to see it end a 10-year reign.
Your Daily Blend of Entertainment News