Terminator: Dark Fate Director Drops F-Bomb About Sexist Trolls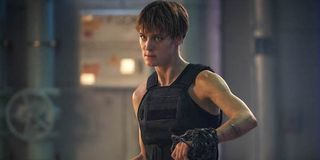 Just like how Kyle Reese came to the past to protect Sarah Connor in The Terminator, Dani Ramos will be aided by a visitor from the future in Terminator: Dark Fate: Mackenzie Davis' Grace, who is a human-machine hybrid. Dark Fate director Tim Miller is confident that many folks will respond positively to Grace, but he wasn't afraid to drop a few f-bombs directed at people who dislike her for purely sexist reasons.
When asked how he thinks Grace will be received at the Terminator: Dark Fate panel at San Diego Comic-Con next week, Tim Miller answered:
Tim Miller's response was also partially referring to the backlash a Terminator: Dark Fate poster received earlier this year, with Mackenzie Davis and her costars being called "feminazis." It's one thing to see Dark Fate and walk out not liking Grace for characterization or plot issues, but for the people out there who are already bashing her because she's a woman and occupies the protector role that traditionally belongs to men, Miller is not having it.
Looking at just the Terminator movies, while Grace is the first woman to be sent back to protect someone being targeted by a Terminator, obviously she's not the first woman to be incredibly useful in a fight against these cybernetic assassins. Linda Hamilton's Sarah Connor became quite the badass in Terminator 2: Judgement Day, and Emilia Clarke's version of the same character also held her own during Terminator Genisys.
It'll be interesting to see how Grace compares to Sarah, but for now, Tim Miller doesn't care at all what sexist trolls have to say about Terminator: Dark Fate. With four months to go until the movie's release, he'll need to prepare for more of these 'hot takes' coming down the pipeline and plenty more after Dark Fate's come out.
During his interview with Variety, Tim Miller also shed some light on Grace's origins in Terminator: Dark Fate, revealing that in the writer's room, novelist Joe Abercrombie came up with the idea of machine fighters in the future who are scarred, need to take a lot of drugs to deal with the pain of what's been done to them and don't live a long time. Grace is one of the individuals who takes on this "sacrificial role," and Mackenzie Davis was the actress who fit the character physically and emotionally.
Set 27 years after the events of Terminator 2, and ignoring the previous three movies, Terminator: Dark Fate will see the Rev-9, a new liquid metal Terminator, trying to kill Dani Ramos, who, like John Connor before her, is important for humanity's future. Along with Grace looking after her, Dani will also be protected by Sarah Connor and an aged T-800 model.
Terminator: Dark Fate opens in theaters on November 1, so keep checking back with CinemaBlend for more updates. For now, feel free to browse through our 2019 release schedule to learn what other movies are hitting the silver screen later this year.
Connoisseur of Marvel, DC, Star Wars, John Wick, MonsterVerse and Doctor Who lore. He's aware he looks like Harry Potter and Clark Kent.