The Suicide Squad, An Updated Cast List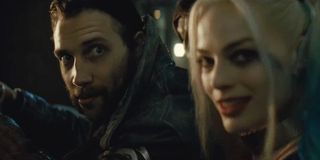 While it wasn't the critical hit DC and Warner Bros were hoping for months after Batman v Superman: Dawn of Justice polarized critics and moviegoers, 2016's Suicide Squad was definitely a commercial hit, so naturally they'd want to keep that corner of the DCEU going. Following numerous behind-the-scenes change-ups, James Gunn is writing and directing Suicide Squad 2, a.k.a. The Suicide Squad, which is set to begin filming this fall.
Contrary to initial claims, The Suicide Squad will not be a total reboot for the officially-designated Task Force X in this continuity. Instead, it's balancing on the line between follow-up and relaunch, and will feature a sprinkling of familiar faces among plenty of new ones. So let's go over the lineup of characters that's been assembled for The Suicide Squad so far.
Margot Robbie - Harley Quinn
After more than two decades of appearances in animated TV shows, comic books and video games, Harley Quinn finally made her live action theatrical debut in Suicide Squad, played by Margot Robbie. Her performance as the psychiatrist corrupted by The Joker was one of the few Suicide Squad elements received positively almost across the board, and The Suicide Squad will mark Robbie's third turn as the character, following Birds of Prey. While Harley and The Joker were two peas in a pod again at the end of Suicide Squad, she won't be obsessing over the Clown Prince of Crime again in The Suicide Squad since they've broken up pre-Birds of Prey.
Jai Courtney - Captain Boomerang
Although Digger Harkness, a.k.a. Captain Boomerang, was introduced as an adversary for The Flash, he's arguably just as well known now for being a Suicide Squad member, albeit a cowardly and disruptive one. Jai Courtney will wield the throwing weapons and stuffed pink unicorn again in The Suicide Squad (and is quite psyched about it), although given Digger's attitude, I'm surprised Amanda Waller is still utilizing his talents rather than keeping him permanently locked up.
Viola Davis - Amanda Waller
Task Force X is the brainchild of Amanda Waller, so it makes sense for Viola Davis to reprise the role. Suicide Squad members come and go, but with a few exceptions, Amanda is the one overseeing their missions and not tolerating their shenanigans. We saw in Suicide Squad how she's ruthless, uncompromising and will take any action she deems necessary to protecting the United States of America. Count on her being just as unflinching in The Suicide Squad.
Joel Kinnaman - Rick Flag
Although it initially seemed like Joel Kinnaman wouldn't be back for The Suicide Squad, it turns out he will indeed reprise Rick Flag. While Amanda Waller directs the Suicide Squad's missions, it's Rick Flag's job to ensure that they behave themselves out in the field, meaning he's also capable of detonating the micro bombs implanted inside them. With The Suicide Squad, however, we will not see Rick's relationship with June Moone explored further, as Cara Delevingne is not reprising the role. Have they broken up or is Rick just keeping June far away from this part of his life?
Idris Elba
Idris Elba was the first new cast member to be announced for The Suicide Squad, and it was initially announced that he'd be playing Floyd Lawton, a.k.a. Deadshot, taking over the role from Will Smith. However, it was later decided to keep the Deadshot open in case Smith wanted to play him again, so Elba will instead play a different character. There's no official indication yet who that is, although Bronze Tiger is a good bet since The Suicide Squad is inspired by John Ostrander's run on the Suicide Squad comic book and Tiger was one of the main members during that time.
David Dastmalchian - Polka-Dot Man
David Dastmalchian is no stranger to comic book projects, having already appeared in The Dark Knight, the Ant-Man movies, Gotham and The Flash. Now he's making his DCEU debut as Polka-Dot Man in The Suicide Squad. As you can infer from the name, Polka-Dot Man, a minor Batman villain since 1962, uses high-tech dots as his gimmick, with their uses ranging from offensive weaponry to transportation. Given his obscurity and that he doesn't have a history with the Suicide Squad in the comics, don't be surprised if Polka-Dot Man is the Squad member killed off early into the movie.
Daniela Melchior - Ratcatcher
Having already appeared in several Portuguese TV shows, Daniela Melchior is making her Hollywood debut in The Suicide Squad as a female version of Ratcatcher. Like Polka-Dot Man, the original Ratcatcher has fought Batman on many occasions, and along with controlling an army of rats, he also utilizes cyanide gas in his crimes. There's no information yet on what Melchior's version of Ratcatcher will be like, but given that this character is also pretty obscure, perhaps that increases her chances of being on the chopping block.
Storm Reid
Storm Reid has been acting since she was three years old, but a lot of folks learned about her for the first time in last year's A Wrinkle in Time. While she's performed in some notable movies and TV shows since then, including HBO's Euphoria, The Suicide Squad is arguably her most profile project following the adaptation of Madeleine L'Engle's novel. She'll play the daughter of Idris Elba's character, so once we learn who Elba's playing, perhaps that'll give some context on how Reid's character specifically fits into the story.
John Cena
John Cena has primarily made a splash in the comedy realm with his acting thus far, but now he's finally building up action cred as well with Bumblebee and the upcoming Fast & Furious 9. The Suicide Squad will keep that going, although he hasn't officially signed on yet. The WWE superstar is being eyed to play Peacemaker, who is a peak physical specimen and relies on brutal force and non-lethal weaponry to carry out his peace cause. It's a great role for someone as jacked and intense as Cena.
Benicio Del Toro
Like John Cena, Benicio del Toro, who already has some comic book cred by playing The Collector in the Marvel Cinematic Universe, isn't officially attached to The Suicide Squad just yet, but if a deal is finalized, he won't be lacking for screen time. Word on the proverbial street is that del Toro will play the main villain, who is simply being identified for now as The General. While it's unclear if the character will actually go by that name in The Suicide Squad, it's not unreasonable to assume that this is just a placeholder meant to hide his true identity, so as to not tip of hardcore DC Comics fans just yet.
Flula Borg
Flula Borg is a man who wears a lot of hats in the entertainment sphere, from standup comedian to YouTuber to DJ to your garden variety actor. In that last category, Borg's resume includes TV shows like The Good Place and Curb Your Enthusiasm, and movies like Pitch Perfect 2 and Ralph Breaks the Internet. Now Borg is hopping into the realm of comic book movies, as he's reportedly been cast in The Suicide Squad as the love interest to one of the main characters. But who? Does Harley Quinn have a new squeeze after the events of Birds of Prey? Is this who Polka-Dot Man was seeing before he was thrown into Belle Reve? And does Borg's character have a key part in the movie or will this just be a minor appearance?
Nathan Fillion
For years, Firefly, Castle and The Rookie star Nathan Fillion was the popular fan pick to play Hal Jordan in a live action Green Lantern movie. Alas, while he's gone on to voice the first human member of the Green Lantern Corps in various animated movies, he was passed over in favor of Ryan Reynolds in 2011's Green Lantern, and while there is a Green Lantern Corps reboot in development, Fillion won't be the one to bring the new version of Hal to life… well, not unless The Suicide Squad plans on introducing him. The actor has been tapped for a mystery role in the movie, making this his latest collaboration with James Gunn, having previously worked with the writer/director on Slither, Super and Guardians of the Galaxy.
Taika Waititi
Take Waititi's already left a huge mark on the Marvel Cinematic Universe, as his unique sense of humor did wonders with revitalizing a certain God of Thunder's corner of the franchise in Thor: Ragnarok. Waititi will be back to write and direct Thor: Love and Thunder, evidently he's also hopping over to the DCEU, as he's hopped on board The Suicide Squad. This will be his second time playing a DC character, the first being Thomas Kalmaku in Green Lantern. Given that in addition to the fourth Thor movie, Waititi is also working beforehand on Next Goal Wins and will be doing press for Jojo Rabbit, I imagine his role in The Suicide Squad won't be huge, but fingers crossed his character is nonetheless memorable.
Peter Capaldi
Originally known best in the U.K. for playing the foul-mouthed Malcolm Tucker in The Thick of It, Peter Capaldi was catapulted to worldwide fame from his time as the Twelfth Doctor on Doctor Who. His tenure as the long-lived, space and time-traveling Time Lord lasted from 2014 to 2017, and now that he's reportedly joined The Suicide Squad, he has the opportunity to contribute to another major franchise. As with a lot of folks on this list, we're still in the dark about who Capaldi will be playing, but I suspect his character will have more in common with Tucker than The Doctor.
The Suicide Squad charges into theaters on August 5, 2021, so keep checking back with CinemaBlend for more updates. If you're curious about what other DC movies are in development, look through our comprehensive guide.
Your Daily Blend of Entertainment News
Connoisseur of Marvel, DC, Star Wars, John Wick, MonsterVerse and Doctor Who lore. He's aware he looks like Harry Potter and Clark Kent.