How Star Wars Fans Can Learn More About The Knights Of Ren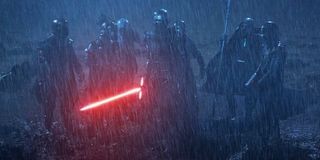 If you've seen the Star Wars sequel trilogy so far, you'll know what I mean when I say that the new movies have been woefully bereft of promised characters: the Knights of Ren. We know little about them and even less about why they haven't been prioritized (even though The Last Jedi director Rian Johnson explained why he didn't include them in his film). This is strange, especially considering how their leader, Kylo Ren, has been one of the most important players in the Skywalker Saga.
Fortunately, after months of rumors, Kylo's group of renegade Jedi apprentices were confirmed to appear in December's trilogy-capper, Star Wars: The Rise of Skywalker. And, if you want to learn more about these sinister-but-not-yet-seen side characters, there's a comic series for that.
Popular comic book writer Charles Soule confirmed on Twitter that he will be writing a series titled Star Wars: The Rise of Kylo Ren. The series promises to explore the origins of the Knights of Ren, why they joined Kylo's cause after Luke nearly killed him in his sleep (thanks, The Last Jedi), and what they're up to now. It's sure to be a fascinating series, and Soule is more than up for the job. He's written countless comic books, an acclaimed novel titled The Oracle Year, and all kinds of other cool stories you should check out. He's written Star Wars stories before, too. Plenty of them. It's highly likely, even probable, that he's gonna knock this one out of the park.
The announcement happened during the Lucasfilm Publishing panel at the 2019 San Diego Comic-Con, where the publishers gathered to discuss the new 4-issue series and hype up fans for what's to come. Nothing else was mentioned, which is consistent with Disney and Lucasfilm's oath to secrecy when it comes to anything and everything Star Wars. Hopefully, though, the series will give us the context we need before Rey and Kylo's final confrontation in the next film.
Right now, all we know about the Knights of Ren comes from what we've seen in Rey's fitful visions in The Force Awakens, from Luke's brief mention of them in The Last Jedi, and from the sobering flashback showing us the Jedi temple they burned. It's not a lot to draw from, but luckily, an unannounced artist is drawing it for us (in comic book form).
Star Wars: The Rise of Skywalker ends it all on December 20, 2019. The Rise of Kylo Ren hits shelves shortly before that. Consider it a primer for what's to come. Here's to hoping it sets up the conclusion to a beloved saga in a powerful and satisfying way. Keep up with everything headed to the big screen this year with our 2019 movie schedule.
Your Daily Blend of Entertainment News
Thank you for signing up to CinemaBlend. You will receive a verification email shortly.
There was a problem. Please refresh the page and try again.