Why Tom Cruise Demanded Dancing And Fat Fingers For Tropic Thunder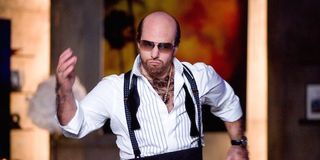 Who could forget Tom Cruise's legendary performance as Les Grossman in 2008's Tropic Thunder? Not only did he invent the character, but he also almost got an entire movie centering around that character. How cool would that have been? It's no wonder Grossman ranks among Cruise's best characters ever. Cruise's genius, coupled with his innate ability to feel out characters before they're even fully fleshed out, helped turn Grossman into the phenomenon he is now.
Speaking to popular late-night host Conan O'Brien during "ConanCon," Tom Cruise explained how the now-famous character came to be. After Conan showed a clip of Cruise's dance performance from the film's end credits, Cruise said that learning to dance and learning comedy were among many things he wanted to perfect. In his words:
Because Tom Cruise created one of Tropic Thunder's best characters, he demanded that his input be put in to the finished product, and he was willing to learn whatever it took to get the job done. It was, and it was glorious. Les Grossman proved so popular and so in-demand that Cruise agreed to bring him to the MTV Movie Awards back in 2010. It's amazing what hilarious mid-credits dancing can do for your career.
After that earlier tidbit, Tom Cruise circled back to Les Grossman and said what everyone in the room (and probably on the planet) wanted to hear:
Man, he's good. I mean, c'mon. Who doesn't love sausage fingers and a proclivity for outrageously bad dancing? The guy has a good eye for what the audience wants, and boy, does he deliver. I'd love to see more of him if the franchise is ever revisited. Here's to hoping it is!
In the last five or so years, Cruise has taken on more serious, more action-heavy roles, some of his more recent ones being Doug Liman's American Made and the fourth, fifth, and sixth installments in the wildly popular Mission: Impossible franchise. He has always had remarkable range as an actor, a fact that his various film roles clearly reflect.
If you're itching for a new Tom Cruise performance, you can catch him in Top Gun: Maverick when it hits theaters in June 2020. Or, you know, you could just watch him in Tropic Thunder or any of the Mission: Impossible movies for the millionth time. It really doesn't ever get old and it satisfies two very different moods.
Your Daily Blend of Entertainment News