Ansel Elgort Has Seen The Baby Driver 2 Script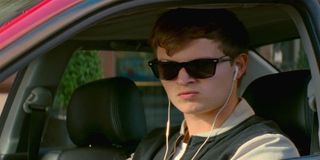 When Edgar Wright's Baby Driver hit theaters back in 2017, audiences and critics were floored. The film boasts a killer soundtrack, an immensely likable protagonist and an infectious energy that entertained and enthralled countless viewers. It's a special movie made by an incredibly talented director, and people immediately wanted more.
Well, now we have an update from Ansel Elgort, the star of the film and one of the most reliable sources of information regarding its sequel. It's one of the only real developments we've caught wind of since Edgar Wright teased the sequel on the film's one-year anniversary. Now, Elgort says a script exists and he's seen it.
Ansel Elgort revealed to Josh Horowitz of MTV News that Edgar Wright has a Baby Driver 2 script written and has shared it with him. Check out what the sought-after young actor said about the film:
Baby Driver easily ranks among Ansel Elgort's best roles (which is incredibly impressive, considering his filmography), so it's amazing to hear that a sequel is on most likely on the way. Elgort seems to be exercising some caution when talking about the film, especially during this particular interview. Not counting Edgar Wright, Elgort was probably among hte first to get his hands on the script. That means the film is still in the development stage, so Elgort probably should be keeping mum when asked about the film.
Because he is the movie's lead, there was a lot riding on him turning in a memorable performance. Fortunately, looking at the overall Baby Driver consensus, he exceeded expectations. He may have even out-acted Kevin Spacey, Jon Hamm and Jamie Foxx, who also appeared in prominent roles in the film. The film's cast is actually pretty stacked. Heck, even Edgar Wright cameoed in the film. It was an accident, but still super hilarious. Oh, and even Meryl Streep was involved in the film, too.
No one but Edgar Wright and select cast members know anything about Baby Driver 2 so far, which is both exciting and frustrating. Give us something to chew on, dang it.
Baby Driver 2 (or whatever it's going to be called) currently has no release date, no production start date and no real information it's willing to divulge. Still, color us excited and fingers crossed it gets underway soon. You can't tease us and then just change subjects. Not cool, even though they can really do whatever they want.
Baby Driver is now available on DVD, Digital, Blu-Ray, and 4K. Check out our 2019 release schedule to learn what movies are coming out later this year.
Your Daily Blend of Entertainment News
Thank you for signing up to CinemaBlend. You will receive a verification email shortly.
There was a problem. Please refresh the page and try again.