John Wick 3's Success May Help Other 'Mid-Priced Action Films'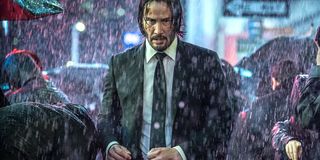 John Wick: Chapter 3 - Parabellum made one thing very clear: The titular hero won't be going anywhere anytime soon. After the success of the first two films, the assumption that Lionsgate would pump out another was correct. Predictably (and understandably), the studio saw potential in the character and wanted to turn him into an even bigger money-maker. And they did. It helps that director Chad Stahelski and writer Derek Kolstad have a strong love for Wick (and, like everyone else, Keanu Reeves) and have so many stories to tell. He's a fascinating dude who, when set against a backdrop steeped in mythology, becomes an action hero of the highest caliber.
On another note, it also helps that studio executives over at Lionsgate consider the films relatively low risk, insanely profitable films that don't cost as much dough as you would think. I mean, they're still expensive, but when you've got Marvel Studios and Warner Bros. spending hundreds of millions on nearly every new film they make, what Lionsgate considers expensive is peanuts comparatively.
Speaking with Variety about the franchise's particularly encouraging box office performance, Lionsgate CEO Jon Feltheimer called the John Wick movies "mid-priced action films" and said that because of these movies, other mid-priced action-adventure films will thrive, too.
He sounds incredibly optimistic, and he should. The results he has reported prove that you don't need an insane budget to enthrall or engage viewers.
According to the New York Times, John Wick: Chapter 3 had a production budget of roughly $75 million, and the studio spent about $40 million more for marketing. The movie has made $320.6 million and counting so far, per Box Office Mojo.
So not only are the John Wick films solid pieces of entertainment, they're also important to the genre as an ever-expanding whole. And in a world where Disney seems to drench everything in CGI and make insane profits doing it, it's nice to see smaller studios doing well. Heck, maybe the company will make enough money to give Disney a literal run for their money. It would take decades (many of them) but hey, never say never. Actually, just kidding. It's probably impossible at this point but it's still fine to dream.
The fantastic John Wick: Chapter 3 - Parabellum will hit digital, DVD, Blu-Ray, and 4K on September 10. The first two films can also be found on all of those platforms. John Wick: Chapter 4 is not only happening, it already has a release date. Are you planning on picking up the third movie? What do you think of Jon Feltheimer's comments? Let us know in the comments section below and make sure you know what's coming to theaters this year!
Your Daily Blend of Entertainment News