Guillermo Del Toro Calls His Pinocchio A 'Brutalist Fable'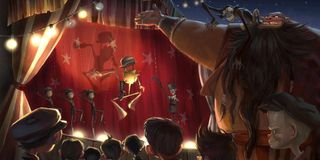 Guillermo del Toro's upcoming retelling of Pinocchio, a once-dead project that has now found a home at Netflix, promises to be very different from the beloved Disney cartoon. The project will be released in 2021. Until then, you can catch Scary Stories to Tell in the Dark, which he plotted and produced. It helps that it's a great movie, too.
Guillermo del Toro is one of the finest directors alive. Responsible for hits such as the dark, inky-backdropped Crimson Peak, the brilliant, atmospheric Pan's Labyrinth, and the phenomenal, Ron Perlman-led Hellboy movies, del Toro has cemented himself as a master of the macabre and a stunningly talented storyteller to boot. He has his own ideas about which of his films are the best, and I don't agree with the order of his choices at all. But maybe his next big project will be something upon which we can agree.
According to Variety, the esteemed director holds Pinocchio close to his heart, but not for reasons that one captivated by Disney's interpretation would necessarily expect.
Beautiful stuff, right? It's all so very well said, and totally true, if you consider the through-line connecting all of his projects. Like many great directors, Guillermo del Toro leans heavily into thematic storytelling and normally avoids popcorn fare (Pacific Rim being a notable exception). His comments explain and expand upon his creative proclivities in beautiful detail. We're lucky to have you, Guillermo.
Also, if you were curious: Pinocchio appeared in Italian writer Carlo Collodi's 1883 novel The Adventures of Pinocchio, which was published two years after the debut of the character's successful serial in the Italian children's magazine Giornale per i bambini. Italian cartoonist Enricho Mazzanti was the first to draw the character.
What do you think? Are you excited for Guillermo del Toro's Pinocchio film? We have a while to wait, but do these comments heighten your anticipation? Let us know and don't forget to acquaint yourself with this year's upcoming releases!
Your Daily Blend of Entertainment News