Scary Stories To Tell In The Dark: 5 Stories From The Books We'd Like To See In The Sequel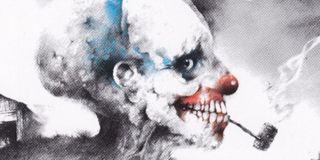 Andre Øvredal's Scary Stories To Tell In The Dark is an absolutely wonderful adaptation of the book series by author Alvin Schwartz and artist Stephen Gammell. Not only does it does a fantastic job weaving together the disconnected shorts from the source material, but it matches them with the classic and horrifying imagery with which they've always been associated. The only bad thing is that the single movie couldn't fit in more of the terrifying tales – but that's where a sequel comes in.
While the first Scary Stories To Tell In The Dark may have utilized some of the most memorable parts and images from the books – including shorts like "Harold," "The Red Spot," and "Me Tie Dough-ty Walker!" – but there is still tons of material left to mine in a potential follow-up film. To bring this point to life, we've gone back through the Schwartz and Gammell trilogy to find five stories that we want to see in a second chapter, starting with a fan favorite:
Sam's New Pet (Scary Stories 3: More Tales To Chill Your Bones)
This one is so well-remembered by those who grew up reading the Scary Stories To Tell In The Dark books that it's actually kind of shocking that it didn't wind up making it into the first movie. It's a classic urban legend, centering on a family that is in love with their new stray hairless dog rescued from the streets of Mexico – right up until they discover that it is actually a rabid, deformed sewer rat.
Similar to "The Red Spot," this is a fairly easy story to adapt into any larger narrative, as all that's required for set up is for a character to adopt a pet. It may start as your everyday cute movie dog, but the machinations of Sarah Bellow's book could turn it into a total horror show (especially if a practically built monster is created based on Stephen Gammell's illustration above).
Wonderful Sausage (More Scary Stories To Tell In The Dark)
As far as terrible monsters go, there is some serious juice to be squeezed out of a butcher who makes delicious sausage from seriously messed up ingredients – not limited to pigs, kittens, puppies, and people. He's a serial killer driven to homicide due to the demand of his business, and while it might be a bit tricky to include because of the restrictions on blood in PG-13 movies, he could also be a wonderful terror for Stella to face in a Scary Stories To Tell In The Dark sequel.
Making this one work in a follow-up story is a bit trickier, but perhaps Stella's journey takes her to an entire fictional town brought to life from Sarah Bellow's stories, and each establishment features its own taste of horror… including the local butcher shop. We're not quite sure how the film might go about incorporating the sight of a severed arm holding a fork with a meatball on it, but given the work done in the first movie we're not doubting the possibility.
"May I Carry Your Basket" (Scary Stories To Tell In The Dark)
A big part of what makes "May I Carry Your Basket" such a great little story is that it starts in such an innocent place. Sam Lewis is a nice guy – a nerdy chess player – who finds himself out late one night, and sees an old woman in the cold. All he wants to do is help by carrying her basket, but instead he is treated to the sight of a very active decapitated head that jumps out and bites him on the legs.
This is really built as a jump scare story, but much like the creation of The Jangly Man from "Me Tie Dough-ty Walker!" there is a lot of potential to expand in a film adaptation. Perhaps the subject of this story could be Stella's dad, played by Breaking Bad's Dean Norris, as he is certainly painted as a genuine guy in the first Scary Stories To Tell In The Dark. This could be a great way to both deeply illustrate his character in a sequel, and get him in on the horror action.
The Girl Who Stood On A Grave (Scary Stories To Tell In The Dark)
Some of the best shorts in the Scary Stories To Tell In The Dark come packed with a sweet ironic twist, and this one is no exception. At first you fully expect that the girl who is dared to plunge a knife into a grave is going to suffer at the hands of some kind of reanimated corpse – but instead it's really her fear that ultimately kills her, as she doesn't realize what's holding her back from running away in terror is that she unknowingly stabs the knife through her dress and pins herself to the ground.
The specific operations of the story in a Scary Stories To Tell In The Dark sequel could potentially change the way that "The Girl Who Stood On A Grave" is adapted, but it would be pretty amazing to see it used as a big final scare – kind of like the opposite of the final moment in Carrie. It would feel fresh, while also being a nod to one of the greatest moments in horror cinema history.
The Wolf Girl (Scary Stories 3: More Tales To Chill Your Bones)
The fact that Stella is on the road and leaving Mill Valley, Pennsylvania at the end of Scary Stories To Tell In The Dark is a nice wide open door that could really allow the sequel to pick up anywhere. And while it's the last story we mention in this feature, the subject of "The Wolf Girl" could inspire a pretty scary opening.
Taking place along the Rio Grande, this is a simple story about a girl raised by wolves basically since birth, and particularly thanks to Stephen Gammell it's a great big screen monster opportunity (just imagine the creature in the top image corralling a bunch of wolves to attack the protagonists while sitting around a campfire). Guillermo del Toro certainly loves his practical effects and makeup, and seeing The Wolf Girl brought to life would surely be both a treat for him and for us.
Is there a short from the Scary Stories To Tell In The Dark books that we didn't mention but that you would love to see in a possible sequel? Hit the comments section below with all of your thoughts, feelings, and opinions, and stay tuned here on CinemaBlend as we continue to cross our fingers and hope for a follow-up to get the green light following its strong opening weekend.
Assistant Managing Editor
NJ native who calls LA home and lives in a Dreamatorium. A decade-plus CinemaBlend veteran who is endlessly enthusiastic about the career he's dreamt of since seventh grade.
Your Daily Blend of Entertainment News
Thank you for signing up to CinemaBlend. You will receive a verification email shortly.
There was a problem. Please refresh the page and try again.