Scary Stories Is The Perfect Horror Warmup For Kids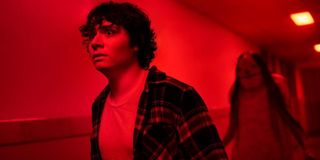 This past weekend, Scary Stories To Tell In The Dark was quite the surprise hit at the box office. Even more surprising is how effective the film adapted the stories of Alvin Schwartz's best-selling trilogy into a live-action thrill fest, right down to the creatures inspired by the Stephen Gammell artwork.
Perhaps the greatest achievement of director André Øvredal's summer horror blockbuster is the fact that for a PG-13 film, it's a pretty effective warmup for kids who are interested in crossing over into the scarier, R-rated stuff. Scary Stories To Tell In The Dark is the best film to introduce children to the realm of horror, and it's because of the following reasons:
Scary Stories Doesn't Sell Its Scares Short
There are horror films for children that can get kind of scary, but ultimately hold back. A taste of fear in children's films like The House With A Clock In Its Walls definitely helps future fans of the genre build up a taste for the fearful and the frightening.
In the case of Scary Stories To Tell In The Dark, the content provided doesn't hold back on the actual terror. The monsters are really as deadly as they appear in the trailers, and the consequences of their attacks are real and not simply reversable. In a sense, the film removes the training wheels for kids who are hoping for a simple, happy ending that erases the actions that came before.
By the end of Scary Stories To Tell In The Dark, the film wraps up with a bittersweet ending that leaves an opening for future installments. That open-ended nature means that everything that's happened isn't easily undone by a reset button, leaving the young audience to truly fear these monsters, and also with a need to really understand them.
The Movie Is Really Close In Tone And Style To IT
While it's an R-rated duology of films, the story of Stephen King's IT has been adapted into a style that isn't totally inappropriate for younger film fans. But as anyone will tell you, children operate at their own speed when it comes to fearsome monsters.
So while your kids may not be ready for Pennywise the Dancing Clown's razor sharp teeth, and what could possibly be the bloodiest scene ever committed to film in IT: Chapter Two, Scary Stories To Tell In The Dark is a great way to test your younger audience's tastes for such a movie.
Not to mention, the entire movie has a lot of the King-style tropes that adolescent horror movies love to use again and again. Scary Stories To Tell In The Dark uses a small town in the Northeast to tell the story of teenagers being terrorized by an unseen horror in a period appropriate setting.
Scary Stories Is A Perfect Middle Ground Between Family Friendly And Adult Content
Even if a film like Scary Stories To Tell In The Dark is rated PG-13, there are others who would take that opportunity to make a PG rated film with just a couple extra bells and whistles to make it feel harder edged. That's not the case with Øvredal's film though, as it's a PG-13 that isn't afraid to move towards the edge of its rating.
Not only are there legitimate scares in Scary Stories To Tell In The Dark, but there's also some serious nastiness in its more antagonistic characters. The central mystery behind what's going on in the film has some particularly dark turns, and even the seemingly stock antagonistic bully in the film is tinged with more of an evil personality than usual.
While you're not going to see slicing and dicing on an R-rated film's level, there are quite a few kills that might make the audience question their usual definition of a PG-13 movie's content. They're not enough to start an uproar, but are enough to see just how much this particular rating can do when it's allowed to go dark.
There's Some Serious Drama Mixed In With Scary Stories' Supernatural Horror
In the middle of Scary Stories To Tell In The Dark's third act, there's a moment between Zoe Margaret Colleti's Stella and her father, played by Dean Morris, that plays as an emotional beat in the midst of impending danger. While the danger of the moment never softens, Stella's teary phone call to her father is something that makes the film more than just another genre exercise.
When horror movies are sold to audiences, they're sold with the expectation that it's just going to be a bunch of scares with little to no other substance. While those sorts of movies are definitely fun, having kids brought up to expect horror movies that also remember to be regular films with plots and emotional stories is something that Scary Stories To Tell In The Dark excels at.
This shouldn't be a surprise, considering one of the major forces behind this film is Academy Award winner Guillermo del Toro. His sensibilities of emotion and drama melding with creatures and the haunts they entail are infused with every piece of this film. So while there's the phantasmagorical danger of Sarah Bellows and her stories, there's also the anxieties of Vietnam and small town prejudice on display to draw a sharp contrast.
It's A Perfect Halloween Tradition In The Making
When Halloween comes around, everyone wants to watch a scary movie. For kids, it's a little bit harder, as you can start them off on Hocus Pocus and other family-tinged fright fests, but it's going to get harder to impress them every year. Eventually, the young ones are going to want to cross the aisle and see IT or Halloween, or even A Nightmare On Elm Street.
While Scary Stories To Tell In The Dark isn't as hardcore as any of those, it's a spiritual cousin for an audience that is ready to start moving towards those gore-soaked halls of history. But even past that point is the fact that with its slightly Halloween set story, it's bound to be a movie that gets revisited for quite some time.
You can even start your children on Scary Stories To Tell In The Dark early on in their horror education, which could lead to them making the film a Halloween tradition in your house. In turn, they can study the mechanics of this new favorite even further, preparing themselves even better for their eventual exposure to the harder stuff.
Scary Stories To Tell In The Dark is a hell of a movie, as it's scary enough to keep adults who grew up with the books invested, but dialed down enough that it can entertain a new generation of children drawn to the genre of horror.
Finally, there's a PG-13 horror film that doesn't trade on cheap jump scares or watering down a classic into a more modern, blockbuster friendly context. There's so much room for a film that can play as a serious entry into the confines of this style of film, but also allow a younger audience to easily enjoy it.
So if you really want to test your children's tastes for horror, and they've already watched Hocus Pocus so many times they know the spells by heart, try getting them to see Scary Stories To Tell In The Dark. After they've experienced this film for themselves, there's no telling what they'll be ready for next!
Scary Stories To Tell In The Dark is in theaters now.
Your Daily Blend of Entertainment News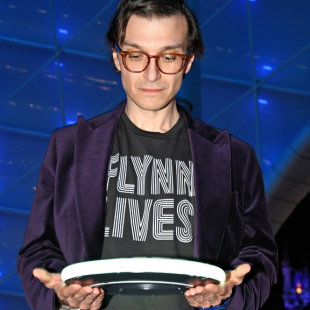 Senior Movies Contributor
CinemaBlend's James Bond (expert). Also versed in Large Scale Aggressors, time travel, and Guillermo del Toro. He fights for The User.