Crawl Director Making A Choose-Your-Own-Adventure Haunted House Movie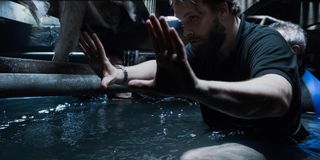 One of the most pleasant surprises of the summer has been Crawl, the alligator horror film starring Kaya Scodelario from Piranha 3D and directed by Horns' Alexandre Aja. Now, hot off that creature feature, Alexandre Aja is lining up his next project and it's an old school premise with a new, high-tech twist. The Crawl director is making a choose-your-own-adventure haunted house movie.
Alexandre Aja has signed on to direct the as-yet-untitled horror film for Steven Spielberg's Amblin Partners, according to Collider. Beyond the fact that it will be a haunted house film, the premise remains a mystery at the moment, but that's okay because the real intriguing part is that this will be an interactive, choose-your-own-adventure style horror flick.
The idea for the film's story comes from Jeff Howard, who penned episodes of Netflix's The Haunting of Hill House, and Mike Flanagan, the writer and director behind the upcoming sequel to The Shining, Doctor Sleep. Howard wrote the script alongside Alexandre Aja and Nick Simon, who wrote The Girl in the Photographs.
The interactive haunted house film will feature a branched narrative where the audience's choices influence the plot, ending and even the film's running time. That obviously leads to the question of how exactly the audience will choose-their-own-adventure for this film within a theater?
To accomplish this, Amblin Partners is teaming up with Kino Industries CtrlMovie technology, which specializes in helping filmmakers to tell interactive, branched narrative films in which the audience participates. Using an app on their smartphone, audience members will vote in the theater to determine character actions at pivotal points in the film.
After Crawl, I think we'd be excited to see whatever Alexandre Aja does next, but this is quite the interesting twist. It obviously brings to mind last year's Black Mirror: Bandersnatch, which was an interactive science fiction film on Netflix. Whereas with that audiences chose their own adventure using TV remotes or their phones while watching at home, this will be experienced in a theater.
On the one hand, people taking out their phones during a movie is a scourge that should be fed to the alligators in Crawl. I also wonder how audiences basically having their phones out the whole time will impact the dramatic tension that will be required to make this movie effective as a horror tale, and if it is intended to be legitimately scary, and not just fun.
But despite those reservations, it is cool to see a talented filmmaker playing with formats and trying something new. And audiences will go in to this film knowing that they and everyone else will have their phones out, so that shouldn't be a problem. It could also make for a great communal experience as audience members react to their choices either winning or losing the auditorium's vote. Plus, this may be the first time where audiences in a horror film shout 'Don't go in there!' and the characters actually listen.
It's a neat idea, and while write-ups will no doubt pop up online detailing all the film's possible narratives, just as they did with Bandersnatch, I could see it driving repeat viewing if it is a good movie and a fun experience. I'll be curious to hear what the basic plot of the film is and to see how it takes advantage of this unique format.
No release date has yet been set for Alexandre Aja's untitled, interactive haunted house movie but we'll keep you updated as we hear more.
Check out our 2019 Release Schedule to see what's headed to theaters the rest of this year, and be sure to choose the adventure that is movie news by staying tuned to CinemaBlend.
Nick grew up in Maryland has degrees in Film Studies and Communications. His life goal is to walk the earth, meet people and get into adventures. He's also still looking for The Adventures of Pete and Pete season 3 on DVD if anyone has a lead.
Your Daily Blend of Entertainment News
Thank you for signing up to CinemaBlend. You will receive a verification email shortly.
There was a problem. Please refresh the page and try again.