Ad Astra And Ford V Ferrari Are The Most Important Films For Fox's Future With Disney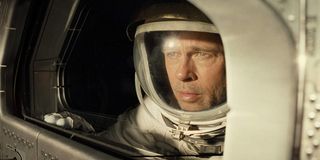 Ever since the ambitious merger of Disney and Fox closed earlier this year, the fate of the latter studio has been somewhat of a question mark. While its new corporate parent has done everything to assure folks that it won't fold entirely, recent developments have thrown the fate of those decisions into question.
Most importantly, there's the recent third quarter dip in Disney's bottom line, thanks to many factors, which included the financial failure of Dark Phoenix at the box office. Admittedly, while the company's theme park division also accounted for the bump in the road, the film studio is admittedly the bread and butter of the Walt Disney Company's operations.
With that core tenet in mind, it looks as if the next two films on the Fox docket, the Brad Pitt sci-fi drama Ad Astra and the Christian Bale/Matt Damon racing biopic Ford v. Ferrari, are going to be the most important films to the future of Disney's conjoined film dominion. Here are the reasons why they'll be so important.
The Fox Brand Has Yet To Be Defined In Disney's Corporate Structure
In the environment of the Fox/Disney merger, the exact purpose of the 20th Century Fox label hasn't been defined just yet. Much as Marvel Studios and Lucasfilm Ltd. have their respective brands and slates of production, it would be assumed that in order for Fox to survive, it needs to prove itself useful.
Should Ad Astra and Ford v. Ferrari become box office hits, the studio would very easily have a defined lane to stay in. Operating within a PG-13 – R-rated playing field, Fox could evolve into a powerhouse that takes up the mantle that Touchstone Pictures and Hollywood Pictures once operated under in Disney in the '90s.
More mature projects can flourish under this banner, with mid-to-high budget figures and independent of the more blockbuster portions of the joint film operations of Disney/Fox. If this strategy pans out, more experimental films can be crafted, finding new and exciting paths for creators to take with their work.
Both Movies Are Driven By Impressive Star Power
The importance of star power is something that's still debated in the realm of the cinematic market. While it's hard to try and determine which concepts will draw audiences to the theater, it's even harder to gauge which performers can still pack 'em in the aisles at your local movie house.
Combining the star power of both Ad Astra and Ford v. Ferrari, you'll see Brad Pitt, Liv Tyler and Tommy Lee Jones leading that first film, with Christian Bale, Matt Damon, Jon Bernthal and even Outlander's Caitriona Balfe taking up the cause for that second picture. That's a lot of well-known names, appealing to a nice cross generational mix of potential filmgoers.
It's a wide spectrum of names that could draw in just the right balance of older and younger film fans to their local cinemas. While the casts and the content of these films don't scream Marvel Cinematic Universe levels of popularity, there's enough firepower to rack up two outside of the box hits at the box office, and keep Fox in play for the foreseeable future.
Ad Astra Is A Potential Sleeper Hit
There's a two-pronged structure that could ensure Fox would stay alive into the foreseeable future. All that needs to happen is for the studio to rack up a blockbuster-sized hit with audiences and an awards season title that produces a killer amount of buzz. Since Fox only has a co-production credit on Terminator: Dark Fate, its blockbuster hopes are probably better pinned on Ad Astra.
In terms of the audience-friendly blockbuster, Ad Astra could replicate the record-setting success that 20th Century Fox had with The Martian back in 2015. While there's no pre-existing source material for director James Gray's high concept space adventure, the right comparisons between this film and the Matt Damon adaptation of Andy Weir's exciting tale of survival on Mars could mean blockbuster returns.
A late September release window, with Rambo: Last Blood acting as the only direct competition, could put Ad Astra into a surprising position as a big ticket hit. If that happens, the losses of films like Dark Phoenix may be forgiven in the name of helping further define the type of movie Fox should be releasing.
Ford V. Ferrari Could Be An Awards Season Contender
With Ad Astra looking to potentially win audiences over with its high minded science fiction, Ford v. Ferrari would fulfill the other side of the two-pronged structure to define the modern era of Fox movie content. That means director James Mangold could hold the key to the studio's awards season fate.
The simple truth when it comes to 20th Century Fox is this: there are only three more films to be released on its 2019 calendar: Ad Astra, Ford v. Ferrari, and Spies In Disguise. That means the studio's best chance for an awards season ringer is Mangold's tale of the fateful 1966 24 Hours of Le Mans.
Ideally, this would also be a candidate for blockbuster success, what with its budget being similar to Ad Astra's. However, this is undoubtedly a prestige player in the Fox stable, and all the money in the world wouldn't make up for it not nabbing some sort of nominations come Oscar night. Especially when the studio's own awards-heavy offshoot is looking at some troubled times as well.
Fox Searchlight's Fate Hangs In The Balance, By Proxy
While they aren't part of the Fox proper release slate, the output that Fox Searchlight will be engaging in marketing to the public in the next couple of months will also be affected by how well Fox proper can get its job done.
With Ready Or Not and Jojo Rabbit as prime examples of the studio's output for the rest of 2019, these represent the highest profile titles that Fox Searchlight has coming in the next couple of months. And while Disney has sworn to not only keep Searchlight active, but also not to interfere with their operations, should Fox fail, that could change.
The beginnings of that interference have been seen as the parent studio is apparently getting cold feet about releasing Taika Waititi's anti-hate satire, as the Mouse House is afraid the film will alienate Disney's core audience. If Ad Astra succeeds, then there's a good chance that Jojo Rabbit just might be left alone, as it will earn the studio the breathing room it needs. Should it fail hard enough, we could see Fox Searchlight's autonomy crumble, with projects such as Antlers and Downhill potentially looking for a new home in order to free up some Disney release space.
The merger between Disney and Fox changed the landscape of Hollywood in a substantial manner, and there are going to be plenty of ripples that we'll see taking shape in the cinematic pond throughout the rest of 2019. While those particular side effects aren't set in stone, it's safe to say that Ad Astra and Ford V. Ferrari are going to be the two most important films for The Walt Disney Company.
The rest of the Disney film slate this year is comprised of Maleficent: Mistress of Evil, Frozen 2 and Star Wars: The Rise of Skywalker. Naturally, two of those movies are monolithic sure bets, while Maleficent's sequel is a gamble, but a very safe one considering the first film's success. So those films aren't going to be as much of a going concern when those third quarter results are still looming fresh in studio executives' minds and the Fox side of the house being behind such results.
We'll see where the rest of 2019 takes Disney and Fox, but if the latter studio wants to please the former in an impressive fashion, succeeding with those two star-powered films will be essential to saving their collective skin. So if you're interested in saving Fox and have interest in either film mentioned above, the following information will be crucial.
Ad Astra lands in theaters on September 20, while Ford v. Ferrari revs its engines theatrically on November 15. To keep track of these films, and all others being released throughout the rest of this year, take a look at our 2019 release schedule.
Your Daily Blend of Entertainment News
Senior Movies Contributor
CinemaBlend's James Bond (expert). Also versed in Large Scale Aggressors, time travel, and Guillermo del Toro. He fights for The User.