Angel Has Fallen Box Office: The Threequel Surprises During A Mostly Slow Weekend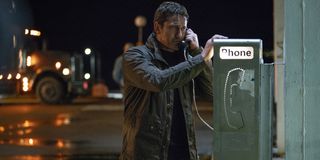 Given the way in which sequels have performed during summer 2019, expectations weren't exactly all that high for the opening weekend box office performance of Ric Roman Waugh's Angel Has Fallen. Sure, the franchise has released a few legitimate hits in the last six years, but prognosticators didn't have much faith that the new release would be a late August hit. As it turns out, however, the threequel put on a surprising performance during a mostly slow weekend, and put up numbers that match those of its predecessor, Babak Najafi's London Has Fallen.
Check out the numbers for Angel Has Fallen, as well as the rest of the box office Top 10 below, and join me after for analysis!
Swipe to scroll horizontally
| Movie Title | Weekend Amount | Total Amount | Chart Position Last Week | Number of Screens |
| --- | --- | --- | --- | --- |
| Angel Has Fallen* | 21250000 | 21250000 | 0 | 3286 |
| Good Boys | 11750000 | 42057505 | 1 | 3353 |
| Overcomer* | 8200000 | 8200000 | 0 | 1723 |
| The Lion King | 8150000 | 510635735 | 3 | 3300 |
| Hobbs & Shaw | 8140000 | 147701255 | 2 | 3312 |
| Ready Or Not* | 7550000 | 10578148 | 0 | 2855 |
| The Angry Birds Movie 2 | 6365000 | 27091263 | 4 | 3869 |
| Scary Stories To Tell In The Dark | 6000000 | 50489202 | 5 | 2927 |
| Dora And The Lost City Of Gold | 5200000 | 43099953 | 6 | 2843 |
| Once Upon A Time In Hollywood | 5000000 | 123187467 | 8 | 2209 |
As has been mentioned many times on the site in recent weeks, August is generally kind of a bummer month for Hollywood, but the month is weirdly coming to an end with some legitimate modest successes. Angel Has Fallen was expected to have a final figure closer to $15 million, so the fact that it managed to make over $20 million is surprising. Ultimately the sequel didn't really come close to the high point in the franchise, which was when Antoine Fuqua's Olympus Has Fallen made $30.4 million in its first three days back in 2013, but the $21.3 million it made is almost a mirror image of the $21.6 million that London Has Fallen made a few years ago.
This solid opening weekend effort also suggests good things for the near future for the movie, as it actually has a bit of open space to run a bit in the coming days. Obviously the party will end when Andres Muschietti's IT: Chapter 2 drops into theaters the first week of September, but Angel Has Fallen's biggest competition in the coming days is only one relatively small release: Jacob Estes' Don't Let Go. It's true that critics may not be a fan of the new movie, but its over-performance at the box office in combination with its "A-" CinemaScore grade could mean that it winds up making a good amount of cash before August is over. Of course, things could also definitely go the opposite direction too, as we have seen multiple releases in 2019 experience second weekend drop-offs larger than 60 percent.
While the opening weekend numbers are solid, it should be noted that Angel Has Fallen still has a little while to go before it becomes profitable. The film was made with a reported $40 million before marketing and publicity, and the international numbers don't seem to be available quite yet. Needless to say, we'll be curious to see what happens to this one when we write up next week's box office column.
Sadly, it's not all great news at the box office for new features, as Matt Bettinelli-Olpin and Tyler Gillett's Ready Or Not didn't get a ton of movie-goers filling seats at their local screenings. The horror/comedy not only got a jump on the weekend by coming out mid-week, broke a record as the widest release in Fox Searchlight history, and earned high marks from critics, but those elements didn't ultimately coalesce as big numbers. It's not exactly a huge flop, as it's not exactly like the film was made with a ridiculous blockbuster budget, but it can still be qualified as a disappointment in the sense that general audiences are missing out on what is one of the best films of the year.
Speaking of small budget releases, Alex Kendrick's Overcomer did some solid business, very specifically targeting the religious crowd. It's not Kendrick's biggest release, as both 2011's Courageous and 2015's War Room made more money in their respective debuts, but it still a bronze medal winner compared to the rest of his filmography, which also includes 2008's Fireproof and 2006's Facing The Giants.
In the realm of box office milestones, David Leitch's Hobbs & Shaw is still looking to cross $150 million domestically, but it continues to perform well aboard, and thus far has made nearly $589 million globally (which means that there is perhaps still a chance it could surpass Justin Lin's Fast Five in the franchise rankings). Jon Favreau's The Lion King, meanwhile, moved past $510 million here in North America this week, as its foreign totals have nearly reached $1 billion alone. The movie now has a very solid hold on the second place slot in the worldwide Top 10 for 2019 - though not only will it never reach Joe and Anthony Russo's Avengers: Endgame at number one, it may ultimately slip a bit in the rankings when J.J. Abrams' Star Wars: The Rise Of Skywalker hits theaters in December.
Additionally, not only has Andre Ovredal's Scary Stories To Tell In The Dark now made over $50 million domestically, it has now accumulated a worldwide total of $72 million. This in mind, the possibility of seeing a sequel doesn't seem all that low.
As mentioned earlier, we have a bit of a slow week coming up, with only Don't Let Go hitting wide release on Friday - but that will just make it all the more interesting to see how everything else fares. Be sure to come back next Sunday to see how it all shakes out.
Your Daily Blend of Entertainment News
Assistant Managing Editor
NJ native who calls LA home and lives in a Dreamatorium. A decade-plus CinemaBlend veteran who is endlessly enthusiastic about the career he's dreamt of since seventh grade.
Your Daily Blend of Entertainment News
Thank you for signing up to CinemaBlend. You will receive a verification email shortly.
There was a problem. Please refresh the page and try again.