How IT Chapter Two's Surprising Cameos Came Together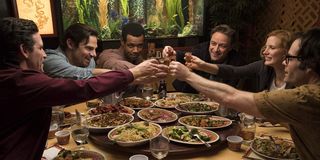 Warning: SPOILERS for IT Chapter Two are in play. If you want to remain surprised, head out of this story and come back once you've enjoyed the film.
Cameos in a Stephen King movie are like chocolate and peanut butter: they go well together and you can usually spot them pretty easily. Director Andy Muschietti's IT Chapter Two, the conclusion to his two-part adaptation of King's famed novel, adheres to that logic pretty safely, as not only did he bring the master of horror himself into the film's cast, but he also got famed Hollywood legend, director Peter Bogdanovich, into the mix.
CinemaBlend learned this firsthand, as our own Eric Eisenberg was on hand for IT Chapter Two's press day, and naturally the subject of cameos came up between him and producer Barbara Muschietti.
A mutual friend set up a meeting, and all it took was a regular dinner with Bogdanovich to inspire the director to inquire if there was a role for "an old director." Which led to his really funny scene telling James McAvoy's Bill Denbrough about how his endings suck, as "Peter – The Director" is seen hard at work on the film adaptation of Denbrough's novel, The Attic Room.
Funny enough, this isn't the first time a Hollywood director has cameoed in the history of Stephen King adaptations. Most notably, the 1994 TV miniseries of Stephen King's The Stand has An American Werewolf in London director John Landis and Fright Night helmer Tom Holland (not to be confused with the Spider-Man actor) both playing bit parts in King's apocalyptic vision.
Were Andy and Barbara Muschietti's original wishes granted, Bogdanovich wouldn't have been the only one in It Chapter Two, as director and collaborator Guillermo del Toro was approached to have a bit part as a janitor in one of the film's scenes. Unfortunately, timing and other factors prevented that from happening.
Speaking of traditions, It Chapter Two landed that rather funny Stephen King sighting through the grace of two important factors. Not only did the film's writer, Gary Dauberman, write a stage direction in the script that described the shopkeeper at the pawn store as someone "who looks a little like Stephen King," but according to Barbara Muschietti, her brother Andy finally worked up the courage to ask King himself to take a role. Something he shied away from doing back when he crafted IT into the 2017 box office smash it would become.
Adding another layer of humor to King's appearance is the fact that it almost didn't happen, as Barbara's story mentioned how the famed author considered himself a bit of a jinx for the box office prospects of the films he shows up in. Considering IT Chapter Two made $10 million on Thursday night shows alone, and a potentially record-breaking worldwide opening waiting in the wings, it's safe to say that Andy's belief that he could beat the curse is well justified.
A couple more cameos are out there that might surprise you, the audience, as you watch IT Chapter Two. Director Andy Muschietti is actually spotted in the film, inspecting a product very carefully in the aisles of the local drug store as James Ransone's Eddie is trying to pick up his inhaler. And if you're a fan of the original 1990 miniseries version of IT, you might have recognized Brandon Crane all grown up and playing the credited character "Big Guy."
The actor who played the child version of Ben Hanscom during the Tommy Lee Wallace-directed TV adaptation was used as a decoy Ben during the introduction of Jay Ryan's current incarnation of his adult self. But as Barbara Muschietti herself mentions, her own cameo is the most surprising, as she's also in IT Chapter Two as an "old student" towards the very end of the film. However, as Muschietti herself told CinemaBlend, she hasn't been spotted by audiences all that often; making hers the most elusive appearance in this handful of sneaky roles.
So if you're heading out to the theaters to see this big bloody blockbuster, either for the first time or a repeated viewing, keep your eyes peeled very carefully. Much like the fearsome monsters in the Stephen King universe, you never know when the next familiar face is going to pop up in the middle of the action.
IT Chapter Two is in theaters now, with 2019's release schedule still full of surprises to be revealed, should you have already seen this particular flick.
Your Daily Blend of Entertainment News
Senior Movies Contributor
CinemaBlend's James Bond (expert). Also versed in Large Scale Aggressors, time travel, and Guillermo del Toro. He fights for The User.
Your Daily Blend of Entertainment News
Thank you for signing up to CinemaBlend. You will receive a verification email shortly.
There was a problem. Please refresh the page and try again.