Rampage's Action Scenes Are More Intense Than James Bond, According To Naomie Harris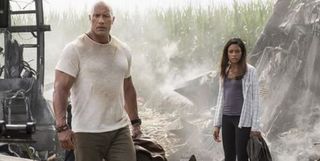 The Rampage cast is packed full of actors that have shown their action mettle and earned their chops in the genre. But while Dwayne Johnson, Joe Manganiello and Jeffrey Dean Morgan have popped up in various impressive action extravaganzas, only Naomie Harris can say that she has appeared in a James Bond film, as she has played Eve Moneypenny in Skyfall and Spectre.
But Naomie Harris insists that Rampage's action scenes are actually crazier and more intense than those from the Bond franchise. And lest we forget she was prominently involved in Skyfall's stunning opening sequence. But, Naomie Harris told me and a group of other film journalists that were lucky enough to visit the set of Rampage last year that even that sequence doesn't compare to the stuff she was working on in the disaster film. When she was asked about Rampage's action sequences, Naomie Harris responded,
Naomie Harris then went into more detail about a particularly "insane" helicopter sequence, calling the entire experience "absolutely terrifying," while admitting that it was quite hard to adjust to the rigors of shooting it. The Oscar nominated Moonlight actress recalled,
We'll finally get to see this sequence in all of its glory when Rampage is released into cinemas on April 13.
Your Daily Blend of Entertainment News