Star Wars: A New Hope's Most Infamous Mistake Has Gotten Its Own Documentary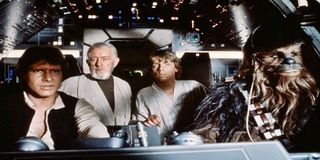 In the decades since Star Wars: A New Hope first wowed the world, fans have dedicated plenty of time to not only speculating about forthcoming installments, but also to revisiting the original. Someone even went that extra mile and re-edited Obi-Wan's fateful duel with Darth Vader. And that's just one of the many ways fans have paid their respects to this incredibly influential film. A New Hope stands as one of the most culturally and technologically significant films ever made, so different deconstructions and frequent "aha!" moments come with the territory. And there's plenty to notice and pick apart.
For example, who famously hit his head on a Death Star door, inadvertently creating one of the biggest "mysteries" of the Star Wars saga? Well, one writer is after the truth, and he made a documentary about his quest for answers.
In his new documentary The Empire Strikes Door, writer, podcaster, and YouTuber Jamie Stangroom interviews different actors who claim to have been the one who made the mistake. And, to tie it in with the upcoming release of Star Wars: The Rise of Skywalker, Stangroom hilariously parodied the "this is it" feel of the aforementioned film's trailer. It's all incredibly well-made, and it will be interesting to see how Stangroom and his intrepid crew reach the truth (which they undoubtedly will). In the meantime, you can check out the documentary's official trailer below! Spoiler alert: it's an absolute delight and is already generating quite a bit of positive buzz.
Stangroom's work has appeared on starwars.com, BBC 5 Live, Comedy Central, and AMC. Tons of his material focuses around Star Wars, but The Empire Strikes Door may be his most ambitious project yet. If the newly-released trailer indicates anything, it's that he is absolutely the perfect person to tackle such a project.
The Empire Strikes Door hits the internet on September 25, just three months before The Rise of Skywalker is scheduled to take the world by storm. Did you like what you saw? I had no idea that people debated who was actually in the suit so I will definitely be catching this one. It's a harmless project that looks fun, funny, and informative. What's not to love?
But what do you think? Do you think Jamie Stangroom is going to do a solid job of making us care about his discovery? Will you be watching this documentary or could you not care less? Sound off in the comments section below and remember to acquaint yourself with the biggest releases of 2019! The year may be nearing its end, but there are still some great films on the horizon. Check them out, and keep your eyes on CinemaBlend's newsfeed for more movie and television goodness.
Your Daily Blend of Entertainment News