Someone Re-Edited Darth Vader And Obi-Wan's Battle From Star Wars: A New Hope, And I've Got Chills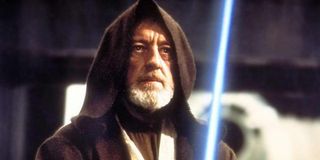 Part of what has made George Lucas' original Star Wars trilogy so enduring, beyond being fantastic films, is their timeless quality. Even now, forty years after its release, Star Wars: A New Hope still holds up. The use of practical effects gives this film a tangibility that allows it to withstand the scrutiny of an era, where incredible CGI has become ubiquitous. However, the one area where this film falls short of modern sensibilities is the lightsaber battle. Fight choreography is less complex in the original trilogy, while the Star Wars prequel and sequel films' duels have grown far more complex, dynamic and jaw-dropping. This makes the Obi-Wan Kenobi versus Darth Vader battle in A New Hope seem somewhat pedestrian by comparison. Well, no more. The first lightsaber battle has been reimagined to appeal to modern tastes and reflect the skills of the combatants, and it is awesome. Take a look.
Holy moly, I've still got chills, where to even start? First off, let's talk about the sound. When a weighty cinematic moment gives you chills, the sound is usually a big part of it, and that's the case here. The use of Vader's breathing throughout takes you back to a time when the Dark Lord was the ultimate boogeyman, a terrifying force from which there is no escape, his breathing signaling your end approaching. The score here is perfect too, as it's almost non-existent. This minimalistic approach adds tension to the scene and puts the focus on Vader's breathing and the clash of the lightsabers. Then there is the battle itself.
The battle between Obi-Wan and Darth Vader in A New Hope was plodding and simplistic, a reflection of the era and the limited mobility of the Darth Vader suit. Although now much older men, it seems impossible this battle could be between the same two men we saw in viciously skilled combat on Mustafar in Revenge of the Sith. But this reimagining is far more in line with what we expect from two masters. The shots are wider to better show the full breadth of the fight, and the battle itself features bigger motions and more visually interesting strikes. This is far more in line with what we have come to expect from lightsaber battles in the new films. The Darth Vader we see here is aggressive and vicious, playing for blood against his former master. This depiction is very similar to the Darth Vader we saw at the end of Rogue One, in a scene that had many a Star Wars fan, giddy as a schoolgirl at seeing why the Dark Lord is so feared.
But, the most chilling sound and amazing choreography would be for naught had the production not been up to snuff. I don't know what the end goal of this project is, but FXitinPost has something truly delightful here. The visual effects all look pretty great and allow you to focus on the content and not the quality, unlike so many fan film type videos. The YouTube video states that the full scene is coming in 2018 and I can't wait to see how it turns out. Go watch that video again and stay tuned to CinemaBlend in 2018 as we bring you all the latest in laser sword goodness.
Nick grew up in Maryland has degrees in Film Studies and Communications. His life goal is to walk the earth, meet people and get into adventures. He's also still looking for The Adventures of Pete and Pete season 3 on DVD if anyone has a lead.
Your Daily Blend of Entertainment News
Thank you for signing up to CinemaBlend. You will receive a verification email shortly.
There was a problem. Please refresh the page and try again.