Martin Scorsese's The Irishman Has Theatrical And Streaming Release Dates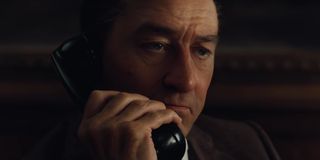 With The Irishman, Martin Scorsese is pulling out all the stops. Robert De Niro, Al Pacino, and Joe Pesci star in the film, which ranks among the most expensive films of Scorsese's career. Before today, we didn't know much about when we could actually see the movie. That's why, despite the talent involved, the flick has stayed under the radar. As far as the film's marketing goes, we only had teaser trailers, a brief synopsis, and a festival premiere date to go by as we eagerly awaited a release date announcement. Now, one of the film's social media accounts has revealed both its theatrical and its Netflix releases, so it's finally time to get excited.
According to its official Twitter account, The Irishman will hit select theaters on November 1 before hitting Netflix on November 27. This is much sooner than many thought, even though the film was announced back in 2017. Most fans didn't know when to expect the film because it had shrouded itself in secrecy for so long.
A mysterious teaser hit computer screens back in February, five months before the film treated us to a more revealing trailer. And as we inch toward November 1, excitement will only continue to increase. Given the film's commitment to secrecy, we may not get another trailer so drink in what we have and try to exercise some patience until the film arrives.
The Irishman follows hitman and World War II veteran Frank "The Irishman" Sheeran (De Niro) as he looks back on a career as a mobster, killer, and traitor. Pacino portrays Jimmy Hoffa, while Pesci plays Russell Bufalino. Supporting cast members include Harvey Keitel, Ray Romano, Bobby Cannavale, Stephen Graham, Anna Paquin, and Sebastian Maniscalco. Quite the cast, if you ask me.
An esteemed filmmaker and Hollywood icon, Martin Scorsese is far and away one of the most influential directors of our time (or any time). When a Scorsese film hits theaters, it's an event. The release of The Irishman will be no different, partially because years pass between each new film he makes.
His previous film, Silence, hit theaters back in 2016. So it has been almost three years since we've gotten some Martin Scorsese goodness. Luckily, we've reached the home stretch. And, as if we don't already have enough reasons to get pumped for the project, Schindler's List scribe Steven Zaillian wrote the screenplay, which is based on Charles Brandt's novel I Heard You Paint Houses. Zaillian's involvement bodes extremely well for both audiences and the production itself. There's a ton of talent involved with this project, basically guaranteeing us a good movie.
Are you excited for The Irishman? Let us know in the comments section below and don't forget to check out what other films are coming out this year!
Your Daily Blend of Entertainment News