Casting The Perfect Batman Movie Using Former Cast Members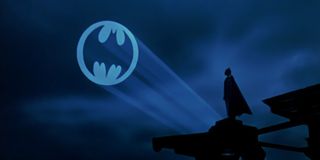 By now, we've seen more than our fair share of Batman movies. The familiar Caped Crusader has seen both high points and low points galore throughout his checkered time on the silver screen. There's no denying that for every time he rises, he has fallen mightily. It's part of what makes Batman who he is, and there is no shortage of symbolism to be found in all of Batman's great falls and rousing triumphs. Similarly, each Batman movie cast has done something different and interesting and no Batman live-action movie is completely without merit. They have offered something to admire and something worth celebrating, if even in small doses. Yes, even Batman & Robin has parts worth championing.
But which actors were the very best in their respective roles? Every Batman blockbuster has at least one cast member who has made the most of it. Thus, if we were somehow able to scientifically combine all the Batman movies and put them into one completely satisfying film, we'd likely have the perfect Batman flick. Though that's never gonna happen, it does get the brain racing. Specifically, who'd be compiled together to make the very best Batman movie?
Before we get ahead of ourselves here, though, I should note upfront that, unlike some of my CinemaBlend colleagues, I have not had a chance to see Joaquin Phoenix's upcoming portrayal of The Joker in Todd Phillips' Joker yet. Therefore, his performance (as well as any other performance in that upcoming film) is not under consideration here. Likewise, I'll make it clear once-and-for-all that this is all subjective, obviously, and we're intentionally ignoring timelines and other complicating factors. So, this feature shouldn't be held as fact, by any stretch of the imagination. This is, rather, a fun way to imagine what the perfect Batman movie might possibly look like, and this opinion is based on the films we've seen and how we remember them best.
Without further ado, let's see who might be compiled together to make the perfect Batman movie!
Michael Keaton As Batman/Bruce Wayne From Batman (1989)
This is obviously a tough decision, and it's hard to choose which actor donned the cape and cowl the absolute best throughout the various different incarnations of the cloaked character. While many of the actors involved are talented in their own right, not all of them have shined in the role (George Clooney, for instance). And while it's often easy to celebrate the acting talents of Christian Bale, his take on Batman isn't always what is celebrated.
However, for whatever it's worth, I do think Christian Bale is the best Bruce Wayne, though it's obviously rather nonsensical to have one actor play Bruce Wayne and another, totally different actor play Batman. (Although actually, now that I think about it...) While I really liked Ben Affleck in the role of Batman/Bruce Wayne, his movies didn't serve him many favors, and it ultimately feels like a missed opportunity with him in the role more than anything else. In any case, I don't believe any when it comes playing the best Batman, another actor comes to mind. Such a distinctive honor is bestowed — in my opinion — to Michael Keaton.
While Michael Keaton tends to get overlooked for his achievements in the role, I believe he captured that balance of a suave millionaire and mysterious crime-fighter quite well, letting us see the lighthearted and the tragic elements of his character in equal measures. It's a difficult balance, and his version allowed us to see how Batman is such a complicated, nuanced character, even when his desire to do good against the oppressive forces of evil is abundantly clear. While he shined in both of his films, it was 1989's Batman where Michael Keaton played to his strengths in the role.
This is where Michael Keaton and director Tim Burton provided a new and exciting new take on the character, which has been reflected with every subsequent portrayal of the character since and allowed us to see the character as someone who could be taken more seriously in a public light — while never fully escaping the thrills that are so important to the essence of Batman's wide appeal. That's why I believe he's the best here.
Burt Ward As Robin From Batman: The Movie (1966)
While Batman: The Movie is often widely mocked, and for admittedly very understandable reasons, as it is easily one of the hokiest takes on Batman's character we're ever likely to see, there is something to be admired about Burt Ward's portrayal of Batman's well-trusted young sidekick, Robin. The character is good-hearted and always quick with a quip. He doesn't always get his moment to shine, but Robin is fiercely loyal, and he always wants to do what's right in the name of truth and justice. It's a character who hasn't been done exactly right in the big films, and we might never see a proper iteration of this side character outside of the movies and cartoons like Teen Titans. Therefore, I'm comfortable saying Burt Ward is the best depiction.
While Chris O'Donnell is fine in the role, he was similarly never given the right time to shine, especially in a weak sauce movie like Batman & Robin. Additionally, it's hard to pick Joseph Gordon-Levitt, since The Dark Knight Rises often seems to be ashamed to have Robin involved, waiting until the final moments of the film to finally do the name drop. With that sense, Burt Ward is the one actor who really seemed to embrace the cheesy fun of Robin's character, providing all the good puns and punches with aplomb and letting us having fun with this rather ridiculous side character, one who has never really gotten his due in cinema. Though, I do enjoy Michael Cera's voice-only Robin in The LEGO Batman Movie.
Michelle Pfeiffer As Selina/Catwoman From Batman Returns (1992)
For reasons that allude me, Batman Returns isn't considered to be one of the best Batman movies. For me, I consider it right up there near the top, providing a stylish, moody and appropriately dark take on the familiar DC character, with a grand vision that could only come from director Tim Burton. That movie is also great because it gave us one of the best performances in Batman history thanks to Michelle Pfeiffer's magnetic take on Catwoman.
While I do really like what Anne Hathaway did with the character in The Dark Knight Rises, and it's hard to dismiss the powerhouse performer that was Eartha Kitt; still, Michelle Pfeiffer's take on Catwoman is the golden standard. The actress radiates mystique, allure, power, and sexuality. It's even more impressive when we see Pfeiffer play the inverse of all this in her early scenes as Selina, a lowly, bookish woman who doesn't know how to stand up for herself until a near-fatal accident reworks her whole life. It's a captivating performance, and it's the best take on Catwoman we have seen to date. If she worked with the other fine actors here, it'd be another knock-out. She plays the part exactly as it should be on the screen.
Michael Caine As Alfred Pennyworth From The Dark Knight Rises (2012)
Although there are a number of distinguished actors who have provided great gravitas to the role of Alfred Pennyworth, few of them have gotten a chance to provide the character with the quiet humanity that makes the character much more powerful than simply Bruce Wayne's dutiful assistant. Through Michael Caine's work in Batman Begins, The Dark Knight and The Dark Knight Rises, Caine provided not only a dry wit and stoicism that's key to the character's existence, but a fierce, heartbreaking emotional dependency that made it clear that his loyalty to Master Wayne wasn't a job.
Specifically in The Dark Knight Rises, Michael Caine brings a dignity and an emotional fragility that makes for the most compelling take on Alfred Pennyworth to date. It's in this movie in particular that we see the human behind the suit, the man who must silently reckon with his job and his loyalty to the departed Waynes, as well as his fear that he might lose the one person he has grown attached to over the decades. His conflicted need to do what's right, with no right answers, makes this performance even emotionally devastating in the right moments. Michael Caine's tearful addresses to Christian Bale's Bruce Wayne are among the highlights of this third film, and he's the actor who did the most while playing this key character.
Danny DeVito As The Penguin From Batman Returns (1992)
Granted, Danny DeVito remains the only actor to play the part (for now, at least) of the villainous, insidious Penguin in any live-action film. But it's hard to upstage him, because he absolutely nailed the part in Batman Returns. He got the look exactly right, and he was masterful with every twisted mannerisms. It's top-notch acting work, a role that's over-the-top but never over-the-top about being over-the-top (if that makes sense). I can't think of anyone who could do it anymore justice.
Aaron Eckhart As Harvey Dent/Two Face From The Dark Knight (2008)
While Heath Ledger often gets the lion's share of the praise (and rightfully so) for his incredible performance as The Joker, one would be remiss if they overlooked the stellar work done by Aaron Eckhart in the role of Harvey Dent/Two Face. The character, who finds himself starting out as a JFK-esque charismatic District Attorney who promises to do what's right by the people, only to find himself being torn by corruption and ballooning chaos within the city of Gotham into a literally two-faced politician.
His character arc in 2008's The Dark Knight is one of the most distinctive in the incredible film. While it's easy to see why folks overlook his key role in favor of Heath Ledger's masterful turn, it shouldn't be ignored. For my money, this remains the best take we've gotten on Harvey Dent, i.e. Two Face.
Gary Oldman As Commissioner Gordon From Batman Begins (2005)
Like many other characters listed above and below, there have been several other portrayals of Commissioner James W. Gordon seen on the screen. And a lot of them have been strong. J.K. Simmons was a bright spot in Justice League, and there are other other actors who played the part well on both TV and in voice-only performances. But when it comes to the live-action films, Gary Oldman's version remains the strongest to date.
Similar to Michael Caine's Alfred Pennyworth, Gary Oldman brings the nuance and gravitas that is vital to the character, while also showing moments of great humanity and internal struggle while playing this dignified and proper character. The way he handles the mystique and power of Batman and his rallying cause is proud and noble, but also reserved and tempered. Mixed with the other relationships he holds with other key characters, including Bruce Wayne, it makes for a vital and memorable performance, most particularly when remembering how he handles the character in The Dark Knight.
Heath Ledger As The Joker From The Dark Knight (2008)
It's apparent that, if it weren't for the great tragedy of losing the great Heath Ledger at the very young age of 28, we would hopefully be celebrating an astoundingly talented actor who was continuously on the rise. His last completed role — and certainly Ledger's most acclaimed — remains his haunting, masterfully calculated and highly memorable take on The Joker, a villainous role who was already played, to much acclaim, by veteran actors like Jack Nicholson, Mark Hamill, and the late Cesar Romero. But Heath Ledger played it in a fresh and enigmatic new way, always allowing the character to feel wholly realized, distinctly individual and astoundingly unique, while also clouding the haunting performance in mystery and mystique.
It's a tremendously difficult balancing act that Health Ledger, nevertheless, pulled off quite beautifully, and it showcased an actor full of potential. It's no wonder that Heath Ledger eventually became the first actor in Oscar history to win an Academy Award for a superhero movie — though it was sadly a posthumous honor. It still remains one of the best, most noteworthy performances — comic book film or otherwise — of the past decade.
In 2008's masterpiece, The Dark Knight, Heath Ledger dutifully turned The Joker into an unmistakable force of chaos and destruction, and one that allowed the actor to respect the legacy of the well-visited character while also giving him the fresh sense of spontaneity and ingenuity that made the character so memorably terrifying. His mix of wit and irrationality made it clear why this character is such a continued force of anger and anguish for our familiar Dark Knight.
In addition, his time with Batman in this film remains some of the strongest in not only Batman's history but in the growing history of comic book adaptations as well. If the actor had lived, there's no denying that we would be seeing the great fruit of his labor, all thanks to his astounding performance here. There's little denying that Heath Ledger remains the best actor to put on the devious clown make-up yet.
Margot Robbie As Harley Quinn From Suicide Squad
While Suicide Squad is not an easy film to champion, there are few elements in the film that are undeniably excellent. The main one being Margot Robbie's impeccable performance as Harley Quinn. While the character hadn't been seen in the live-action form prior to this messy movie, the acclaimed actress absolutely nailed the part, providing the flight of fancy and deviously wicked fun that was crucial to the character's successful transformation to the big screen. It's a shame, then, that the disastrous 2016 film didn't match her incredible performance, to say the very least.
Nevertheless, Margot Robbie will thankfully get a second chance to play the fan-favorite character in next year's much-anticipated Birds of Prey (And The Fantabulous Emancipation Of One Harley Quinn). The rising actress caught the exact right tone of the unplaceable character, staying consistently disarming and energetically entertaining even when the movie around her constantly failed to match her strengths. If she had a chance to play with the other heavy-hitters in the Batman series, there's no denying that she would absolutely knock it out of the park. Here's hoping for big things next year.
These are only a handful of the great actors who have lent their talents quite nicely to the Batman franchise. There are certainly a lot of other options to choose from when it comes to everyone's favorite choice in playing these key characters. So, let us know in the comment section who you would pick for this hypothetically perfect Batman movie, and let us hear why you think they would do the perfect job in here. We're sure you have your thoughts.
Your Daily Blend of Entertainment News
Will is an entertainment writer based in Pittsburgh, PA. His writing can also be found in The Playlist, Cut Print Film, We Got This Covered, The Young Folks, Slate and other outlets. He also co-hosts the weekly film/TV podcast Cinemaholics with Jon Negroni and he likes to think he's a professional Garfield enthusiast.
Your Daily Blend of Entertainment News
Thank you for signing up to CinemaBlend. You will receive a verification email shortly.
There was a problem. Please refresh the page and try again.