Black Panther, The Dark Knight And Other Comic Book Movies That Have Received Oscars Attention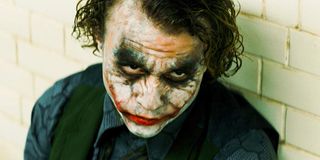 (Image credit: (Warner Bros) .)
There's something about "based on a comic book" that doesn't particularly impress the Academy. Yet, when film fans look back at modern cinema, they're likely to reference Christopher Nolan's Dark Knight trilogy, MCU films such as Black Panther and other entries in the genre as titles that had a cultural impact on audiences and filmmaking over typical "Oscar movies." Comic book movies were once a niche genre, but they have steadily become not only the most profitable and highest-profile franchises, but deeply interesting and top-notch entries of the era.
As the 2019 Oscar race starts to shape up, Todd Phillips' Joker could be a contender. The DC comics-inspired film has been named a "masterpiece" by critics – namely with Joaquin Phoenix's performance finding praise. Whispers of an Oscar campaign for Avengers: Endgame has also been thrown into this year's conversation. The question on all our minds is this: can the Academy get past each of these films inherent roots in comic books? It has happened on occasion over the years (and more and more frequently)! Let's break down the comic book genre's crowning Oscar achievements so far. Here are the comic book movies that can call themselves Academy Award winners, among a genre that often has at least one shoe-in for a Best Visual Effects nomination.
Superman
Back in 1978, comic book fans finally got the first superhero blockbuster when Richard Donner's Superman hit theaters. Capes and cowls had been represented on television in the form of (pretty cheesy) television programs and radio shows, but the Christopher Reeve-led epic told the Kryptonian's origin story, including the first of many big-screen face-offs with Lex Luthor. (Against California earthquakes?)
After Superman became the second highest-grossing film of the year, it was nominated for three Oscars: Best Sound, Best Film Editing and Best Music thanks to John Williams' iconic involvement. It did not win in these categories, but was given a Special Achievement Award for its groundbreaking visual effects – a component that comic book movies have since remained a leader in.
Batman
When Warner Bros' Superman franchise had run dry, the studio turned to Tim Burton to adapt the Dark Knight with 1989's Batman, starring Michael Keaton as Bruce Wayne and Jack Nicholson as The Joker. It was by far the biggest hit of the year, even above Indiana Jones last-hurrah with The Last Crusade (at the time anyway).
At the Oscars, Batman won one Academy Award for Art Direction/Set Decoration. It would be the first of many movies revolving around Batman and Joker to receive Oscar attention. This early entry in the comic book genre shows at one point, the Academy took no issue with awarding huge superhero crowd pleasers. Maybe because it was freshly on the Hollywood scene at the time?
Men In Black
1997 Oscar voters had no problem awarding the highest acclaim to widely seen flicks. Titanic had not only broken major box office records, but Academy Award records with 14 nominations – 11 of which the epic scored trophies for Hollywood's biggest night. Aside from Rose and Jack's viral love story, Men in Black was the second biggest movie of the year, being nominated for three Oscars.
Yes, Men in Black is based on a comic book series created by by Lowell Cunningham and Sandy Carruthers. The action comedy starring Will Smith and Tommy Lee Jones was nominated for Art Direction/Set Decoration and Best Original Score from Danny Elfman, and won for Best Makeup.
Road to Perdition
In 2002, an unlikely comic book adaptation was helmed by director Sam Mendes – Road to Perdition. The neo-noir crime thriller series was originally published by the DC Comics imprint Paradox Press in 1998 before Fox produced an awards contender, with Tom Hanks, Jennifer Jason Leigh, Paul Newman, Daniel Craig, Jude Law and a young Tyler Hoechlin (now The CW's Superman) in the cast.
Road to Perdition is set during the Great Depression and about a father and son who must flee their home after the son of a mob enforcer witnesses a murder. The thriller earned Conrad L. Hall his second Best Cinematography Oscar following American Beauty (also directed by Sam Mendes), and received five other nominations, including Best Supporting Actor for Paul Newman, Best Art Direction/Set Decoration, Best Sound Mixing, Best Sound Editing and Best Original Score by Thomas Newman.
Spider-Man 2
Another blockbuster hit (and sequel no less) that won a golden trophy on Oscar night was Sam Raimi's Spider-Man 2, 15 years ago. The 2004 Spidey sequel was also the second highest-grossing movie of the year, under Shrek 2's reign. In the movie, Tobey Maguire's Peter Parker fights against Alfred Molina's Doc Ock and faces complications as he tries to balance his personal life with crime-fighting.
Spider-Man 2 won an Oscar for Best Achievement in Visual Effects, following in the footsteps of its comic book counterparts. Its predecessor Spider-Man had been nominated in 2002, along with 1992's Batman Returns and 1994's The Mask, but Spider-Man 2 showed comic book fare could take the prize too. The movie was also nominated for Best Sound Mixing and Best Sound Editing.
The Dark Knight
The comic book genre scored a major boost in the eyes of critics when Christopher Nolan helmed a realistic and gritty trilogy starring Christian Bale's Batman. The 2008 sequel to Batman Begins was especially met with overwhelming acclaim, giving The Dark Knight an incredible eight Oscar nominations, including a posthumous Best Supporting Actor win to Heath Ledger's Joker.
Although he did not live to take home the honor himself that night, Ledger's performance showed comic book adaptations can contend and win in major acting categories. The Dark Knight also won for Best Sound Editing and was nominated for Best Cinematography, Film Editing, Art Direction, Makeup, Sound Mixing and Visual Effects.
Big Hero 6
Following Disney's grand entrance into the genre with the success of the MCU, the studio's animation division delivered this movie that was loosely inspired by the Marvel Comic created in 1998. Big Hero 6 told the emotional tale of a boy named Hiro who forms a bond with his brother's invention Baymax following his tragic death and joins a superhero group with his high-tech friends.
Disney has often been the frontrunner for the Best Animated Film category for years, winning the two years prior for Frozen and Brave. The 2014 comic book movie also took home the prize, continuing a streak Disney would continue for the category for three years after.
Suicide Squad
Warner Bros' recent takes on DC Comic properties have been tough to impress following Christopher Nolan's mark on the genre. Suicide Squad may not have been up to par with audience expectations, but it was a huge hit commercially, with a $746 million worldwide haul, and yes… it is an Oscar winner.
David Ayer's Suicide Squad won for the single category it was nominated in: Best Makeup & Hairstyling. The blockbuster certainly achieved some amazing transformations for its actors-turned-comic book villains ,with specific looks the movie will be long remembered for. The franchise is moving forward with another installment under James Gunn's writing and direction, which will arrive in 2021.
Spider-Man: Into the Spider-Verse
Going back to the Best Animated Movie category, Spider-Man: Into the Spider-Verse shook up the category in 2018 when it broke up Disney's aforementioned streak when it took home the prize for Sony Animation. The stylized action comedy introduced audiences to Miles Morales and other Spider-heroes such as Spider-Gwen and Spider-Man Noir.
Into the Spider-Verse marked the biggest award for Marvel, especially for a movie so rooted in diversity and embracing who you are. The animated film has been named the best Spider-Man movie to date and of the genre by many fans. However, it was the lowest-grossing Spidey flick, so an Oscar win gave the film a huge boost.
Black Panther
Marvel also made waves in the live-action categories in 2018 with Black Panther's seven nominations on Oscar night, including its contention for Best Picture. The Wakanda-set epic won three Oscars for Ludwig Göransson's empowering score, Best Costume Design for Ruth E. Carter and Best Production Design.
Black Panther lost in the Best Original Song, Sound Editing, Sound Mixing and Best Picture categories. Either way, Marvel had an incredible night at the Oscars last year for its monumental achievement in Black Panther, which previously broke tons of records with its $1.3 billion earnings and cultural impact.
There we have it! A history in comic book movies at the Oscars! Time will tell how titles such as Joker and Avengers: Endgame do this awards season! Follow along with us here on CinemaBlend as we learn more in the coming months about the movies contending in each category!
Do you think comic book movies have been underrepresented at the Oscars? Leave your thoughts in the comment section below!
Your Daily Blend of Entertainment News
YA genre tribute. Horror May Queen. Word webslinger. All her writing should be read in Sarah Connor's Terminator 2 voice over.
Your Daily Blend of Entertainment News
Thank you for signing up to CinemaBlend. You will receive a verification email shortly.
There was a problem. Please refresh the page and try again.